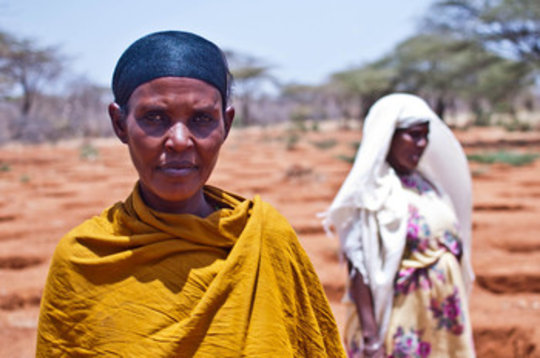 Dear GlobalGivers,
Happy summer! Or, for those of you on the other side of the equator, happy winter! Whichever season you may be in, we hope that you are safe and well. You may not have heard much about the Horn of Africa since many other disasters have occurred since then. Yet we at GlobalGiving would like to update you and remind you of just how important your support is.
Often times, focus is only placed on the large picture of natural disasters i.e. the amount of damage that has been done, extremely high death tolls, how much aid is being given, etc. While these numbers are very important, they can make us forget those people that have lived through the horrors. Those people whose strength and resilience inspires the rest of us in our daily lives. For this update, we have profiled a few stories of individuals who have proved that despite one of the worst famines our world has seen, live still goes on and can be fulfilling and joyful.
Zainaby Kamato, 45, is a member of a group of female farmers supported by Action Aid International USA. She is also Chairlady of the Relief Committee in Garba Tulla, Kenya. With your support, ActionAid has been supplying mobile phones to help communities in north eastern Kenya communicate with each other and ActionAid. This has been extremely important in the drought response.
"I am married and have six children. My husband is Abdualla, but he is sick. He has been suffering from a mental problem. Heading the relief committee means that I am the main voice of the community when we make assessments to find out how much relief food each household needs. Most of us in the committee are women."
In her leadership position, Zainabu helps manage the Food for Assets program which is where members of her community work on water harvesting and farming structures in exchange for relief food. This exchange is aimed at building up resilience against future droughts.
"We are building structures that hold the water, so we can farm with very little water. We have had one harvest where we harvested many vegetables. That eased the situation. The better we build these structures, the less rain we need. The phones are a big help when organizing workers for building the structures. The phones also assist me in my communication with the entire community. I can now get updates from everybody with phones and also when relief food arrives."
Zainabu is proud that she is able to provide for her family, despite everything that they have been through. She strives to be able to pay the school fees for her children and to put food on the table for them. She is truly a role model for her family and community.
"I really want my children to be able to finish school and get jobs so they can travel out of this place – I don't feel that there are any prospects for them here. When we lost all of our animals I really felt that I had lost the power to control my life. We had to accept food from the government and I didn't like just living in this way – it made me feel dependent and bad. But now I work for the food, I feel I have taken some control back into my life. Before I started working with this program, children would often go hungry and not eat for a few days, but things are better now. I also like being able to work with other people in the field and feel that we are making our situation better."
Anab is an 18-year old-girl living in the Ethiopian village of Dudmaygag. In order to get to a source of water, she would have to walk more than two days in simple sandals just to fill a couple of jerry cans. Her entire family depended on these jerry cans to supply their everyday needs for drinking, cooking and washing.
Thanks to people like you, Mercy Corps was able to build a water reservoir near her village. Now, Anab is able to fetch water several times a week and sometimes even daily. She continues to care for her family, but the burden is no longer quite as heavy. Anab, her family and her community are now able to focus on rebuilding after the drought and other aspects of life.
Anab has become an advocate to get more water reservoirs to her village and surrounding areas because she has realized just how critical they are. As the reservoir's use has increased as more people find out about it, her advocacy becomes that much more crucial. Anab has been empowered to make a difference because of your donations and support.
23-year-old mother and refugee, Bonkay, fled her village in central Somalia's Bay region with her husband and 2 children because of general insecurity and the worst drought in more than 60 years. The family walked for 9 days before reaching Dollo Ado in south-east Ethiopia. Dollo Ado now has the world's second largest refugee complex after Dadaab in Kenya. There are 5 camps in Dollo Ado including Kobe which is where Bonkay resides. These camps host more than 170,000 refugees, most of which are from Somalia.
We used to farm and keep livestock, but they all died because of the drought and we were also in danger of losing our two children," explains Bonkay.
Bonkay's husband failed to find work after arriving in the camp, and the family became dependent upon aid and assistance from United Nations Refugee Agency (UNHCR). Bonkay is illiterate and has never studied before, but that did not dissuade her. She had heard about a program called Youth Education Pack (YEP) that is only run in Kobe. Through this, she enrolled in a basic literally course and mathematics. Following this two, she will participate in vocational skills training where she will learn culinary skills.
"I want to become a cook and open my own restaurant."
YEP is a UNHCR-backed program implemented by the Norwegian Refugee Council and is funded by the IKEA Foundation. It focuses on local Ethiopians and Somali refugees aged 15-24 who have had little to no formal education or training. YEP aims to teach both locals and refugees new skills and help them become self-sufficient. Bonkay was a perfect fit for this program.
There are approximately 400 students taking part in the program, half of them are women. About 280 of the students are refugees while the rest are from the host community, with teachers recruited locally. YEP courses are all free and run for one year. Students are encouraged to use the knowledge they have learned in the program to set up their own businesses.
All infrastructures built under this program are handed over to the local population and host community. This helps to reduce dependency on aid and promote self-sufficiency. It also helps create resilience amongst the people so that they can be more prepared for future droughts in this arid region. If it were not for your donations and support, UNHCR and its partner organizations would not be able to turn their focus from aid to programs and opportunities that the refugees can take home with them. YEP and other programs are drastically improving the lives of refugees in ways that have never been done before.
As for Bonkay, she is feeling hopeful and happy. As she played with her 2-year old son during a break from a YEP class, she summed it up best:
Nobody can take my skills away from me, they will not disappear like my farm and livestock did."
Thank you GlobalGivers! Your continued support has touched so many lives across the world. Even one donation can make a difference in someone's life. You are truly helping make the world a better place.