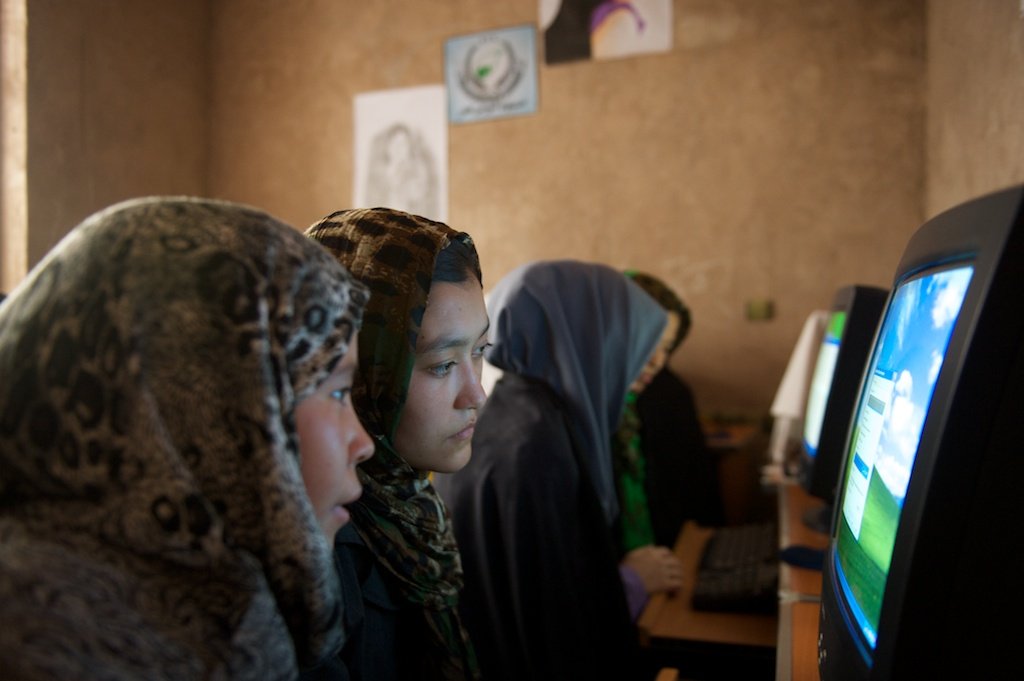 Thank you so much for your support of the Afghan Institute of Learning's (AIL) efforts to provide a fast-tracked education to Afghan women and girls. In the first 6 month of 2014, your support helped AIL provide education to 9,456 women and girls in our Learning Centers and schools! Classes taught include Arabic, English, literacy, sewing, math, computers, physics, chemistry, carpet weaving, cosmetology, embroidery, and painting. AIL also offers pre-school classes to young children to prepare them for school.
Every day your support is allowing AIL to make a huge impact on the lives of the women and girls who come to our learning centers. Every student is unique, and skills that students have before starting classes vary greatly, as do the goals of each woman. Some come to the center to learn to read, write or sew. We also see students from the local schools coming to take classes to learn about things that are not taught at their schools. AIL's fast track classes are able to take all of these varied students and give each the individualized instruction that they need.
Recently classes of computer students were promoted to the next level in their studies. At the promotion ceremony, a young woman named Sima was thrilled to share that because of her computer skills, a construction company had hired her! Her husband is a day laborer, and is not able to earn enough to support his family. Now, thanks to the AIL computer class, she is able to work and earn an income. Sima realizes that she might face challenges being a woman working outside of the home, but feels that she is ready to face them. She said, "I know that I might face problems because I am a woman, and there are some who feel that a woman shouldn't work outside the home, but I want to work and will ignore whatever is said about me. I thank AIL for giving me this chance to change my life."
Another wonderful success story came from Farima, a woman who decided that she no longer wanted to be illiterate. She came to AIL's literacy classes, and after 6 months was able to read and write. Soon, a relative hired her to work in their supermarket. She is so pleased to be able to help support her family. Farima says "AIL has changed my life. Before attending the AIL literacy class, I stayed home every day and wasted my time. I lost so many chances in my life because I was not educated, but now because I learned to read and write I have a job. Now, I can read, write and communicate with all sorts of people."
Your support allows AIL to offer an education to Afghan women and girls just like Sima and Farima. Thank you so much!