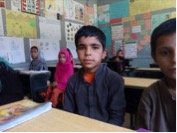 I want to begin by thanking you for supporting our Accelerator campaign and showing your commitment to Afghan children. With your help, we raised more than $5,000 from more than 40 people in just over a week!
Since then, Aschiana's children in Afghanistan have been busy learning, playing, and growing. With more than a thousand children attending the basic education program, art classes, vocational training, judo and football classes, computer lessons, and receiving hot meals, there's always something new to share. I want you to meet two bright, young students studying in Aschiana's basic education program: Kamil and Zubaira.
Kamil is ten years old, the oldest of the five children in his family. His father works informally, so supporting his family is challenging. To help his father, Kamil sells plastic bags in Kabul's markets, but he only earns about 50 Afghanis ($0.73 USD) a day. He wants to be a police officer when he grows up to protect his country.
Zubaira, another student in the basic education program, is 12 years old. She's the oldest of eight siblings. Her father lost his eyesight and can no longer support his family, so her mother makes loofahs that Zubaira sells. Her younger brothers sell pens and pencils. Not deterred by poverty, Zubaira wants to be a civil engineer when she grows up.
Students like Kamil and Zubaira fill Aschiana's classrooms and motivate staff to work hard every day. Kamil and Zubaira can follow their dreams because of the support they're receiving from Aschiana and donors like you.
In the coming months, I look forward to introducing you to more students and updating you on Aschiana's one of a kind programs. On behalf of the board of directors, thank you so much for deciding to support our work.