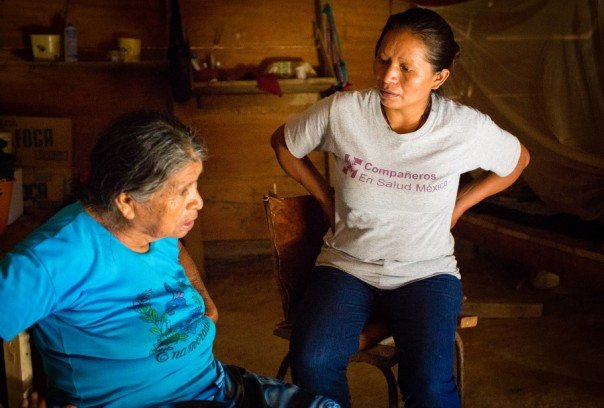 Above: A native Tzeltal speaker, Petrona (left), 68, tells CES community health worker Maribel about side effects from her hypertension.
Thank you so much for donating to Partners In Health and our Reach the Beach fundraiser to benefit our work in Chiapas, Mexico. Your generous support of the runners who participated in September's Reach the Beach relay in New Hampshire not only provided health care to people in need, but also the motivation to endure the intense, 200-mile-long challenge!
Partners In Health and its sister organization, Companeros en Salud (PIH/CES), work directly with local doctors, nurses and community members to improve health outcomes in one of Mexico's most marginalized, isolated communities. Here in Chiapas, half the population lives under the poverty line; infectious and non-communicable diseases alike are highly prevalent; public clinics are hard-to-reach and ill-equipped; and a cycle of poverty and disease affects everyone.
Your generous contributions make it possible for CES to provide high-quality medical services to the people of Chiapas who otherwise have no reliable source of care. Donations to our Reach the Beach fundraiser helped fund the work of CES community health workers (CHW) like Maribel, Chiapas' only trilingual health worker. Perez conducts home visits and translates between doctors and patients, removing language barriers that made clinics inaccessible to many Chiapas residents. Below is an interview with Maribel, and a link to her full story.
Did your Tzeltal-speaking patients come to the clinic before you started as a CHW?
Once I was talking with a patient and I asked her how she got her medication before I started visiting her. She said she wanted to go to the clinic, but she wouldn't be able to understand the doctor, and he wouldn't be able to understand her. And her husband works, so he couldn't go with her. So she just didn't go.
That's where I feel like I'm helping a lot, or at least I have helped her. She hasn't missed a treatment or gone without pills. She's been really well.
What are the major health concerns in Plan de la Libertad?
The most common illnesses are stomach pains, fever, coughs, and flus—especially for children during the rainy season. There's a lot of chronic disease. For example, here in the community there's diabetes, asthma, hypertension, and depression. Then there are other illnesses I didn't know about before I became a CHW, such as schizophrenia and epilepsy.
Do people practice traditional medicine here?
Yes, that's what they tell me. But the truth is that I don't know if it has any effect. For high blood pressure, for example, they drink tea made from the boiled leaves of a lime tree. There's no proof that it works. For the flu, some people drink tea made from bougainvillea leaves and chamomile, boiled together with cinnamon. That's what we prepare sometimes too. Tea with honey is good when you feel really congested.
Are there any traditional medicines that you discourage?
Sometimes people come from outside the community offering natural remedies saying, "This is really good. This will cure you!" A little while ago, a woman who said she was a naturalist was offering some remedy for diabetes and hypertension, and many said that it was good, that the results were worth it, so they stopped taking their medication. But a little while later, no one was cured. Now they are on the clinic's medication again.
Has your job helped you in any way?
It makes me happy, because through this job I've met people I never thought I'd meet. And it's helped me a lot because I feel fulfilled. Before I went from my kitchen, to my house, to the school and nowhere else. But with this job, I go to visit my patients. I get some exercise. I get out of my home. I forget about my own housework for a little while. When I'm out for a walk, I meet people along the road and I laugh with them.
What do you enjoy most about being a CHW?
I enjoy helping people who don't speak Spanish.
Have you applied any lessons to your own health?
Several times we've had the chance to take psychoeducation courses with CES doctors. I'd experienced many things since the time I was a child up until just a little while ago. All of the advice and training Companeros En Salud doctors gave me, it's helped me a lot.
Do you think the CHW program benefits communities?
This program should expand to other communities, because there are places where people don't have family or anyone, but they need medication. Because they don't have a CHW or aren't aware of their health, they don't get treatment. That's what I would say, that there should be more of this, that the program should continue growing.
Thank you again for your support!
Links: