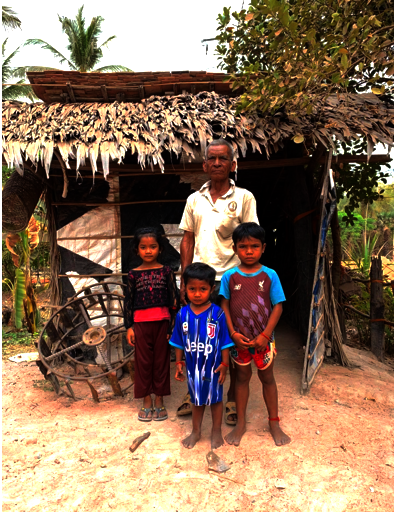 Although a latrine is a not a glamorous gift, it is life changing to the families who receive one. In 2020, Trailblazer installed 86 latrines benefitting 430 villagers. Below is just one story of a former receipient of a latrine and the change it made for him and his family.
In 2018, Trailblazer installed 50 latrines in Prom Kod village, Ballangk commune, Prasat Bakong district, Siem Reap Province. The families who received a latrine held a poor Identity Card, which recognizes their level of poverty by the government, and which is used by the village committee to determine which families are selected to be a beneficieary of a latrine.
Before the construction of latrines begin, Trailblazer's Health Program team conduct "Hygiene and Latrine Using Training" for the recipients of a latrine to best prepare them for having and using a latrine. Among the 50 selected familes, Mr. Hong, his wife, with their 7 children were one of the families who received a latrine.
Our team asked Mr. Hong, "Where did you and your kids defecate every day?" Hong replied, "We went to the bushes outside the village. We walked passed the field into the bushes, about 600-700 meters from our house. At night it was even more difficult. I was very worried for my girls when they went to the bush at dawn or dusk so I accompanied them." Hong continued, "At that time, all of us were in a good health, but sometimes we got sick and didn't know why."
After receiving the latrine and the Hygiene Training from Trailblazer, Hong said, "We found out that we were sick because we didn't know how to clean our hands properly after defecation." He continued, "After we received the latrine, my family no longer has to walk to the bushes. We feel more comfortable and safe to have the latrine at home. We save money on medicine because we are not sick." Finally, Hong thanked Trailblazer for giving the latrine to his family along with the knowledge of good body hygiene.
Trailblazer wishes to thank all its supporters who have donated a latrine for a needy family. We hope you realize the improved sanitation and health you provided, as well as dignity. Thank you.