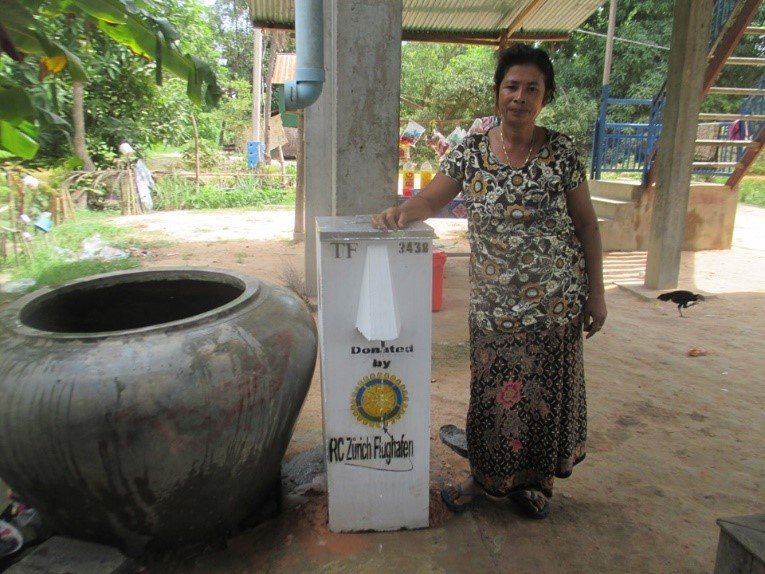 In 2014, Trailblazer delivered bio-sand water filters and conducted hygiene trainings in Chrey Kharng Cherng village, Kean Sangkae commune, Soutr Nikum district, Siem Reap province. The project started by making introductions to the people, family by family and in group meetings, regarding the benefits of bio-sand water filters and water pump wells. Villagers became interested and made their request to the village chief to receive a water filter. The village chief presented this list of registered villagers to Trailblazer.
Mrs. Khut [52] is a widow who lives in Chrey Kharng Cherng village with her two sons and one daughter. She was one who requested and received a bio-sand water filter from Trailblazer, as well as neighbors in this community. She shared with us how having a bio-sand water filter has impacted her and her family.
Mrs. Khut said, "Before receiving a bio-sand filter from Trailblazer we did not have access to clean water. It was difficult drinking the water directly from the pump well because it had a very bad smell and the color was red [iron]. Me and my family were getting sick often, especially with diarrhea. We had to use our savings to buy medicine and pay for the doctor. When my children were sick, they could not go to school or help me with my business. We lost time and money due to our poor health because we did not have clean water to drink and cook with."
She continued, "After receiving a bio-sand water filter from Trailblazer the water quality is very good, the taste is better, and we do not have diarrhea anymore. We have more knowledge about clean water and body hygiene after attending the trainings from Trailblazer. I have reduced costs on medicine and the doctor, and can save money again to invest in my business. My children have good health, they spend more time at school, and when they are home they can help me.
Lastly, I am very happy to have had Trailblazer come to my village and give us access to clean water, and train us on the knowledge of body hygiene and sanitation. We are healthier and happier thank you."
We wish to thank all our Trailblazer supporters for helping make our Health projects possible. A bio-sand water filter is such a simple thing, yet has a huge impact on the lives of those who have and use one. With your continued support we can help more families like Mrs. Khut's. Thank you for your generosity.