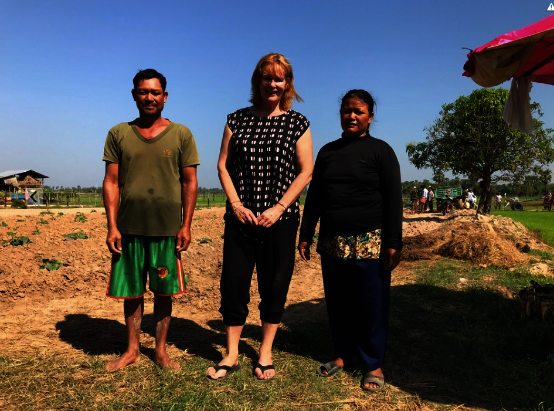 On behalf of Trailblazer Foundation's Board of Directors and staff, I want to express our deepest gratitude for your continued support of our work in rural Cambodia. You deserve the credit for all that we have accomplished in 2018. Over 6,000 rural villagers have a better quality of life because you wanted to help. That's impressive, and we thank you for your role in this significant accomplishment.
So, what sort of improved quality of living did you help make a reality in 2018? On a recent trip to Cambodia, Trailblazer's newest Board member, Justine Auton, spoke with Mr. and Mrs. Van, a married couple with three children living in a rural village about an hour outside of Siem Reap. This is just one story we could share from our work during this past year.
The Vans are farmers with a bit of land, where they have been growing rice and vegetables for years. Yet, they live on less than $2 a day. Their challenging situation inspired them to take advantage of two of Trailblazer's programs: our Health Program (which provides Cambodian villagers with water filters and wells) and Food Security Program (which trains families how to grow more productive gardens).
Mrs. Van explained that, this year, she and her husband first participated in one of Trailblazer's 28 homestead garden trainings. She then proudly told Justine that her family is already experiencing real benefits from having gone through our agricultural training. "Our lives are changed. We now grow better rice and vegetables. We work a lot more and it is good for my husband and our children."
Next, the Vans asked Trailblazer to drill a well, so the family of five could have cleaner water for their cooking and personal hygiene, as well as more water for their crops. This allowed the Vans to not just grow food for themselves, but produce enough crops to sell some at the local market. Better yet, with the increased income and water, the Vans were able to buy some cows to raise and sell for beef.
Trailblazer's Food Security Manager in Cambodia told Board member Justine that, through the changes the Vans made with their garden, the family's income had increased about 150%. And there was potential for that to increase even more. Mrs. Van explained the impact on her family.
"Before we just had a little money and now we have a lot more. We have vegetables to take to the market all year round now. Our lives are easier, less stressful."
If this story warms your heart as much as it does mine, I hope you'll feel the same sense of accomplishment I do for having played a role in that success story. And I hope our success will excite you to make a year-end contribution to Trailblazer, so we can continue transforming the hopes and aspirations of Cambodian villagers into reality.
GlobalGiving is running a Recurring Match Campaign through the end of the year. Your recurring donation will receive a one-time 100% match. Start your recurring donation today!
Such a simple act can, and will, produce powerful life-changing results for families like the Vans. Together, in 2019, we can improve the lives of even more people in rural Cambodia. Thank you again.
Best wishes,
Chris Coats, Executive Director / Co-Founder
Links: