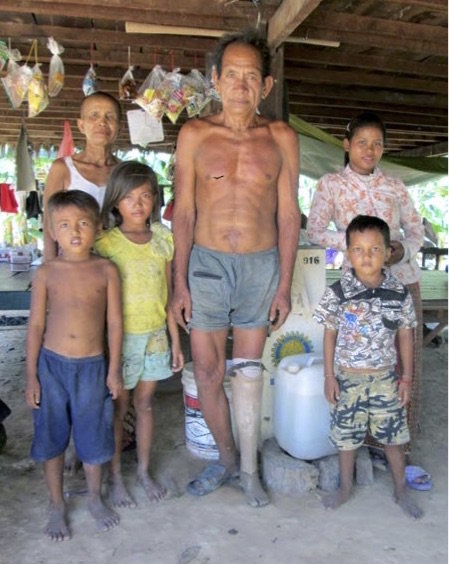 Water sources typically include open wells, ponds, and streams that are highly contaminated with pathogens such as E. coli. This reality requires families to endure waterborne diseases that are easily preventable. To address this issue, Trailblazer has been constructing and distributing bio-sand water filters since 2006. These filters can reliably remove up to 100% of worms and protozoa, 98.5% of bacteria, and 99% of viruses.
Peak lives together with her husband Lam, who lost his leg to a landmine while fighting against the Khmer Rouge in 1985. Also living with Peak, is her mother-in-law and four other family members from a younger generation.
As rice farmers with just a few years of education each, Peak and Lam work very hard to support their family. Before having a bio-sand filter they had to drink dirty water, which caused frequent stomachaches and poor health. In addition to pathogens, their water source also has high levels of iron, a common problem in Cambodia. Iron makes the water taste bad, stains laundry, can lead to health problems with long term exposure. Now, Peak's family uses their filter at least two times every day to treat water for drinking, cooking, bathing, and doing laundry.
Peak says she is, "feeling very happy to have the filtered water because it tastes delicious and is better for the health of the family, especially the children." They never buy water from the market anymore and they visit the local health center less often. With the money saved they can buy more nutritious food, especially fish and vegetables, to supplement the rice they grow. They also bought a battery and lamp to light their home at night, making it easier for children to study. Now that their family has safe drinking water, they are thinking about what else they want in the future including a solar panel and new mosquito nets.
Providing safe drinking water can lead to better health and reduced poverty for families like Peak's. But for every story like Peak's, there is another Cambodian family without access to safe water. For only $80 you can provide this necessity for one family. Together we can work toward every Cambodian family having safe water to drink, one family one filter at a time. A small price to pay for the life changing improvement for the family who receives a bio-sand water filter.