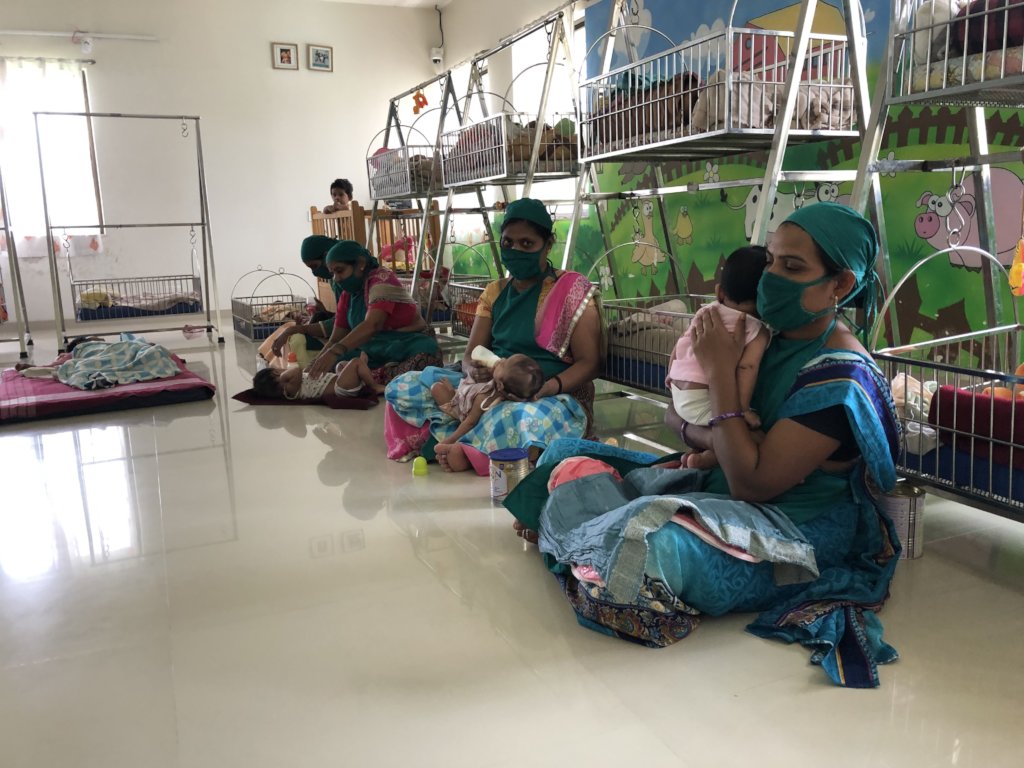 The second wave of COVID is devastating India. Ahmednagar District, where Snehalaya operates is one of the worst hit with no beds, oxygen or medicines available to our largely rural population of nearly 5 million. High unemployment, a severe lack of statutory healthcare, drought, poverty and a large transient population has historically perpetuated many issues for low-income families, most of whom earn their living from agriculture, daily wage or migrant work. Since March 2021 a flood of positive cases has rendered the current medical facilities throughout the district overburdened and insufficient. There has been a steep rise in the number of Corona positive patients in the district and at the start of April, Times of India reported it was in the top ten worst affected districts in India with over 1,000 new cases a day and this has now risen to over 3,000 new cases each day.
Since the onset of the pandemic, the number of abandoned children has risen sharply, at the same time, the adoption process has been disrupted by lockdown, being halted from March to September 2020 and again since April 2021 for the foreseeable future. As a result, in 2020, our adoption center was running at 20% over capacity. Fortunately, we were able to resume adoptions between the first and second wave completing the process to complete 46 adoptions but with the current devastating situation we are again already exceeding our capacity with 34 babies in our 30-bed center.
With lockdowns and the pressure of managing COVID cases dominating healthcare, most maternity facilities are closed and women and girls are forced to deliver their babies at home. They are also unable to access essential pre and post-natal services. In normal circumstances women and girls with unwanted pregnancies are referred to our center by maternity professionals where we can ensure they receive the support to safely deliver and where necessary relinquish their babies. We also rely on our large network of community volunteers to identify other potential abandoned babies within their communities. With more girls and women giving birth behind the closed doors of lockdown, we are finding it much harder to find those in need of our services.
We remain worried about pregnancies being conducted at home without adequate support both for delivery and the care of the newborns. These include women and girls like Radha's mother who are finding it much harder to access our support. She is HIV positive but thanks to our HIV hospital we were able to treat her during her pregnancy so that her baby, Radha, was born HIV negative. She was also born with tuberculosis but we were able to treat that too and she made a full recovery and has now been adopted by foreign parents.
These kinds of complications are already common in 'normal' situations and the pandemic is only adding to the problem as we see an increase in the number of home-birth complications resulting in deformities and minor to serious health conditions. With most hospitals beds reserved for COVID patients we are providing medical and emotional support to as many as we can through our network of paediatricians and maternity hospitals able to manage out-patients. Without you and our dedicated teams of volunteers and staff who conduct regular nightly patrols and socially-distanced outreach work, many more babies like Radha simply would not make it.
We are incredibly grateful for your support that allows us to continue to care for the mothers and babies already in our center and the many more who will be admitted in the coming months and post-lockdown.
Please do stay safe.
Links: