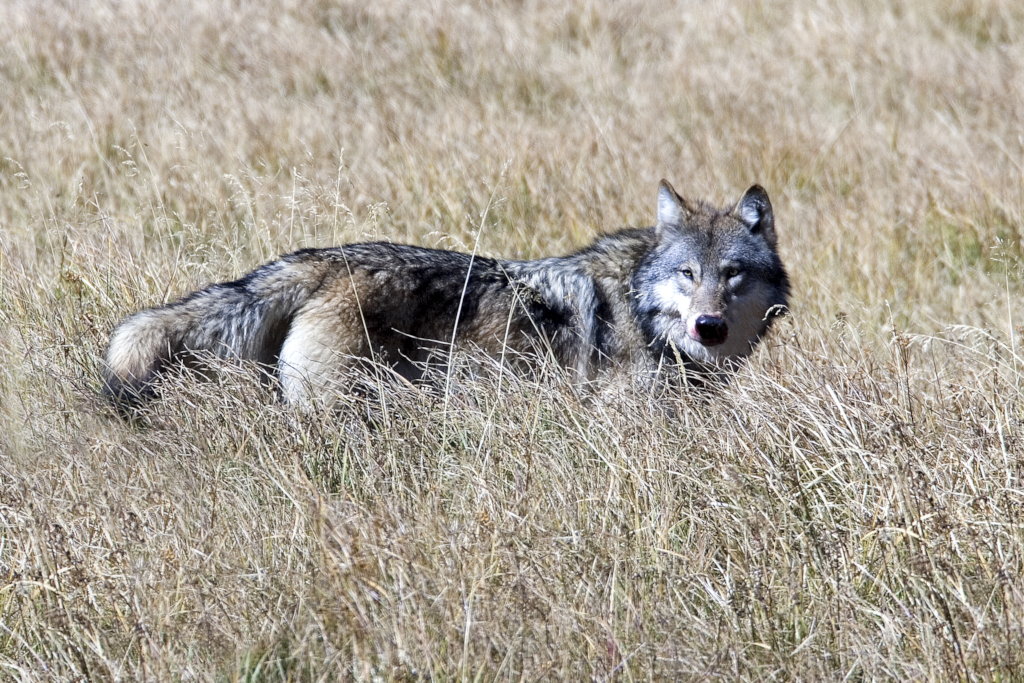 Our GlobalGiving supporters are some of our most dedicated and for this reason, we would like to introduce to you the next phase of expanding NWF's Adopt a Wildlife Acre Program. As you may know, NWF has spent decades addressing the conflicts between wolves and livestock in Idaho, Montana and Wyoming. Despite our success in supporting what has been a miraculous recovery of this iconic carnivore in the Northern Rockies, recent state legislation in Idaho and Montana have targeted the killing of up to 90% of the population in these states. We find these efforts appalling and are doubling down on our efforts to reduce wildlife / livestock conflicts in the West. The Adopt a Wildlife Acre team has spent the past several months developing a new wolf conservation initiative to push back on these efforts while continuing to negotiate the retirement of public land grazing allotments where there are conflicts between wolves and livestock. In short, we are marshalling all available resources, including our generous supporters, to protect the incredible gains the conservation community has made over the last three decades to recover wolves in the Northern Rockies.
A key component of this initiative is implementing a multi-pronged goal of successfully reintroducing wolves to Colorado. You may have heard that with the passage of Proposition 114 in November of 2020, the state of Colorado is required to transplant wolves to the West Slope of the state by the end of 2023. Colorado has millions of acres of suitable habitat for wolves and we are thrilled to be a part of the effort to reestablish these large carnivores to the largest remaining area of unoccupied suitable habitat left in North America.
NWF has decades of experience working on wolf management ranging from our leadership in the reintroduction of wolves to Yellowstone National Park in the early 1990's to our advocacy of the sound management of wolves in the Great Lakes, Northern Rockies, Pacific Northwest and Southwest. Based on these experiences, NWF has learned that a rational, science-based and pragmatic voice can resonate with broad audiences and is critical to creating the societal acceptance necessary for the long-term sustainability of wolf populations. Proposition 114 was decided by a small margin and as a result, there is a risk that the wolf reintroduction in Colorado will lead to deeper and more permanent divisions at a time when healing and collaboration is needed. Through our Adopt a Wildlife Acre program, NWF has a long history of building coalitions and consensus among disparate groups including ranchers, sporting organizations and wildlife advocates and is eager to use our decades of experience in building bridges that will lead to the long-term success and sustainability of a wolf population in Colorado.
To facilitate the successful reestablishment of a healthy wolf population in Colorado and to address the political pressure to reduce the wolf population in the Northern Rockies states, NWF will pursue a number of strategies including:
We will conduct an media and outreach campaign to provide scientifically sound information about wolves with the goal of building social tolerance, acceptance and consensus.
We will produce a report authored by Diane Boyd, one of the leading American wolf biologists, what will summarize the lessons learned from 30 years of wolf management in the U.S.
Lead an effort to engage and educate ranchers in how to utilize non-lethal strategies to minimize the conflict between livestock and wolves.
Pursue state and federal policy solutions that will provide the public funding necessary for wolf management programs across the west.
The Adopt A Wildlife Acre program will continue our efforts to negotiate the closure of public land grazing allotments to protect wolves, grizzly bears bighorn sheep and other priority species. We also look forward to bringing our decades of experience in managing wildlife-livestock conflicts to champion the restoration of wolves across the American West. Please feel free to reach out with any questions and as always, we are grateful for your support.