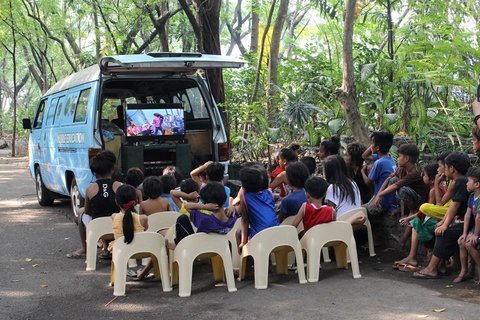 Steven and John are alike in many ways. They are both studying in high school, and are very determined to pursue their dreams. It seems like a long shot, but they are holding onto a promise that there is life outside the streets.
Steven and John both have mothers who try to make ends meet by selling peanuts around Lawton in Manila.
"Pagkatapos ng klase, diretso na ako kay Mama para tulungan siya magtinda. Kumikita si Mama ng mga P400 sa isang araw, hanga ako sa kanya kasi kahit anong hirap, hindi niya kami pinababayaang magkakapatid (After my classes, I go home to help my mother sell peanuts. She earns around P400 a day. I admire her because despite the hardships, she is doing her best to take care of us," said 16 year-old John.
John is proud of his mother because despite their poverty, she is able to raise seven children. John says he is torn between choosing a career in engineering or accountancy. Either way, he will try to finish with flying colors and help his family.
Steven and his family live under a bridge. Despite this reality, Steven is hopeful that he and his family will be living in a decent home someday.
"Minsan po nakakapagod kapag naiisip ang mga problema, pero hindi naman po kami susuko. Magaaral po ako para maging accountant at makatulong sa pamilya (I get frustrated when I think about the problems, but I won't give up. I will study hard so I can be an accountant and help my family)," said Steven.
MOBILE EDUCATION: BRINGING THE SCHOOL TO STREET CHILDREN
Before they entered formal school, Steven and John learned while they were on the streets. Not having a classroom was not a problem at all.
A dedicated team of teachers and social workers has been bringing the school to the poor children of Manila.
It can be at a park, near the rail tracks, inside the church or even on sidewalks, parking lots, and warehouses. These places are being converted into places of learning for hundreds of street children who cannot afford to go to formal schools.
Childhope Asia Philippines' alternative education sessions seek to make a difference in the lives of street kids, by giving them the chance to read, write, and learn. The program gives street children opportunities to earn grade school and high school certificates accredited by the Education Department even though they are not in school.
"More than teaching the street kids the basics of reading and writing, our street educators also instill in them the values they need so they can grow up to be caring, confident, responsible, and resilient men and women," said Childhope Asia's executive director Dr. Herbert Carpio.
Street educators ensure that lessons are holistic. They use modules to teach street children about a wide-range of lessons: from the importance of sanitation and proper hygiene; good morals and character, the need to protect themselves from getting into substance abuse and drugs, to their rights and responsibilities as children.
"We use our mobile education vans so street children can experience an interactive kind of learning. We let them watch videos, and engage them through activities like storytelling, games, and other ways to enhance and develop their skills," Carpio said.
From January to August 2016, more than 400 street children participated in Childhope Asia's alternative learning sessions. Thirty seven of Childhope Asia's beneficiaries are also now in formal school, most of them are doing well in elementary and high school, and nine of them are finishing their courses. All 37 are being supported by Childhope through its education assistance program.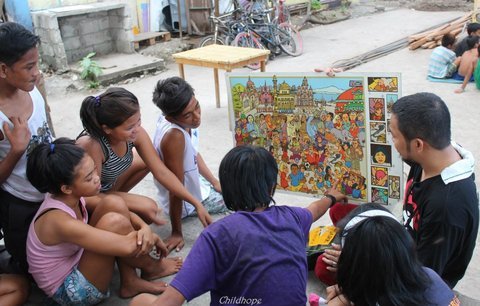 Links: