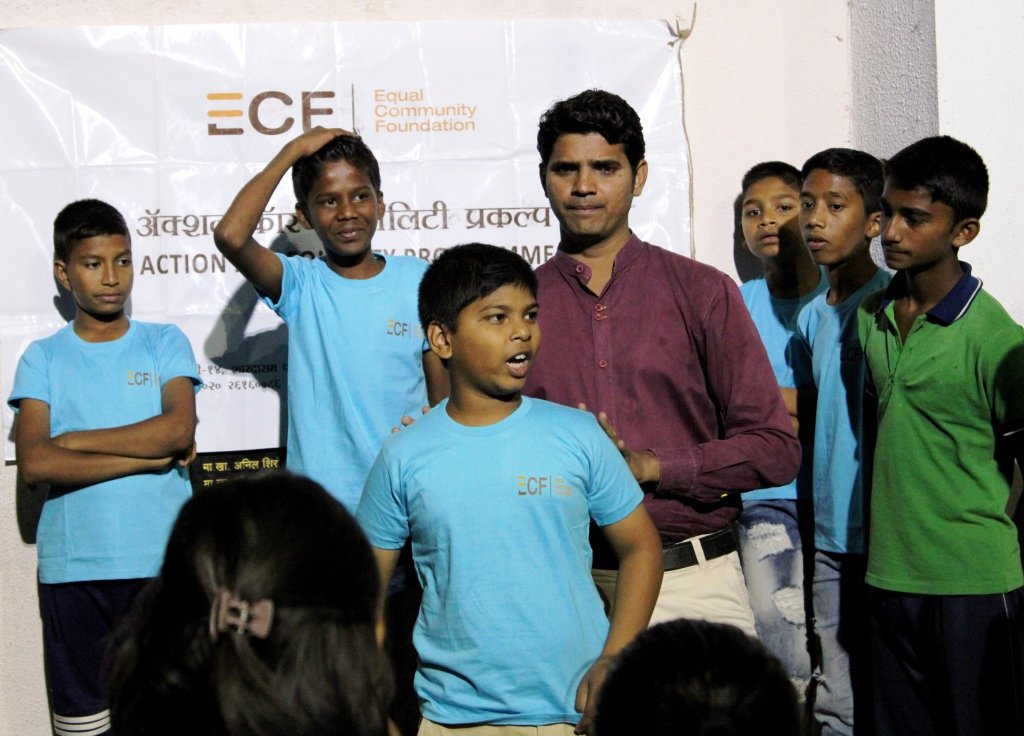 AfE progress update:
December 2019 - February 2020
We appreciate your continued support of ECF's Action for Equality (AfE) programme, committed to raising Gender Equitable Boys in Pune, India. It is due to this consistent support that adolescent boys from 20 communities in Pune currently participate in our AfE programme.
At ECF, between December 2019 - February 2020, we have completed Cycle 25 for two stages of our AfE programme - Foundation Programme and Action Programme. We have also launched Cycle 26 of our Leadership Programme in February, 2020.
During this period:
AfE Foundation Programme (FP): A total of 209 participants graduated out of 290 enrolled from 19 communities.
AfE Action Programme (AP): A total of 148 participants graduated out of 180 enrolled from from 20 communities.
AfE Leadership Programme (LP): Enrollments for Cycle 26 are ongoing and will be shared in the next report.

Some programme highlights from during this period are:
Action Events: Foundation Programme participants conducted public debates on gender roles and the necessity of educating girls, within their respective communities. Alumni from our AfE programme participated in these Action Events as well, in several communities.
Action Programme participants raised awareness on inequalities on the division of household labour. These participants spoke about the differences in hours worked by the average man and average woman in the community, making the point that women typically work more hours in a day when unpaid housework is considered in addition to paid work.
Action Log: Action Logs are visual trackers of the actions taken by participants to facilitate gender equity in their own behaviour, their families and peer groups, and in public, within or outside their communities. These trackers validate the participants' efforts and motivate them to take actions.
Alumni Engagement: On 2nd February, 2020, we conducted an Alumni Meet - an interaction with some of the graduates of the earlier AfE programme cycles. These alumni spoke about the aspects of AfE that they had enjoyed and the impact of the programme on their behaviours and attitudes. For instance, one alumnus has been successful in preventing a child marriage in his community; another told us how AfE had taught him the imporance of consent and helped him avoid substance abuse.
Alumni have also expressed interest in sustained interaction with ECF after their participation in AfE. We have begun a few initiatives to increase our engagement with alumni - While we conduct informal meetings with our AfE alumni at present, our plans for the next quarter include more formal and intensive interactions.
ECF in the news: We are pleased to share that the following publications recently ran articles that featured the importance of working with boys to transform gender norms and showcased ECF's work:
BBC: The boys learning anti-sexism in India
CNN: Indians are right to protest against rape, but the fight must start at home
NZZ: Wie Indien zu verhindern versucht, dass junge Männer zu Vergewaltigern werden
As of February 2020, with your support, ECF has been able to successfully reach out to and enrol 5,891 boys in the Action for Equality programme. A total of 3,433 adolescent boys have graduated and pledged to ally with women and girls to support gender equality in their communities.
We thank you for your contribution and for supporting our mission to raise every boy in India to be gender equitable.