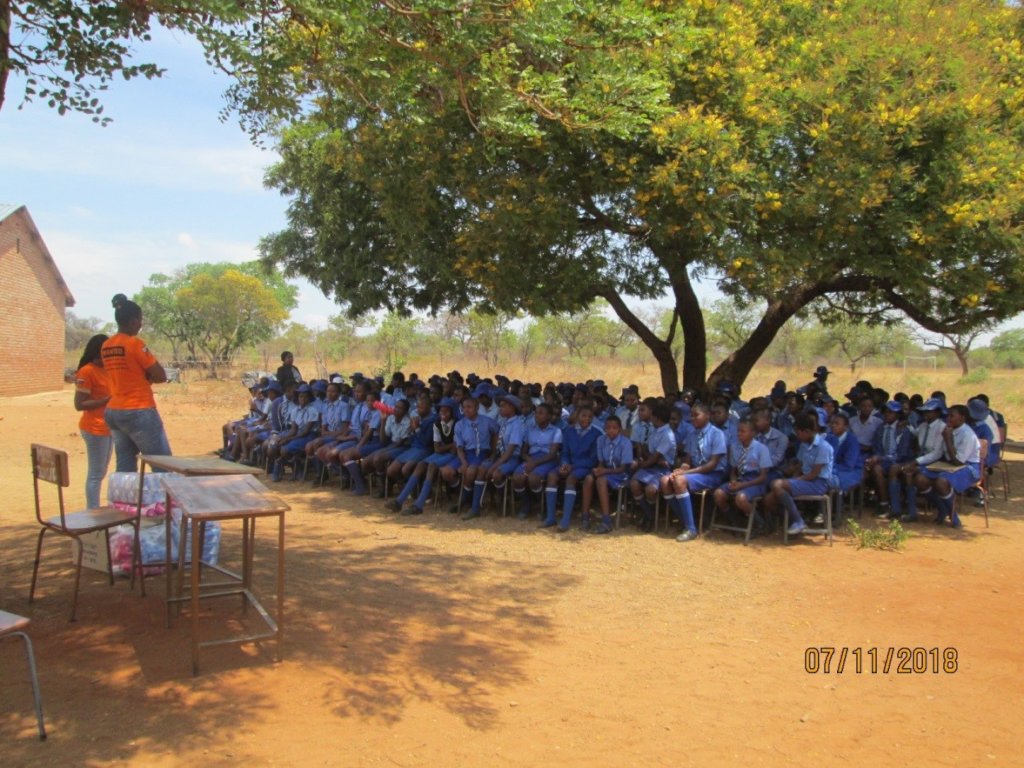 Introduction
For most rural girls the monthly menstrual cycle is a nightmare as they have to endure the discomforts of using unorthodox means such as leaves, cow dung, rags, old pants and tissue as sanitary wear. Due to the economic crises facing Zimbabwe, most families find it hard to set aside a monthly budget to buy food and hence they cut what is deemed as 'non-essential' costs and these include pads which now cost $6 per packet. Through the Global Giving Funds, Hope for a Child I Christ (HOCIC) has managed to contribute meaningfully towards the above mentioned problem through sanitary wear distribution in rural schools. To sustain the project the organisation has shifted the program design to include training of young people in Matobo on making re-usable sanitary wear.
Major Activities
HOCIC received 2 disbursements from Global Giving, on the 25th of October $718.25 and on the 22nd of November $488.75, totaling $1207,00. This money was used to buy sanitary wear for a total of 200 rural girls aged 12 to 15 years doing Form 1 up to Form 3 of Secondary School. 156 girls at Mahlothova High School and 44 at Kafusi Annex School received the disposable sanitary wear.A pack which contains 6 packets of sanitary wear was given to the guidance and counselling teachers at the schools so as to assist students in case of emergency. Meetings were held with the girls with Program Facilitators introducing the key concepts of menstruation and how it is a natural experience for every woman. The girls were then taught about menstrual hygiene and the need to change the sanitary pads every 3 to 4hours hours to avoid any bacterial infections.
The price hikes that hit the country in October 2018 saw a pack of sanitary wear rising from $1,50 to $6. There were also shortages in the shops and one could only buy limited stocks. This led to the change in program design. Instead of buying disposable sanitary wear to distribute to the girls, at least 50 Young Women from 3 wards of Matobo (Wards 1, 3 and 10) aged 16 to 24 were trained on how to make re-usable pads, and further taught on the economic and hygienic advantages of using a re-usable pad which include:
It can be used for 5 years.
They are relatively cheap and affordable.
They are more comfortable as they do not cause any reactions.
HOCIC purchased the Material which includes: Water proof material; Fleece; Napkin material; Velcro. The young women were trained as mentors of Girls Clubs. They will further cascade the training to other girls in their villages. The girls also received skills training on soap making. The ingredients were bought by HOCIC. Besides receiving a lifeskill, the young women will also earn an income from selling the products.
Challenges
There were price hikes and shortages of commodities in the market including sanitary wear. In retail and wholesale stores, people were only allowed to buy two packs of sanitary pads per person which at times cannot sustain for the whole cycle.
The initial budget and plan was to purchase a 'dignity pack' which includes sanitary wear, soap, towel and panties for the girls. However, with the price hikes and small budget this is no longer possible.
The program failed to attract many donors on the Global Giving platform thereby affecting the budget and reach.
Recommendations
To continue with the trainings on reusable pads until all 24 wards of Matobo are reached
To continue fundraising through Global Giving so as to reach more wards and more girls.