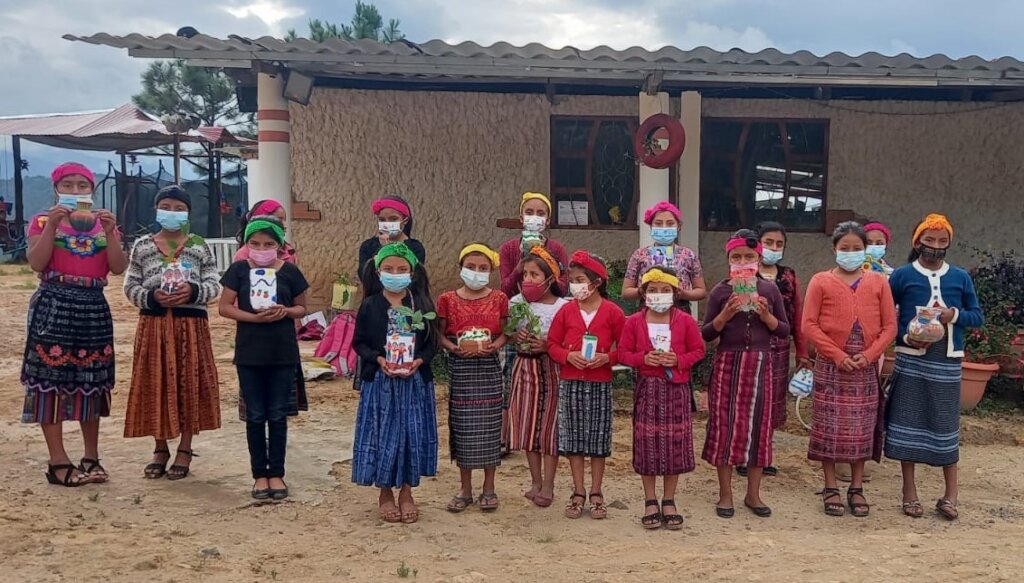 Dear GlobalGiving community,
Like some of you might already know, through the continuous support of the Population Council, plenty of young indigenous women in Guatemala have been able to empower themselves by the implementatation of Abriendo Oportunidades (AO) program.
Through the past years, we've been working with two main networks: REDMI Aq'ab'al and Na'leb'ak. REDMI is leaded by K'iche and Kaqchikel indigenous woman in the western highlands of Guatemala. The support of the GlobalGiving community has given them the opportunity to continuously educate and empower themselves through the implementation of Abriendo Oportunidades program. The mentors, who are the women that lead REDMI Aq'ab'al network, have been teaching young girls and adolescents subjects that have a huge impact in their lives, such as gender violence, human rights, gender equality, comprehensive sex education, and empowerment in schools, among others. Besides that, these brave women have implemented radio programs to have a bigger impact in their communities.
REDMI constantly create safe spaces for young indigenous girls and adolescents, who are constantly struggling to find their own voice in their communities and in the country. One of the main goals of the 2022 is to expand the network to reach more young indigenous girls and adolescents. They are also looking for professional psychological help to improve the quality of the girls' lives. We are completely sure that they are going to be able to reach their necessities with your support.
The Na'leb'ak network is in northern Guatemala and is leaded by Q'eqchi women. Besides the periodic facilitation of safe spaces that empower young indigenous girls and adolescents, such as the ones of the REDMI network, they are pursuing their dream of reaching food sovereignty through Casa Productiva. This project promotes alternative solutions to the eminent malnutrition in their communities by creating agroecological systems that mitigate climate change, increase economical autonomy among women, and advocate for local food sovereignty.
The Casa Productiva project involves a series of activities, leaded by the Na'leb'ak mentors. At the moment, they are taking care of more than 650 hens, which produce around 16,500 eggs per month, and are also constantly planting local products, such as bananas, pineapples, malanga, yuca, and achiote. Parallelly, they are devising a nursery seeds for the AO program and for the sell to the community level, which will eventually strengthen their economic autonomy.
Given that the Casa Productiva project focuses on the regeneration of the social, economic, and ecological tissue, it is a key foundation for the empowerment of indigenous girls and adolescents across their communities. It encourages their creativity and offers them skills for a lifetime. Additionally, this effort has been recognized by the Vice Presidency of Guatemala through the Agenda de Trabajo Anual del Gabinete Especifico de Desarrollo Económico -GABECO. We strongly believe that Casa Productiva will set a precedent for the empowerment and autonomy of indigenous women.
We will continue to be there for girls, as we know we count on you to keep supporting the invaluable work of the mentors, who became first-line responders for young girls and adolescents.
We deeply appreciate your support!