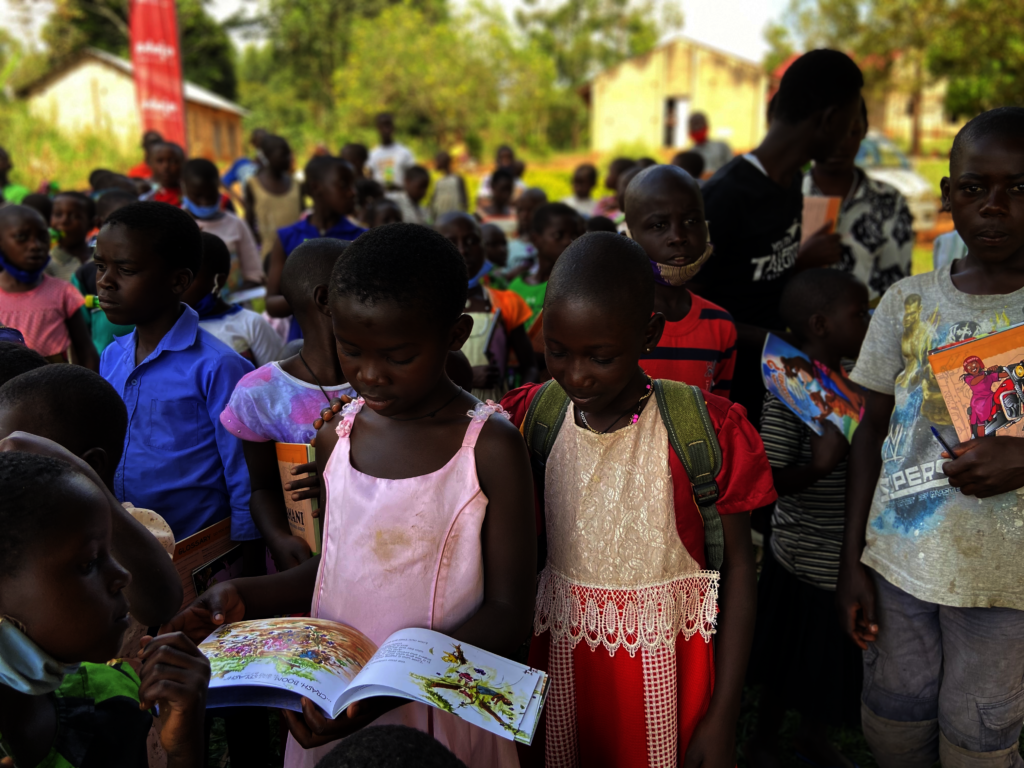 Its 7am and we are all trying to beat the morning road traffic to Lungujja, 6km away from the Kampala City Centre. Coming from a long country lockdown with no gatherings, we were all excited to meet the children and parents at Youth Corps Learning Center on the 2nd of October. This time around, it wasn't just an energetic enjuba team of 6. We were joined by a team from Stanbic Bank Voice Branch who were so enthusiastic about the reading day.
On our arrival, we found a number of children already seated on plastic chairs anxiously waiting on the activities that we had prepared for them. We were wowed by what the children had in stock for us. We were entertained by two groups of children that had a fascinating dance choreography.
After the children showed off their cool dance moves, we then separated the children from the parents and further into small groups. The parents went up to the library building and William Mukisa, one of our staff together with a few members of Stanbic Bank Voice Branch kicked off the parenting session. The session comprised of conversations on how parents can both cultivate strong relationships with their children and create conducive environments for their children's success.
The rest of the enjuba team then went ahead to conduct fun-filled reading sessions, the Bingo game and talks with youth that had previously dropped out of school. Within the youth session, they were able to share about their dreams and what steps they would take to achieve them. The enjuba staff supported the youth and affirmed to them that their dreams were valid. In retrospect, the children surely had so much fun that many of them shared with us that they were very excited to read their new storybooks. During this reading day, we found that only 23% of children had ever owned a book of their own leaving about 77% of children who had never owned a book and yet enjoyed reading. This partly explained the excitement that we saw from these children. Thanks to your support. Now all the children own a book.
This was not so different from the reading day we had in one of the urban slums called Katuuso in Bunga. With this particular reading day, we found that 100% of the children had never owned a book of their own and yet enjoyed reading.
These kinds of findings continue to motivate us to reach more children across Uganda to contribute to their journey of falling in love with books so they can learn to read and read to learn eventually.
We are forever grateful for your support and love and because of that, we say thank you!