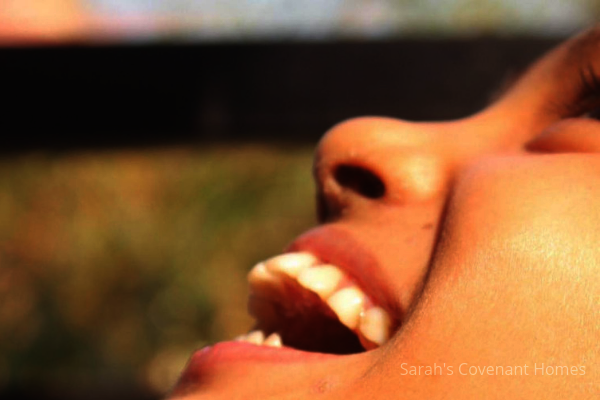 Thanks to your continued support, we've been providing basic hygiene needs to our Diaper Drop Sarah's Covenant Homes for over FIVE YEARS! Today we'd like to introduce you to Winnie, one of the many lives you have touched.
Winnie is part of SCH's Anchor Navy family--having moved from Ongole to Hyderabad several months ago to be closer to better medical care. This girl is a gentle spirit. She is bright, beautiful, happy, fun. Her smile is infectious and her sweetness, like honey, runs over. She is a girl that makes you feel loved--brightening with each hug or cuddle. And it is evident that Winnie is deeply loved in return.
Sitting with Winnie, sharing life and time with her, you easily come to recognize the vibrancy and breathtaking beauty of this girl. Winnie can be reserved and shy, and it takes time and trust for her to open up, but when she does let you inside, it's beautiful. This quiet and peaceful soul has a giant personality--filled with excitement and enthusiasm for so much and love for so many.

Winnie mostly communicates with sweet vocalizations. She has special different sounds she says to call out for different people who are special in her life. Her physical therapist, teacher, and house mom have all earned such sweet designations. Though Winnie's voice is so faint and soft, it's definitely distinct when she wants to communicate. Though it is quiet and discrete, her voice brings love and light powerfully to us, to all who earn her trust, to all who listen to the wonder spilling forth from her. We love her ways of love and we love the ways she shapes and touches the hearts of those around her.
A few weekends ago Winnie attended a night of African worship music at a local church. The music was loud & energetic, people were dancing & singing, but the great display of the different colors of lights on the stage flashing was definitely dear Winnie's favorite part. As she sat in the lap of her house mom for the performance (India is not an accessible place for wheelchairs), her big smile, wide eyes and loud vocalizations showed she was fully mesmerized by the concert.

This girl loves to party & loves nights out, and we think she definitely deserves it after her busy, enriching weekly routine. Below is just a little insight into what her typical day looks like.

Winnie usually wakes up in a happy mood, and enjoys her morning routine of having a shower, getting dressed, & eating breakfast. On weekday mornings, Winnie attends circle time and class time in Anchor homes' on site school, during which she works on her communication skills, using a communication switch to participate and say "Hi!" to everyone in the circle. In classes, Winnie continues to build on important skills in structured times and in play! She most enjoys sensory play, and her favorite sensory activity is playing with uncooked rice.

Morning activities are followed by lunch, rest time, & an afternoon snack of yogurt--something she was unsure of at first and has come to enjoy! Then, more classes!

Winnie has afternoon class with her teacher during which she listens to stories & receives physical therapy. At the end of the day, she eats dinner, gets into her pajamas and starts family time. The end of the day is a special time in each home, and at Anchor home, the kids and staff gather together to pray, worship and listen to stories, after which, Winnie is off to bed!

Whether is a crazy weekend night or a quiet school day, Winnie meets everything with her bright, bubbly personality and perfect smile.
Thanks for helping Winnie & other kids just like her at Sarah's Covenant Homes.
~ Stephanie
P.S. As we approach the Christmas season, would you prayerfully consider joining our Circle of Change by becoming a monthly donor? Your gift of $1/day ($30/month) provides Winnie and other kids just like enough diapers to stay clean, dry, and healthy.