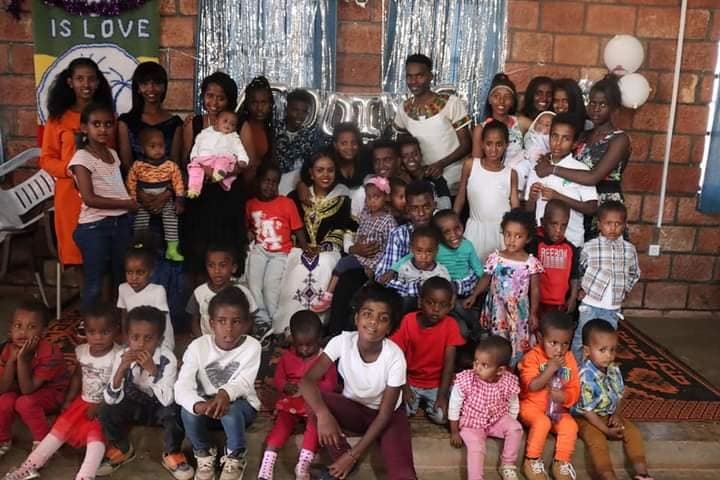 Abandoned babies do grow up!
Waking up to the sound of shelling and gunfire is scary. The new-born, the infant and toddler remain unaware except when the carer / mother shows stress. When fighting started in November 2020, the carers fled to their villages.
It was the big brothers and sisters who cared for the babies, infants, toddlers, and children. It was the abandoned who cared for the abandoned because they had been again, abandoned... The director / founder, Catharina van den Bosch (Karin), stayed put with 'her kids'. The supervisor, Carlos, another abandoned person who grew up at Grace Village, remained as a wonderful support to all! Carlos' wedding was celebrated, with yet another child of the village, bringing a spot of cheer to all!
They grouped together in three of the larger houses, pulled together with the older children doubling up carers, cooks, teachers, animators and yes, soothers for the younger children. Karin had sensed the troubles pending and stocked up on supplies including baby milk formula. As in most conflict there is looting, especially milk powder and other easily transportable items, but amazingly, when the Commander found out about the looting, he arranged to have all restored!
Last year, a small hand pump water well was dug. At that time, another location on the land indicated a larger water supply and a bore hole was sunk that proved to be brilliant and suppling plenty of water. This proved to be providential, as when the military would come through and camp on the far side of the land, they could use the hand pump, keeping them away from the Grace Village family!
Many of you have given to support the needs of the abandoned babies, may we add that they grow up and develop into amazing young men and women, becoming a family to each other when others have 'fled away'.
The latest news is that communication is down again... Many more abandoned babies are expected 'once the dust settles' from this present trauma. Your help is for today but also all our tomorrows!
Thank you!