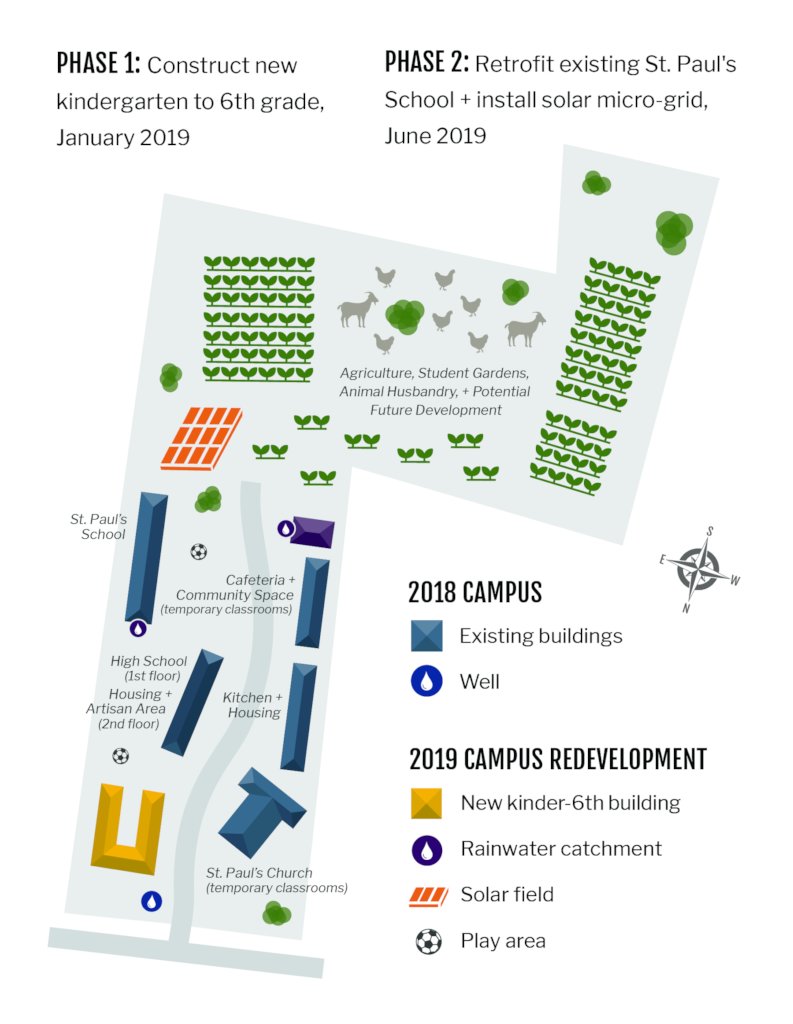 We support local leaders in Haiti in a variety of areas. Community health, agriculture, girls' empowerment, and jobs creation are important priorities that we are committed to continuing to invest in. While we continue to fight for progress in these areas, the staff, students, and families of St. Paul's School remain our top priority, in particular when it comes to their safety.
Since the earthquake of 2010 the leadership teams of St. Paul's School and CHP have together been monitoring cracks in the school structure. The question is not if another natural disaster will strike Haiti, the appropriate and sobering question is when. Over the past year we've hosted multiple engineering firms in Petit Trou to evaluate safety, and through a great deal of dialogue and discernment we are pleased to share the plan shown below.
Our 322 students are safe and sound and still at St. Paul's School using the safe buildings on campus. These buildings include the church and cafeteria, and while they are a safe and passable short-term solution, they are not ideal in the long-term. The project described above will provide a safe and durable space for our students while safeguarding the long-term future of St. Paul's School.
Implementation will occur in two phases:
Phase 1 - Build a structure to house our Kindergarten through 6th grade classes. This building will have 7 classrooms and two offices, providing space for roughly 200 of our children and costing approximately $165,000.
Phase 2 - Convert significant portions of the existing St. Paul's School into a one story, light roofed structure, with the goal of preserving important water cisterns and using the foundation to support safe, simple, lightweight, one story structures. This will be a place for starting plants, having community meetings, storage, and potentially sheltering animals. As a second part of phase two, we will install ground-mounted solar for the campus, this thanks in part to a grant from the IEEE in the amount of $45,000.
Thank you for your continued generosity and please don't hesitate to reach out to Wynn at wwalent@coloradohaitiproject.org for more info on the impact of your support!