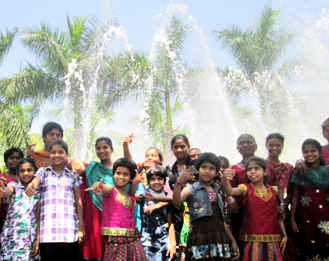 In Prajwala's shelter home, child victims of rape, incest, sexual exploitation and trafficking are given the opportunity to regain their lost childhoods, restore their shattered innocence and renew their sense of joy and zeal for what life has to offer. The 91 children in Prajwala's shelter home are like one big family, caring for one another while professionally-trained staff members provide much-needed love and support that many of these children missed while growing up. The multifaceted psychological, physical, and educational needs of the children are addressed in a sensitive and holistic way to ensure their current and future well-being.
The cases of children which Prajwala's Support Through Education Program (STEP) has been dealing with amount to the most horrific and atrocious human rights violations. In an unspeakable tragedy, one 4 year old girl who was sleeping in a train station with her mother was abducted by a drunken man who took her to a park where he raped her. Her anus was so torn, her intestine so ruptured that she now has constant uncontrollable bowel movements; the multiple surgeries she has undergone have been unable to repair the damage. Another 5 year old child was tied up, sexually tortured by her neighbor who burnt her genitals. One cannot even imagine the suffering, pain and torture that these children experience.
It is the eternal mission and commitment of Prajwala to ensure that child victims have access to rehabilitation, safety and protection from any and all harm. The organization also recognizes that receiving justice is of utmost significance. Thus all children in the shelter home are produced before the Child Welfare Committee (CWC), and letters of recommendation are submitted on their behalf to the district Collector as well as Superintendent of Police so that they can be granted financial compensation from the Women and Child Welfare department as well as court magistrates as per stipulations in Protection of Children against Sexual Offenses (POCSO) Act.
Based on Prajwala's determination to provide dignified and sustainable opportunities for children who have experienced the worst kind of exploitation, there have been many successes over the past 3 months which everyone in the shelter has celebrated. To begin, there were 6 children admitted in to the home this period. All child survivors enrolled in mainstream schools received 100% pass marks on their annual exams! One student in intermediate 1st year obtained District 2nd rank and another studying in government school got 1st place out of all students in 10th class! The children also greatly enjoyed exposure trips Lumbini Park and Public Gardens.
In terms of advocacy efforts to advance the anti-trafficking cause, in a landmark judgment based on the recommendations of Prajwala, the Honorable High Court of Andhra Pradesh has directed the State Government to arrange video conferencing facilities to record evidence of sex-trafficked victims. The District Legal Services Authority of each district has been directed to hold this facility in their premises. In addition, in collaboration with legal services, Prajwala filed 1 Public Interest Litigation (PIL) in the Supreme court and 3 PIL in different states on rape redressal system, national anti-trafficking law, protection services and victim protection protocol.
Based on the generous contributions of supporters and well-wishers, Prajwala has been able to make an impact not only on the lives of hundreds of victimized and exploited children, but has also promoted substantial changes in the judicial and legal systems of state and national governments to combat human trafficking in all of its dimensions. We wish to extend our deepest gratitude to all of you who have stood by us in solidarity as we break the culture of silence and create a zero tolerance against this crime. Together, we can continue to ignite the flame of hope to bring light to those in despairing circumstances and work towards creating a world free of modern-day slavery.