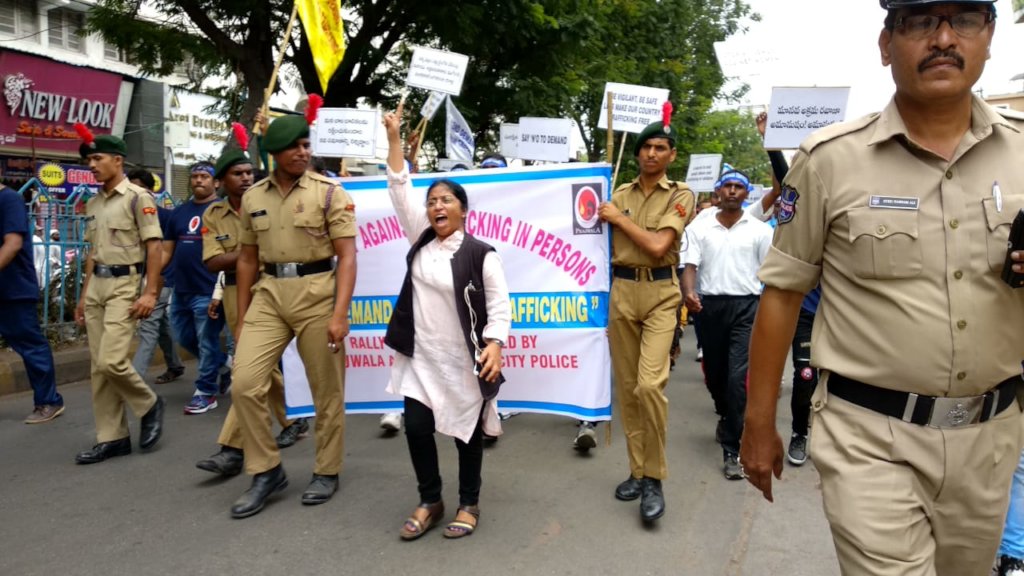 When we first met nineteen year old Bhavani in 2002, we were taken aback by her vehemence and aggression. Bhavani was rescued from G.B Road Red Light Area in New Delhi an infamous prostitution zone close to Kamala Market Police Station filled with many 'Kothas' (brothels) with girls from all over India and a significant number from Andhra Pradesh. Our dear friend Roma Debabrata who heads STOP had assisted the police in that rescue where hundreds of telugu girls were rescued. What struck us about this girl is her aggressive stand that she was 'doing this by her willing choice' and why were we harassing her?
When she was brought to our therepeutic community in Hyderabad, she tried to escape twice. It took her more than 6 weeks to settle down. And when finally we spoke to her the first few question she asked "how can I trust you? The same police who were taking 'haftas'(bribe) every week from each brothel are now removing us from that place? And you people were with the police, so how much do you get?" We were stumped by her questions.
Over a period, after many counseling sessions she confided that she was 12 years old when she was brought to Delhi from Ananthpur in Andhra Pradesh by a friendly neighbor who had promised a good job as domestic help in an affluent family. The lady left her in a brothel and disappeared. In an unknown city and an alien language, Bhavani could not understand when the Malkin (brothel keeper) told her to change her clothes and be ready for a customer. As soon as Bhavani realized what was happening to her, she tried to escape. The henchmen in the brothel traced her and brought her back to the same place. Physical torture, threats and intimidation followed. When Bhavani felt she had no choice, she gave up resisting. In the seven years that she lived in that brothel she had to cater to 20-30 men a day, was given injections to enhance her body, became a substance abuser to handle the men, met hundreds of police men who took their 'weekly cuts' to provide protection to the brothel and had four abortions. As Bhavani's story unfolded before our eyes in the next few weeks for the first time we were able to see how much we have failed not just Bhavani but also hundreds of girls like her who have been sold in sex slavery and have over the period of time normalized the experience of being exploited.
Who will take accountability for these irreversible damages? This is the question that plagued our minds over the next few months as we met hundreds of such victims in our therepeutic community. One thing that was clear in our mind was that no stakeholder looked at either the law or post rescue services from the perspective of the victim.
For them she was a burden to get rid of at the earliest. There was not even an iota of empathy to reflect on 'what is making this person behave in this particular manner'.
At our own own level we started advocating for a comprehensive policy in the State of Andhra Pradesh. In 2003 after much lobbying the first ever Anti Trafficking Policy, GO MS 1 issued on 3rd January 2003 came into effect.
Our close interactions with hundreds of girls removed from commercial sexual exploitation opened our eyes to a world of slavery and also an organized crime. While society at large looked at it as a moral crime and formed prejudiced opinion about the victim, we were able to see a different side of the coin. Every time there was a rescue and girls were admitted in our shelter, a very powerful counter force would be in the court trying to get the release of the victim. In Delhi we faced even high profile lawyers rushing to the High Court stalling the transfer of the Telugu victims to their home state. Back home, this resistance was felt at multiple levels including physical attacks on our shelter, assaults on our staff, personal attacks on my life and also as threats, intimidation and ultimatum of eviction.
This set us thinking, how come these girls who come from such poverty ridden families have access to such powerful groups who will go to any extent to get the girls out of the 'shelter home'. In a country where there is no value for life, girl children are considered a burden and worthy of only feticide or infanticide, a rape victim is victimized for being a victim and socially excluded, how come in the same country these girls who have been sold into prostitution and have been raped by thousands of men have such a 'high value' that people are willing to stake their money and their lives to take them out of our 'shelters'? Claimants with best lawyers would go even to the High Court or Supreme Court to take custody of a victim sheltered in a 'safe home'. Organizations like mine were vilified and were recipients of constant abuse, threat and attacks.
The pattern of the criminal syndicate was slowly becoming more and more clearer to me as the days passed. While the trafficking syndicate wanted the girls back in the brothels to ensure their steady flow of exponential revenue, there were also others who wanted them back for their own reasons; we think it is best left to them to explain their motives. We also came to understand the vicious cycle of the crime wherein a victim over a period of time not only normalized the experience of being exploited but also slowly became a perpetrator of the crime. The inter-dependence of a young victim and an aged woman in prostitution is a frightening reality of perpetuation of the crime.
In 2004, we finally decided to file a Public Interest Litigation 56/2004 in the Supreme Court of India demanding Victim Protection Protocols for victims of sex trafficking ensuring that victims are treated with dignity & respect not only during rescue operations but also in each of the post-rescue process putting an end to any form of secondary victimization and also ensuring rehabilitation as a right of a victim. For 11years the case was argued in the Supreme Court. Although we started with Human Rights Law Network, when Aparna Bhat moved out of that firm we requested her to argue for us. For a very small retainer fee, Aparna argued the case for us for 10years. Towards 2014, we requested Shri Dushyant Dave a prolific advocate to represent us as senior counsel. Shri Dave argued the case probono. In 2015 the court passed its final direction. The court directed the Central Government to bring a comprehensive legislation on Trafficking of Persons (not just sex trafficking but all forms of trafficking)
For the last three years the Ministry of Women & Child Welfare has held hundreds of consultations and inter-ministerial dialogue to draft the Trafficking of Persons (Prevention, Protection & Rehabilitation) Bill. All our recommendations in the Supreme Court now takes the form of a legislation, of course the canvas is larger and encompasses all forms of trafficking. For the first time in the country trafficking is now being recognized as an organized crime and a frame-work is envisaged in the form of National Anti Trafficking Bureau which will address the local, national and international implications of all forms of trafficking. It is also the first time that this framework will address both inter-state and cross-border trafficking. As mentioned earlier we started with a narrow framework of sex trafficking but the Bill addresses practically all forms of trafficking such as labor exploitation, surrogacy, commercial sexual exploitation, forced marriage and beggary.
While at one end the criminal syndicate is addressed, the Bill also recognizes the damages a person is subjected to in the process of being trafficked and thereafter living in the world of exploitation and provides for short-term and long term rehabilitation, victim witness protection and accountability of all the stakeholder if they violate the norms. There is a genuine threat perception for every victim who is removed from an exploitative situation that he/she will be harmed by the criminal syndicate. The fear is real, as the criminal syndicate is also concerned on what the victim will disclose to the law enforcers. While community based rehabilitation and social reintegration is the larger goal of every anti-human trafficking intervention, there is no substitute for transit protection homes/rehabilitation homes for creating a temporary safe environment for the victim to heal and gain the necessary life-skills to cope up with the larger society. This need of the victim is duly recognized by this Bill.
The Bill also legally mandates that budgets are provided for all activities aiming at prosecution of offenders and protection of victims ensuring it is not a mere rhetoric but an implementable goal. Among many other components two important aspects that the Bill covers is prevention of trafficking and self-evaluation by way of Annual Trafficking in Persons Report.
Maybe this is not a super perfect legislation, but it is a start. It takes the next step in crystalizing Sec 370 of the Criminal Law Amendment Act and ensures a legal statute in providing an organized framework to fight the most heinous organized crime "trafficking of persons".
Does anybody in the world need to be worried about this Bill? I think so. For all those who directly or indirectly abet or live on this crime will be impacted drastically if this legislation is implemented in word and spirit.
After removing over 20,000 women and children from sex slavery and experimenting on various interventions to counter this organized crime, failing in many but also successful in some, we know for sure that nobody can say today 'lets legitimize this crime as nothing can be done about it, so let us brand this as necessary evil'. We have been able to demonstrate that it is possible to change and this bill/ legislation is one more step towards it. We say this with pride as over 146 survivor leaders are part of our full-team in this movement against human trafficking.
When we shared the Trafficking of Persons (Prevention, Protection & Rehabilitation) Bill,2018 with my survivor leaders, most of them had tears in their eyes. They had just come back after cremating the body of 23 year old Gayatri who was trafficked to Delhi at the age of 14years, rescued at the age of 23 with her 3year old daughter when she had full blown AIDS by a dear friend and collaborator Lalita Nayak from SPID. She was in our shelter only for 10 days before AIDS took her away on 9th July 2018.
In the words of Jyoti a dynamic survivor leader "How many more lives have to be lost before the world will wake up to our reality?"
As a tribute to Gayatri and hundreds like her who have lost their lives in this world of slavery....for those who are still enslaved...we hope India wakes up to the reality of human trafficking...and when this Bill is tabled in the Monsoon Session the parliamentarians are endowed with the right wisdom to value the lives and dignity of women and children...no human being deserves to be trafficked...even one is ONE TOO MANY