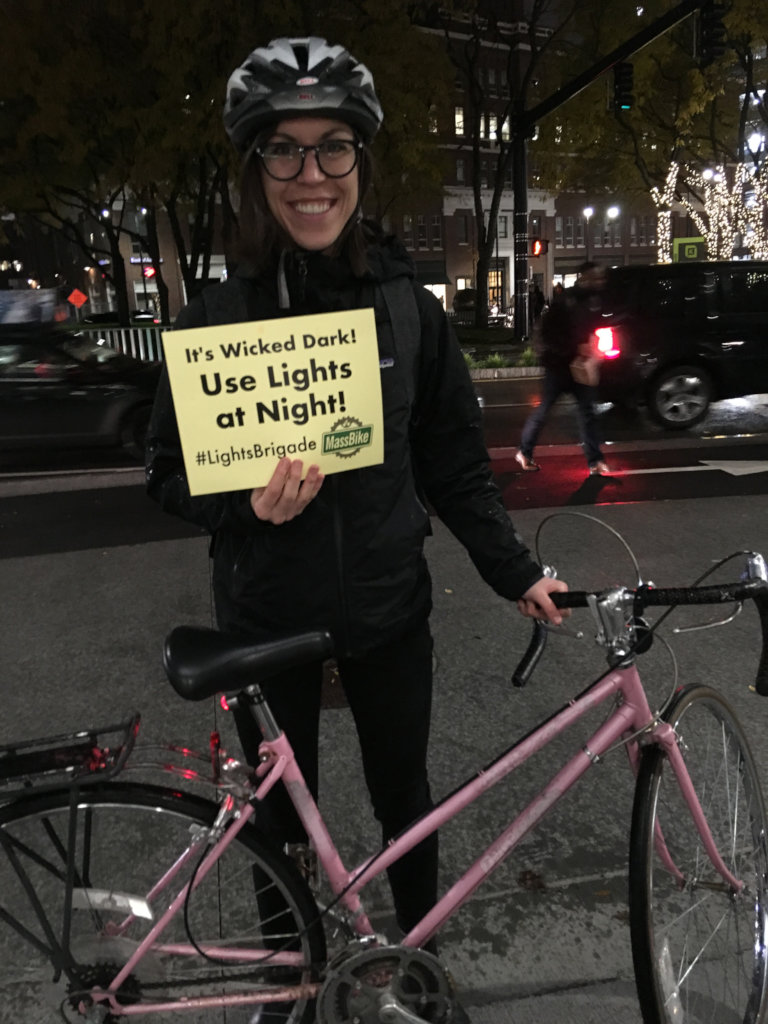 No longer will we abide your riding in dark clothes, with no lights, no reflectors, and no warning to the drivers, pedestrians, and other bicyclists that you're out there on the roads, paths, and trails. We're on a mission to get you to brighten up!
Yes, we are the #LightsBrigade! As the sun sets earlier each day, you may find MassBike volunteers standing out on a traffic island of a particularly long stoplight, calling out with a friendly: "Hey there! It's wicked dark, you need some bike lights... We've got some for you!" It may be a rainy night and you, hidden by the shadows and the sudden darkness at 4:30pm, will be glad to see us.
By putting front and rear lights on your bicycle, we're here to keep you safe – and legal. In Massachusetts, our state laws regulate the types of lighting on a bicycle (requiring a white front light and a rear red light and/or rear red reflector), when lights must be on (a half-hour after sunset until a half-hour before sunrise), and the distance at which the light must be seen (from 500 ft away). You also are required to have reflective material on the front, back, and sides of your bicycle or clothing.
These statewide regulations make a lot of sense. Bicycles are considered to be part of traffic and are expected to behave just the same as all vehicles. We have standards by which all road users know what to look for at nighttime, and white/front and rear/red lights are safety features to make sense of a chaotic streetscape.
And more practically, being bright and visible is important to avoid crashes! Even though there are far fewer riders during the dark hours, more than 20% of crashes take place at night. Lighting on your bicycle prevents crashes (whereas helmets only prevent injury during the crash), so the #LightsBrigade is part of our #VisionZero campaign – the goal to get all crashes to 0. Adding to this, many night riders are commuters working late-night or early-morning hours, especially in the service industry, who may not be able to afford quality front and rear lights and are riding out of necessity.
So, what is MassBike doing?
We've been fundraising since the first of October to purchase lights to distribute around Massachusetts through our chapters and partner organizations. So far we've raised over $3000 (and counting!), with a goal of $5000 before the campaign is out. Of course a huge THANK YOU to all our individual donors, who have chipped in to cover the cost of the sets of lights – a donation of $10 gets a set of front/rear lights to a rider in need.
MassBike is on a mission to shine bright lights across the Commonwealth, and we won't stop until every bike is lighted! Shine on, you bold bikers, and help us spread the light by joining the #LightsBrigade.
PS: And, just a final PSA, when riding on pathways or roads with oncoming bikers, please direct your lights down so you don't blind them. Remember, if you can see the whites of the approaching rider's eyes, your light is pointed too high!
Links: