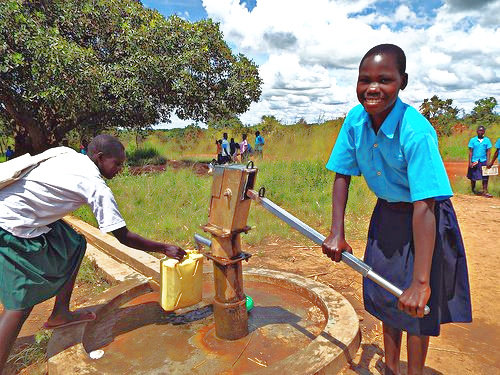 This report is being sent to friends who donated to our project to install accessible toilets at the Abaka Primary School in Gulu Disrict, Uganda. The project was successfully completed in August - the fourth WASH project that we have supported since 2015. I thought it might help to put Abaka into a larger context.
Sixty-one donors have given $7,941.27 to our WASH program in Uganda since 2015. We have also received generous donations from the online giving marketplace Givology; the Prince of Peace Lutheran Church in Dublin, Ohio; and the Water Charity Foundation. Our 2015 Peace Fellow Josh raised another $4,000 for the program. In all, we have invested about $30,000 in the four schools.
When we launched this program in 2015, our main goal was to install accessible toilets for students with a disability. Our Ugandan partner, the Gulu Disabled Persons Union (GDPU), had long been concerned at the lack of WASH facilities, and several Peace Fellows who served at GDPU used their blogs to describe just how difficult and demeaning it can be for a child with physical problems to use an open toilet without guardrails.
As a result, the first toilets we installed at the Tochi School (2015) were for use by students with disability. It quickly became clear, however, that ALL students were suffering from the lack of water, sanitation and hygiene (WASH) in their schools. We were told last year that only 10 of the 61 primary schools in Gulu district meet the government requirement of one toilet for every 40 students.
As a result, when we now install toilets, only a quarter of the stances are built for students with a disability. The rest serve the entire school population, particularly girls. This was the formula we used this summer when Patrick from GDPU oversaw the construction of 5 new toilets at the Abaka School, with help from our Peace Fellow Spencer.
I had visited Abaka with Patrick six months earlier in December 2018 and found the school to be in terrible shape. Only two of the toilets were functioning and even they had been declared a health hazard by the government. Teachers were demoralized. Parents were so disengaged that some had stolen gutter piping. Enrolment had plummeted from 405 students to around 300.
The turnaround this summer has been dramatic. Patrick, Spencer and their team installed 5 toilets and hand-washing stations. They started by digging a large new latrine pit. Over 120 Abaka parents did most of the work and Patrick hopes that this will give them an incentive to protect the facilities from vandalism. Teachers asked for training from GDPU in how to deal with hygiene, disability and bullying.
We don't yet know how the new toilets will affect enrollment at Abaka, but we do know that they have saved the school from closure. As we reported in a recent news bulletin, the district government was so alarmed at plunging enrollment and abysmal facilities that it had planned to close the Abaka School altogether. GDPU's intervention literally saved the school.
GDPU also saved the government from some embarrassment. Under an agreement between GDPU and the District Education Officer (DEO), the government was to install 5 toilets for boys at Abaka this spring. GDPU would then build toilets for girls in the summer. Unfortunately, the government structure collapsed within a month, leaving plenty of red faces and underscoring the sturdiness of GDPU's model. The DEO was also impressed to learn that the GDPU toilets cost half as much to install as those built by his department. This program has benefitted over 2,500 students at a cost of under $30,000 - roughly $12 per student.
After four successful school projects we can now restate the obvious - toilets and hand-washing improve the quality of education and motivate parents and teachers. Enrollment has risen by over a third at the first three schools – Tochi, Ogul and Awach. Bullying of students with disability has stopped. We hope for the same from the Abaka School.
I plan to visit Uganda in November. As well as assessing the impact of your donations at the four schools, I will help the DEO and Patrick choose a new school for next year. The Prince of Peace Lutheran Church has agreed to cover core costs.
After five years it is time to scale this successful model and we plan to ask the DEO to use it at his other schools. Cesar is enthusiastic but he has a problem: his budget comes from Kampala and can only cover one or two school projects a year. Given this, how do we move forward? We'd welcome ideas and we'll keep you posted!
In gratitude
Iain and the AP team