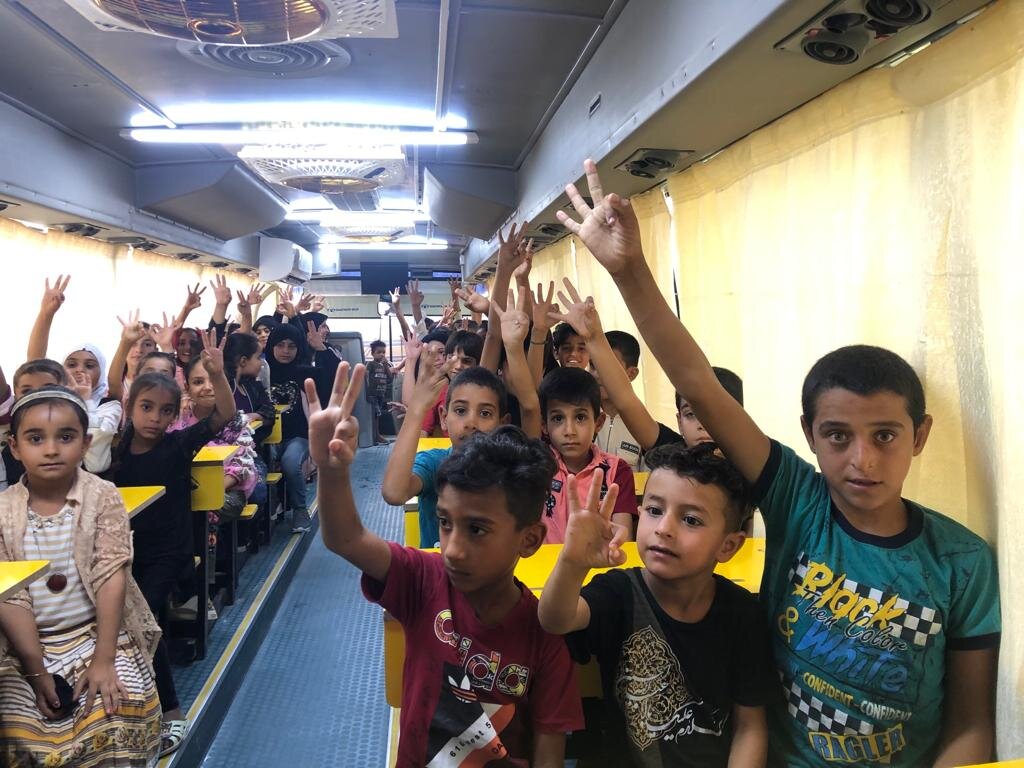 Hi team:
Good news! Remember our fun May 21 "In Their Shoes 5k" to benefit Iraqi children? You ran. You walked. You gave. And, guess what: We are happy to report that you helped us launch Hope Bus 3 for Iraqi orphans, street kids, and other vulnerable children in one of Baghdad's poorest neighborhoods.
Its been a big dream to add a third Hope Bus to our fleet of colorful, child-friendly buses that provide tutoring, nutrition, social services, and play. With your gifts to our special 2022 5K fund - "Celebrate and Donate: Our 10th 5K for Iraqi Kids" - the dream is realized! This means approximately 50 more girls and boys have a chance to learn and dream of a better future.
Did you see our short video, "VOICES FROM THE HOPE BUSES"? If not, you will love these precious faces. As project manager, Firas, says: "Did you know that most Hope Bus children when they first come to us have negative thoughts about themselves like they are stupid, unable to learn. They do not have dreams about the future and feel inferior and that they are not like other children in schools. But when they carry school bags, books and pens, and when they start learning to write the first letter, the change begins."

YOU are making change, one child at a time. If you'd like to be an ongoing champion for these kids, its a great time to do so. Start a new monthly donation - of any amount from $10 to as much as $200 - and Iraqi orphans and vulnerable child will get one extra month free! Sign up here today.
Again, our heartfelt thanks for being a part of our celebration and for being so generous to our beloved Iraqi children.
Best,
Cindy

* * * * * * * *
Cindy Fogleman
Staff Advisor
Iraqi Children Foundation
www.iraqichildren.org
PO Box 233, Falls Church, VA 22040-0233
Mobile: +703.963.3832
cindy@iraqichildren.org