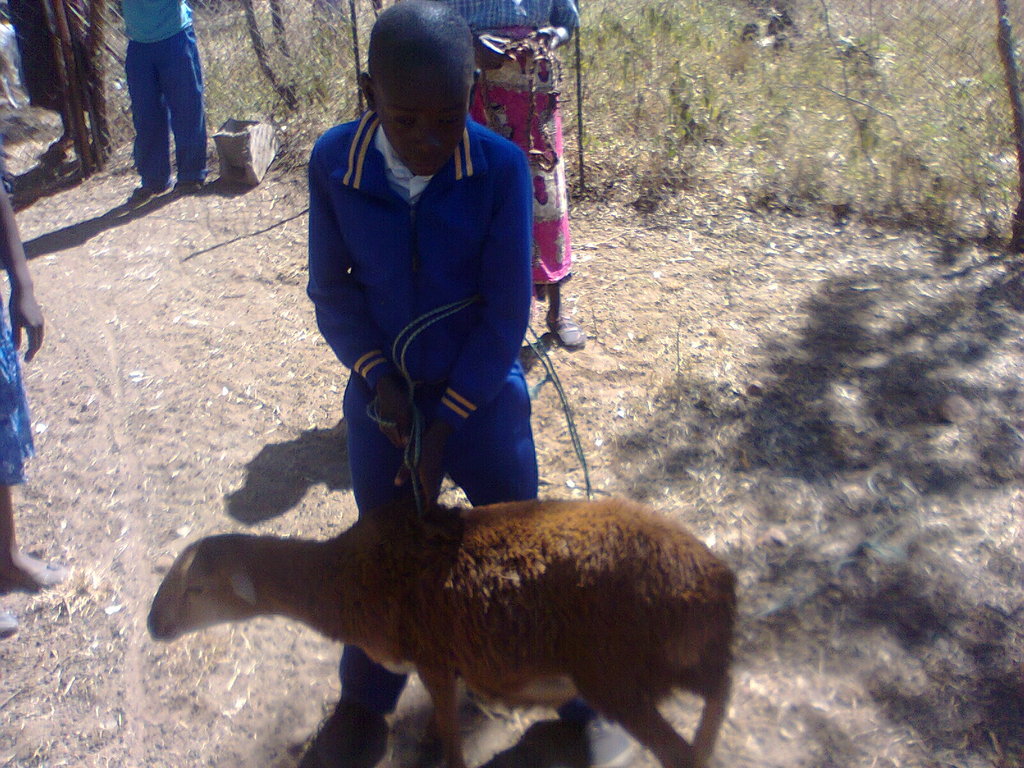 Behave K. is a twelve year old boy from Karanda, Zibmabwe. This is a new site for us to be working in and sheep were the first animals the American Foundation for Children with AIDS delivered there. Behave was selected as a beneficiary and was given three sheep because he lives with his very sick father and helps take care of him, as his mother died of HIV when he was young.
Behave had to grow up quickly and you can tell by looking at him. His eyes are sad beyond his 12 years and they are deeply pained. He's experienced death and sickness and loneliness and pain for too long. His belly rumbles from hunger too many nights. He looks forward to going to school during the day and dreams of becoming a teacher. He wants to live a life where he has a good blanket when the nights get cold, where he can eat when he is hungry and where he can take care of his father, buying the medicine he needs.
Father and son attended trainings on husbandry and veterinary skills. Behave helped build a fenced in area for the sheep, using sticks and limbs he found. And, he waited. He waited to move up the waiting list. He waited a little more. He attended more trainings. He was ready!
Then, one day this part April, he was summoned to a town meeting and wearing his best clothes, he walked the 2 miles to get to the church building where he'd been trained to be a herdsman. He showed up at the appointed time and day and there, with 9 other adolescents, he received his sheep, changing his life forever. He signed a contract which makes him the owner of the animals while emotion too deep to speak of showed on his face and his sad eyes glittered. He handed me the rope he had brought for this special day and one by one, after being vaccinated, Behave was given his three sheep.
Let me tell you...there is nothing, NOTHING, as amazing as watching a child go from hopeless to hopeful. Their stance changes. Their faces light up. Their walk is stronger. You helped us do this, friends. You made it happen and we can't thank you enough.