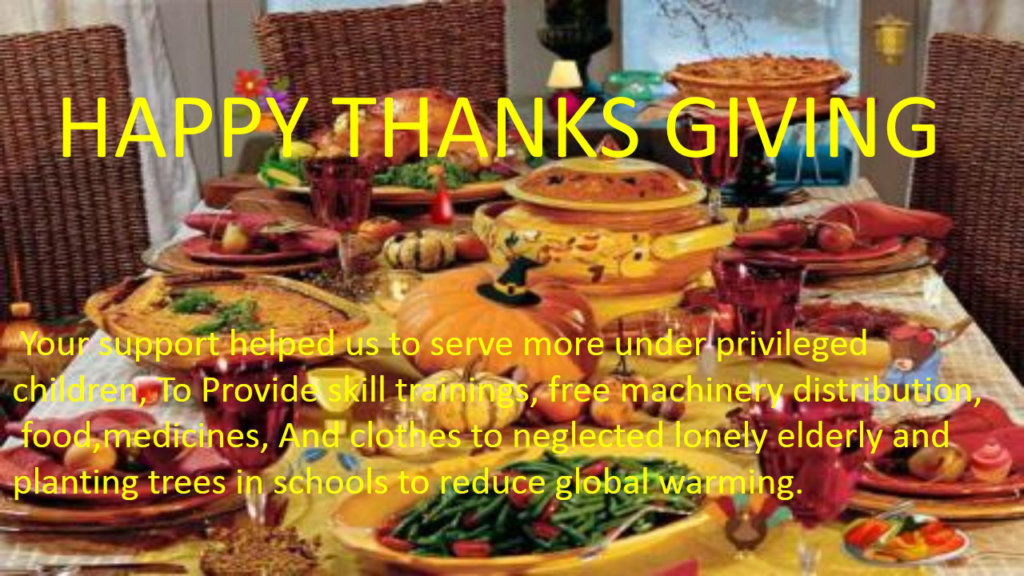 Respected Donor,
Warm Greetings from CHHASE.
In this "THANKS GIVING DAY" CHHASE thanking you for the impact you made by donating to our programs through esteemed organization GlobalGiving.
CHHASE would like to share the success story in this happy thanks giving day.
OUR SUCCESS WITH YOUR SUPPORT
EDUCATION
CHHASE first project was Child labor eradication in Tiruvallur district, Tamil Nadu in May,2004. we started our child labor schools with 147 Tribal children in 3 villages and 36 Alternative and innovative education Centers. Today Tiruvallur district is child labor less.
CHHASE has educated 8000+ drop-out, out of school children and mainstreamed in formal schools. Since Tiruvallur district is child labor less at present, CHHASE is implementing after school education program, to enhance the children's learning capacity. Along with their after school education the under privileged children, who study in private schools get school kits, fee, clothing etc. Differently abled children also get tricycles, specs and hearing aids. CHHASE has provided 32 tricycle, 7 specs and 12 hearing aids till to date. Apart from the above activities, all children from our after school centers get daily refreshment in the evening. Tribal children are provided with dinner & clothes to wear.
We have not forgotten our orphan children, who are looked after by their grandmothers and custodians, get food groceries, clothing, toiletries and other necessary items.
We are providing higher education scholarships to rural poor youth to go to high schools and colleges with fee, mess bill, hostel fee, transport etc.
TREE PLANTING
Global warming is today's biggest problem which we are facing now. To reduce the global warming, CHHASE started tree planting and awareness program in schools and in waste land.
We could succeed in awareness raising, distribution & planting 1lakh and 29 thousand plants during last 12 years.
DAY CARE TO ELDERLY
CHHASE have a soft corner towards neglected elders, Now 35 elderly persons are benefited by way of mid-day meal, Clothes and medical care. Because of this program, these elders are passing their last moments of their life without any suffering. Now we are providing to 120 elders monthly food groceries. CHHASE also look after the leper cure patients and disabled persons by providing food groceries to save them from starvation.
Trainings to youth and women
The logical framework for the program is to motivate Rural Youth, women and thereby have multiple, spread effect, through spread of knowledge in the rural society, through youth participation in training courses under project based on the local needs of the young persons. The program aims at :
a) Developing leadership and entrepreneurial quality among all cross section of youth through vocational/technical training program envisaged in this program, so that youth can act as focal point of dissemination of knowledge in their own area of activity.
b) Developing among non-student and rural youth, such aptitude and skills which will enable them to function better as productive citizen.
c) Preventing migration of rural youth to cities by enabling the rural youth to realize that agriculture and agriculture related services are as rewarding occupations as these in urban areas.
d) Creating new skills among rural youth through which villages can become self-reliant.
e) Inspiring youth to set up own production/servicing enterprises in their own/rural areas.
f) Inspiring young entrepreneurs learn modern techniques with a view to adopting them for improvement of their end result.
CHHASE VTC is providing the following trainings : Computer basics, Tally ERP.9, Animation & Multimedia, Hardware Maintenance, DTP, Computer teacher training, Medical lab.technician, Tailoring, Embroidery, Artificial jewlry, Beautician, Capacity building & Leadership, Mentoring program, Village need based trainings.
Trainings are great opportunity to under privileged youth and women to start their own business or to get a job to come out of poverty.
So far, CHHASE has trained 6000+ youth, women and school children in different skill trainings, capacity building,leadership,personality development and village need based trainings.
CHHASE also provided 200+ Free tailoring machines and 15 embroidery cots, 50 grants to start vegetable & fruit vending to poor women to start their own business to come out of poverty.
Future plans
1. CHHASE plans to provide higher education scholarship to 310 students ( schools & colleges).
2. To reach out to 3 lakh planting by 2020.
3. Train 10000 youth in various skills by the year 2018.
4. Provision of monthly groceries to 300 neglected elderly women, leper cure and disabled persons.
5. Construction of old age home for 50 neglected elders (Now under construction).
Without your support it was not possible for us to do all these programs. Your help gave us appreciation through Indian Express newspaper dated 01.10.2015. the copy attached.
On behalf of the beneficiaries, CHHASE would like to thank you for your generous donation to help them.
Please consider telling your friends and family about our projects - share the link on your blogs or social networks, use the tell-a-friend feature on the project page to email your network, or just bring us up in conversation. You know your friends and family tell them why you chose our project and what it means to you.
Many thanks again for your support! We will continue to keep you updated about our work and events of the following months.
Warm Regards,