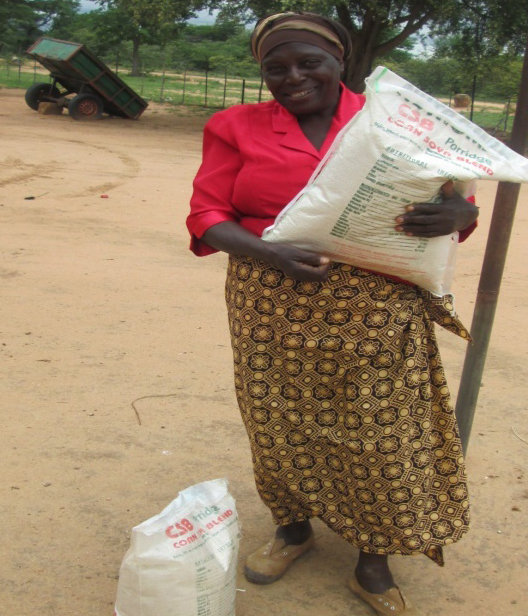 With the recurrent food shortages threatening many lives in Zimbabwe, AFCA came up with a very crucial support initiative that has seen many families survive what could have claimed the lives of their loved ones. The distribution of fortified porridge has come at the time when most of the orphan families, especially those who are sickly, were on the verge of total breakdown due to the intensity of hunger in their homes. The sickly, children and the elderly have endured the brunt end of the prevailing hunger challenges and it is the sick and the children who have benefited mostly from porridge distributions.
The distributions were mostly targeted to those desperate orphan families that have received livestock from AFCA, thereby drastically reducing the temptation of considering abusing the livestock project as a temporary means of getting out of the desperate situation. This has seen the livestock project grow from strength to strength and in the process also contributing more towards uplifting the lives of these vulnerable orphan families. If the distributions can continue for a little while longer, they are going to help orphan families tend their planted crops until harvest time and this will prevent a situation, where due to hunger pressure, they end up eating immature crops, thereby severely compromising the yields and prolonging the hunger situation. It is very sad that the children could not attend the distribution as they were guarding crops in the fields while others were attending an extended programme of immunization.
One of the beneficiary families is that of Locadia who is a sixty-five year old guardian from Sizeze and who is looking after a three year old boy, Mbekezeli, and Nkosiyapha, a five year old boy.
Locadiah says the porridge is a gift from God that He sent through angels from distant lands. She goes on to say that she is praying that God blesses these angels who have responded swiftly to rescue her family from the jaws of hunger and starvation."I am very happy about this gift. We have gone through a lot this year and hunger was one thing that was worrying me a lot. This porridge has given me hope and I feel there are people out there who care about us," says Locadiah.
The family was given three goats in 2012 and the number has gone up to six.
"I never thought that my children would ever own livestock
But now am very glad that they have a small heard of goats. In this society, my
children are also recognized as livestock owners and this gives
me a very special feeling."
To each of you who have helped Locadiah and her kids, THANK YOU!
If you'd ever like to know more about our work or how you can possibly visit Locadia or others in our program, please drop Tanya a note at tweaver@AFCAids.org.