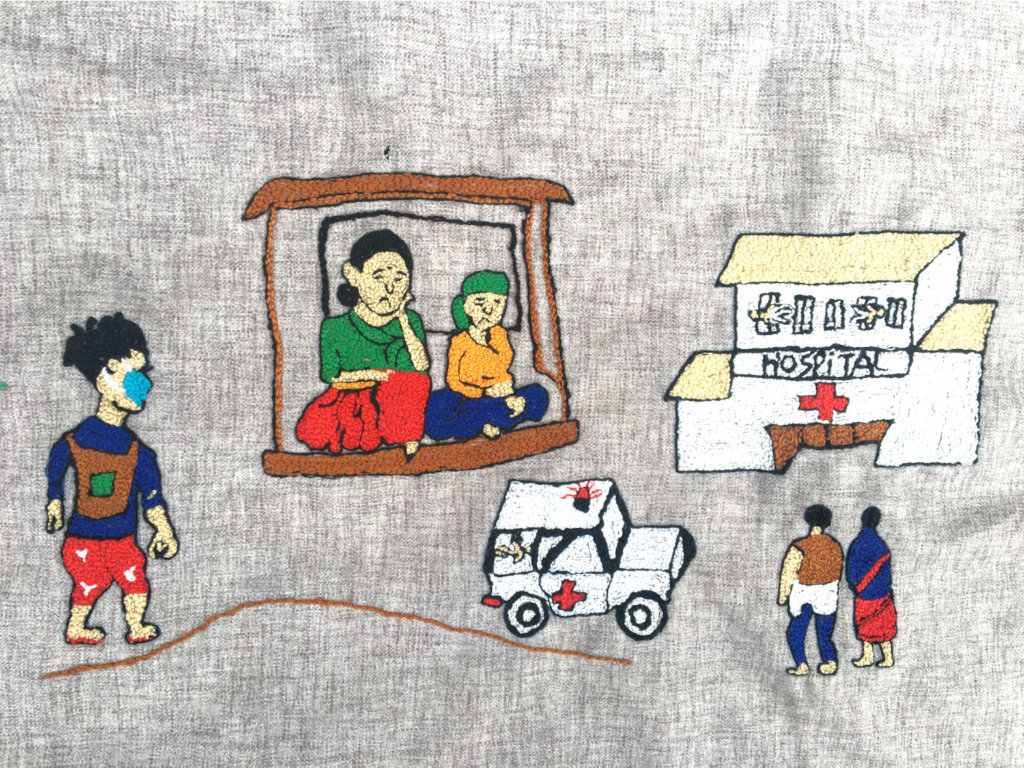 This report is sent to 354 friends who have donated to our appeals on GlobalGiving for relatives of the disappeared in Nepal. First among you are 15 generous individuals who gave $1,690 towards our Tiger bag project this past summer. Your combined donations have allowed us to send $19,995 to 27 women and their families since 2015. Thank you!
The Stakeholders
Let me start by re-introducing you to our stakeholders in Nepal. If they seem familiar we make no apologies. They are among the most remarkable people we have worked with since AP was established 20 years ago.
All are members of the Network of Families of the Disappeared in Nepal (NEFAD), and all lost close family members during the conflict which convulsed Nepal between 1996 and 2006. They are led by Sarita, who lost her father when she was eleven. We have told their story in depth on our website
This partnership has produced deep friendships. The Bardiya women have mentored five or our Peace Fellows since 2016. They also hosted Bobbi, an AP Board member and distinguished American quilter, during an emotional visit in 2019 which we described in this video. If you have not watched it, please do! You will be moved.
Story-telling Through Embroidery
We first sought funds for the Bardiya group as part of an appeal for victims of the 2015 earthquake in Nepal in 2015. Our reasoning was that vulnerable people always bear the brunt of "natural" disasters. This certainly applied to wives of the disappeared in Nepal who had lost their homes and were ill-equipped to navigate the bureaucratic government response to the disaster. Our 2015 appeal yielded almost $10,000 for the families.
In 2018 we launched the first of three new appeals specifically for the Bardiya cooperative. As with many of our partnerships, it began with story-telling through embroidery. Your donations paid for training, fabric, travel and snacks. The artists did not want a stipend but accepted a nominal fee ($25) for each square to compensate them for time lost on the harvest. We follow a similar approach with other partners who make embroidery.
The Bardiya artists began by depicting the traumatic circumstances under which their husbands or sons had been seized. Bobbi helped them to assemble their squares into two striking advocacy quilts during her visit in April 2019. We also profiled the quilts on our website.
Tiger Bags
By 2019, the Bardiya cooperative members were feeling the need to use their stitching skills to earn money. They decided to make and sell bags in honor of the tigers that live in the Bardiya national park.
The first year – 2018 – produced exuberant tiger designs, sample tote bags, and even three wonderful tiger quilts. But it was clear that the bags would not sell in the US, so the cooperative members decided to press the reset button. Working with Bobbi in Bardiya they came up with a more contemporary design as seen on these pages. Each bag has been hand-initialled by the maker.
The production of Tiger bags has been put on hold by the pandemic, but we have 25 bags in our possession and will be promoting them when the lockdown ends. At the request of the artists, we will also reach out to conservation groups and see if we can use the bags to connect tiger conservation and transitional justice. Contact us to order a bag!
Describing COVID-19
The COVID-19 crisis has taken the Bardiya embroidery project in a totally unexpected direction.
As the virus penetrated Bardiya, the women retreated to their homes. But instead of surrendering to boredom and despair, several decided to use their skills to describe the ravages of the pandemic. This has produced powerful squares that speak of isolation and separation. None is more poignant than Alina's design, shown below, which shows a dying man and his wife thinking about the mass burial of COVID-19 victims.
These COVID-19 squares are the culmination of four years of growth by the Bardiya artists. Their needlework is precise and their compositions are intricate, colorful and uncluttered. Set against a somber grey background they certainly capture the desolation of the pandemic. But we also wonder if the style could be put to commercial use and have suggested that the artists might use it to paint village scenes for pottery.
Advocating for Transitional Justice
Parallel to these different business and artistic activities there is advocacy. Everything done by the Bardiya artists helps them to remember, and compensate for, the loss of their relatives.
If anything, their anguish deepens with each passing day. This can be mysterious to people who have never suffered such loss and we attempted to explore it through podcasts and blogs on the occasion of the International Day of the Disappeared (August 30, 2020).
One of our 2020 Peace Fellows, Beth, produced a podcast discussion about disappearances in Nepal with Ram, the founder of NEFAD whose father was kidnapped in broad daylight in 2000. Ram was locked down in Portugal for most of 2020 but at least – as he memorably told Beth - the world now knows how it feels to be forcibly separated from those you love: "Families of the disappeared have been living through a pandemic for the last twenty years."
Two days later, Iain from AP followed up with a podcast about the disappearances in Argentina with Ariel, the first Argentinian to chair the UN Working Group on Enforced an Involuntary Disappearances. Iain also wrote a blog about the psychological scars left from the disappearances in Nepal and Argentina, which we published as a news bulletin.
All of this is aimed at reinforcing NEFAD's long campaign to ensure that the needs and rights of family-members are recognized. AP remains committed to this fight. We took one of the Bardiya memorial quilts to the UN in Geneva in 2019, and will help Ram to testify before the UN Human Rights Council in 2021 when the lockdown lifts. We admire his vision and courage.
Looking Ahead
If nothing else, I hope that this report has shown how a simple donation to GlobalGiving can produce a cascade of unintended outcomes!
Embroidery lies at the heart of it all. Your donations have produced more than art. The Bardiya artists tell us that countless hours of stitching together has deepened friendships, given focus to their association, and provided them with an outlet for frustration and grief. This has persisted through the pandemic: even if they have worked separately, they have spent many hours discussing their designs by phone.
They are excited to have made bags that might find a market, and keen to build a sustained business. They also seem mildly surprised to hear their exquisite COVID designs praised as a unique form of art. All of this gives us a renewed incentive to continue working at their side. You will be hearing more about the Bardiya artists!
At the same time, this will be the last of 28 reports to describe how your GlobalGiving donations have been used over the past five years. We thank you for your generosity, but also for your patience!
Stay safe and enjoy the holiday. And may 2021 bring relief to Nepal and the US.
Iain and the AP team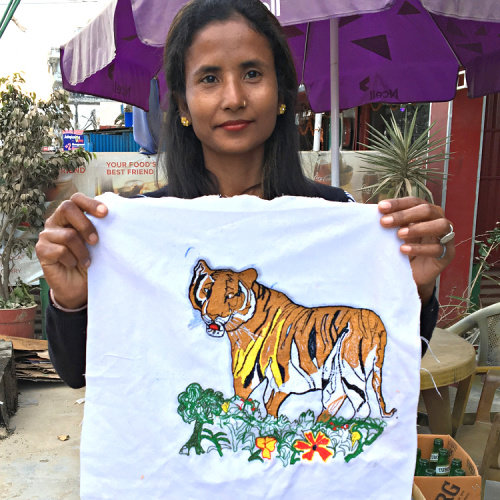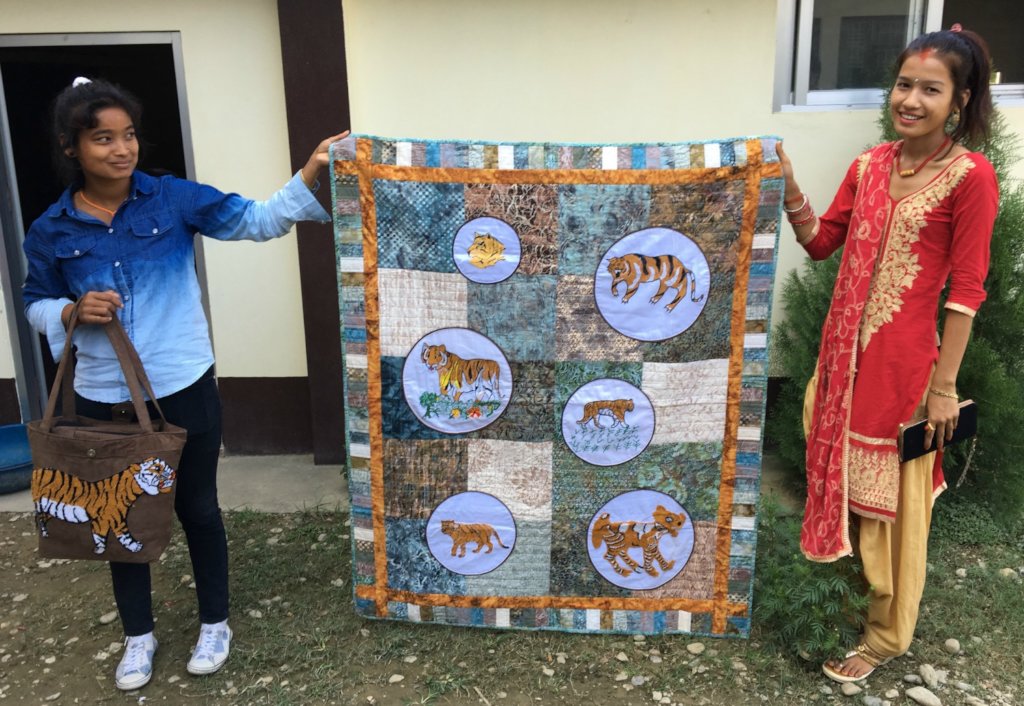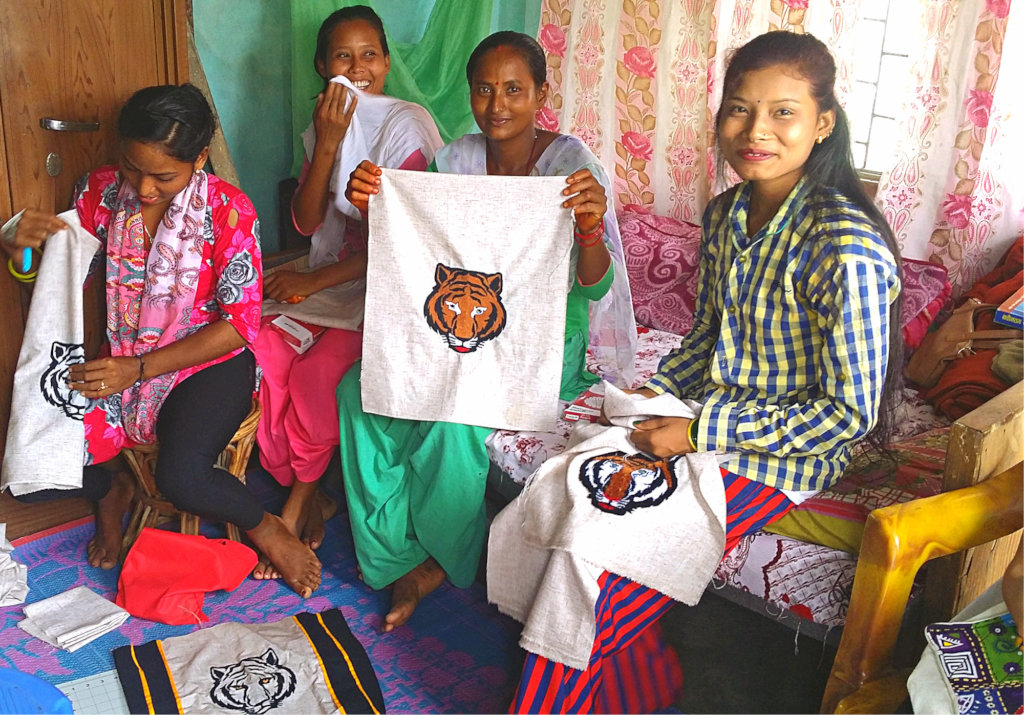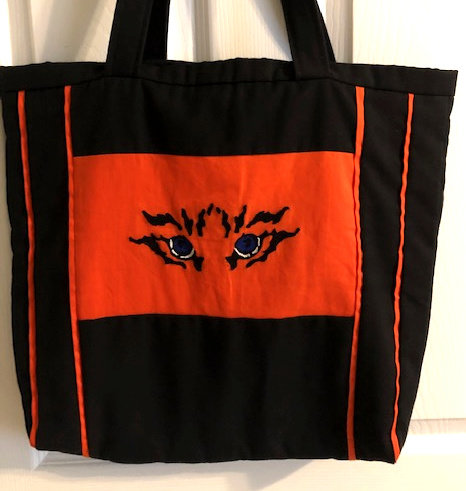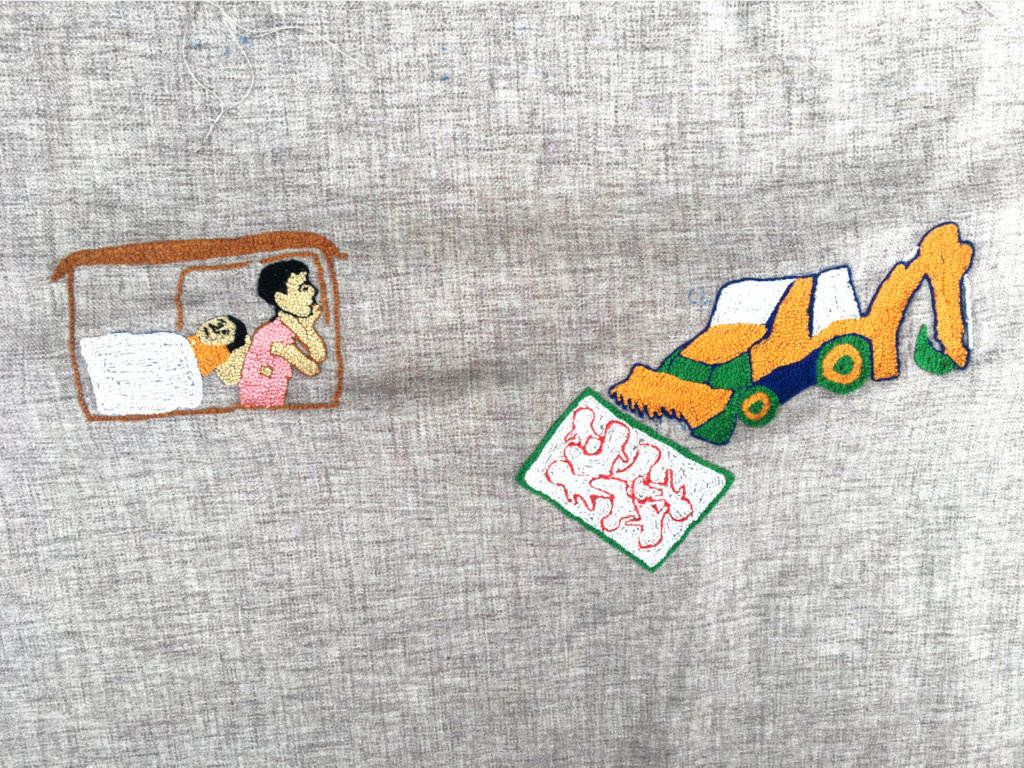 Links: