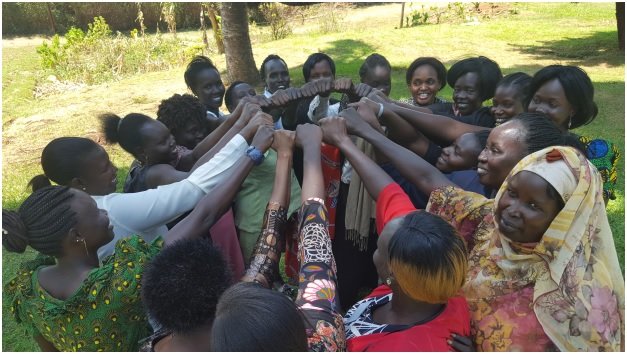 Healing and Rebuilding Our Communities (HROC) Training
Transforming Community for Social Change (TCSC), an organization based in western part of Kenya conducted two 3-day basc HROC workshops in Kakuma refugee camp. There were a total of 40 participants, including 22 males and 18 females of which 16 were youth. The objectives of the workshops were
1. Help the participants to address and deal with their secondary trauma from violence and domestic abuse from the struggling nature of their lives in the camp.
2. To build confidentiality and resilience because people living in the camp are still afraid of their neighbors because of stereotypes. This sometimes leads to hatred and triggers old wounds from their homeland which has been threatening to throw them into powerful flashbacks and people withdraw into themselves, and unable to trust anyone. A small provocation can transform this unspoken sorrow, allowing it to become the fuel for violence rather than the grounds for reconnection.
3. To build resilience through the process of healing from trauma, considering the unaddressed traumas affect not only those directly traumatized but their families and future generation that may lead to historical trauma transferred through generations.
Testimonies
"For many years we, as refugees, have experienced secondary trauma. We know we have experience post traumatic stress reactions. This basic trauma healing workshop has given us an opportunity to work on our trauma. This training has help me."
"I am wounded and sometimes my reaction when encountered with any life stressor as a victim is to find myself becoming an aggressor. Since I was invited to this training, now I can face my pain and start working on my journey of healing so that I can be able to help others who are traumatize."
"I felt a sense of safety in this group. I have gone through a lot of pain in my life. From my sharing yesterday my pain had destroyed my fundamental assumption about my lack of safety and mistrust of other people."
Follow up/way forward:
1.Reintroduction of Alternative to Violence program in Kakuma refugee camp as new cases of violence amongst youths and conflicting nationality have been reported.
2. Train more Healing companions.
3.Organize a world peace day in Kakuma refugee camp.