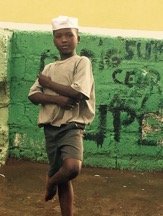 This past holiday season, you opened your heart to help this street child enter school. We are thrilled to inform you that we raised the full amount!
Joseph started at his new school on Monday. He is so excited to be sitting in a classroom and an official student!
It has been a long journey from the street to school for Joseph. He dropped out of school after third grade because his family couldn't afford the fees. He tried to live with his HIV+ mother in her humble shelter, but there wasn't enough food there. He went to the streets to beg, spending many cold nights sleeping in the drains and sewers. It was at this point in his life that he heard there was a center called "MindLeaps" for kids like him.
Since coming to MindLeaps, Joseph has literally transformed. He became eager to learn in the dance classes, improved his nutritional levels with the meal and sanitation programs, and spent every free minute in the library. As a star student, it was our goal to make sure this boy could attend a safe, excellent boarding school in Rwanda to permanently leave his old life behind.
Joseph is now attending ORP in Rwamagana located in the Eastern area of Rwanda. This is the same school that Ali, Misty Copeland's sponsored child, is attending. You can see a photo of the school from Misty's visit last year.
The money that you raised helped us pay for his tuition, transportation, and school materials. In addition, he left for school with his new clothes and shoes!
Many thanks to all of the following and MORE: Keilah, Francois, Jutta, Nathan, Steffi, Jasper, Annette, Beth, Tomislav, Jennifer, Jean, Ronni, Francine, Cassidy, Royce, Briana, Caitlyn, Nicole, Dane and Gregory. We couldn't have made this happen without your generous support.