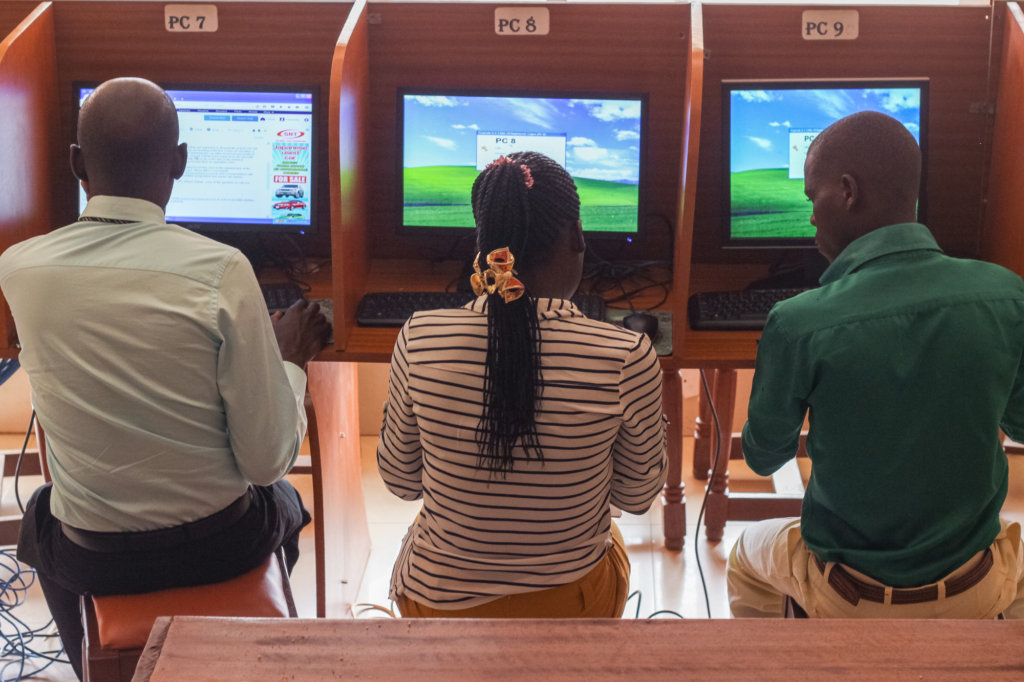 It is with profound gratitude that I, on behalf of management and staff of Mountains of Hope, share our 2016 accomplishments with you and look forward to the new year.
Your donations have gone a long way in improving the lives of children and their communities in Mpigi, Uganda. The funds allowed us to host menstruation management programs, distribute water filters, increase computer literacy, increase school attendance, and continue working on our children's safe home.
Please consider donating again to continue providing children with a healthier, happier, safer, and more successful life.
Menstruation Management
Through a collaboration with Nourish-UNC, we hosted 10 health interventions to train 600 people (234 mothers, 226 girls,65 men and 75 boys) in comprehensive sustainable menstruation management. Girls can now make and use their own sanitary pads and boys and men do support females during their menses. The local leadership now reports that girls rarely miss school because of lack of a sanitary towel.
The trainings also encouraged a group of local women to form "Seeta pad". They took on the initiative to train other women and girls to sew their own pads. They also make over 50 pads per day which they supply to health centers and schools. Rose, their group leader, says they earn between $50 to $100 a week, allowing them to send their children to school and purchase healthy and sufficient food.
Computer Trainings
The computer training center established by Globalgiving donors has taught 110 students to use a computer and thereby attend college and find jobs afterwards. We have also hired one of the computer students as an IT technician as well as computer trainer, and plan to hire 2 more in the coming year as we establish our second computer center.
Water Filters
We also distributed water filters to 30 households and 2 primary schools using last year's funds from Globalgiving. These communities now have access to clean and safe water, dramatically decreasing the rates of water-borne illness.
Children's Home Update
The children's home now has a banana plantation and other vegetables to enable children have enough food. The completion of this home will see over 50 children have some where to call a safe home.
Education
The Education interventions: Saw 600 children attending school regularly, 308 children in 2 Primary schools were enabled to have lunch at school for all the school terms as well as pay tuition for 40 children in Primary and secondary schools, 02 girls in a nursing school pursuing their Nursing dreams as well as 1 University student.
The Mountains of Hope programme targets vulnerable children 3-18 years aiming to improve literacy and basic life skills. Mountains of Hope works with guardians and communities to create a conducive learning environment and supports children both in and out of school.
Our Promise: Everything to the Community-
We use your donations responsibly. The administration of the Mountains of Hope is conducted as far as much as possible on a voluntary basis. Other costs like electricity, rent and internet are covered by fees from the computer training and printing center. We pledge to ensure that 90% of our funds are spent directly on community interventions.
How you can help!
Together, we can continue improving the lives of children in Mpigi, Uganda and beyond. You can consider to give a GivingTuesday gift to our projects today, we request you chose a project to support during this holiday on the Globalgiving site and make sure to tell your friends too!:
Continue paying children's school fees and tuition to keep vulnerable children at school
Support children study their books even at home/complete assignments while at home through provision of solar lights as a simple solution to having light at night for rural school going children.
Partner with schools to reduce school related gender based violence. The project will as well enable us set up school and community clubs and empower them to report cases related to Gender Based Violence
Buy mattresses for the needy children who sleep on the floor. This project will help reduce on frequent sicknesses caused by cold floor, infections and many more challenges.
Renovate a house of a mother who took on 3 orphans but lives in a dusty incomplete house. The children feel comfortable to live with their new mom but the house is in a sorry state
Establish another computer training center and internet café youth project to enable over 100 youth learn to use computer and internet in another rural region
Provide 100 water purifiers to households and schools to enable them drink clean and safe water.
Do you want to support us again? Click here to DONATE:https://goo.gl/CLGkmd