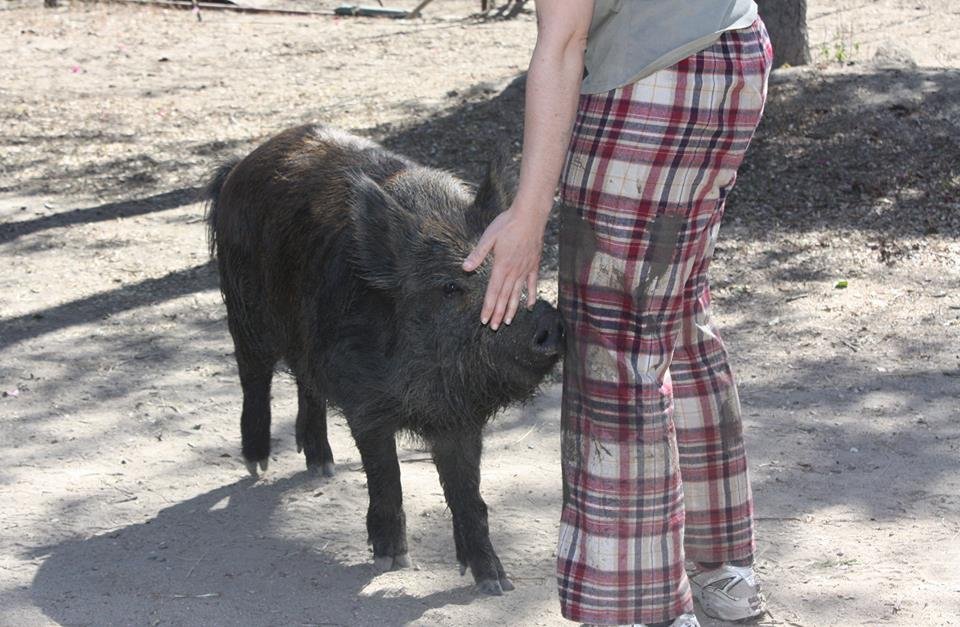 A year ago, we began fundraising for our bushpig, Herbie. Through kind donations, we raised an incredible $3000 to build a special home for him. As you were a contributor to this project, I wanted to give you an update on Herbie and all that has happened since.
As you may remember, Herbie was entrusted into our care by Moholoholo Wildlife Rehabilitation Centre. At this time, he was only about 4 months old, very cute and very playful. Being a hybrid of bushpig and domestic pig, we really didn't know what to expect as he grew older – how big would he get, what would his temperament be like?
Herbie moved into his new pad in March 2013 and it is fair to say that he loved his new enclosure, making full use of all the extra space, the toys, the mud baths and his 'bedroom'. For a long time, he continued to go on walks with the DAKTARI dogs and swim in the dam, but as he matured he became reluctant to go too far from his food bowl! However, he was still taken on daily walks around the camp for enrichment and exercise, something that he looked forward to very much.
It seems that the bushpig genes were dominant in Herbie and with the onset of maturity came hormones and aggression. In April 2013, our local wildlife vet, Peter Rogers, performed an operation to castrate Herbie. The purpose of this was to reduce his aggression, but also to prevent any breeding if he should ever be released. The operation was a great success, with the children at DAKTARI able to watch and ask questions, allowing them to understand the problems that can occur when two different species are bred together. Herbie's behaviour improved significantly after this and it was our hope that he would live out his days happily at DAKTARI.
But the truth is that wild animals can be very unpredictable, even when they are only 'half' wild and have been hand-raised. There have a few instances this year where Herbie has taken his frustration out on our volunteers and staff, both inside and outside of his enclosure. It was decided that, apart from the one or two volunteers who regularly took him for walks, it was not safe to be in contact with him anymore. Of course, as a sociable creature, this was very sad for Herbie. Despite his aggressive tendencies, he really does love company and human interaction. It also meant that his daily walks were limited to shorter periods of time, because it was not safe for the volunteers and children to be around when Herbie was out of his enclosure.
With reluctance, we had to accept that perhaps DAKTARI could no longer offer Herbie the life that he so badly needed, one that allowed him to roam and forage to his heart's content. We knew of a cattle farm not too far from DAKTARI where we had previously released some young warthogs. The farm is absolutely massive, with no dangerous predators and little risk of human contact. It was decided that this was the best option for Herbie and, with a sad heart, we set about making a plan to transport him.
To his credit, Herbie was no trouble at all when the time came. He got into his cage with no fuss, continued eating his breakfast while we lifted him onto the pick-up (4 strong men and a couple of ladies helped with this!) and then he settled down for the journey. I sat in the back with him the whole way, talking to him for comfort. Apart from a brief moment of car sickness, he handled the 45 minute trip very well.
At the farm, we drove to a particularly muddy-looking water hole for Herbie's release. He came out of his cage with a minimum of fuss, not at all phased by his new surroundings. I shared a banana with him and we explored the edge of the mud hole. Before leaving, I scattered some of his favourite dog food around to keep him occupied. As we drove away, he didn't even look up - he was too busy foraging! All in all, I think it was much harder for me than it was for him.
Herbie has had several 'mothers' since coming to DAKTARI, mainly Risette, Katrien and finally myself, but I know that there were many others who loved him and helped with his care. For us, it is difficult to accept that our baby has grown up and needs to find his own way in the wild, but this was the right thing to do.
Of course, Herbie's enclosure (and your contribution to it!) will not be wasted. We have already cleaned the enclosure out, ready for the admission of the next 'hog in need'.
Thank you again for your support and interest in Herbie. He has had many happy months in his special enclosure. We hope that he will have many happy years roaming about in the bush, like a proper bushpig should!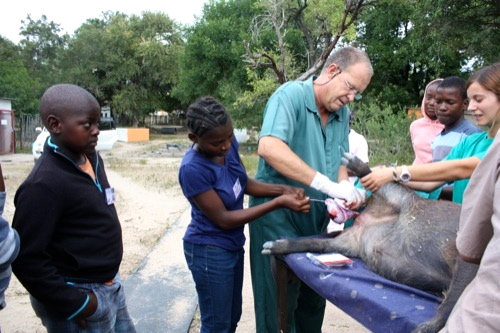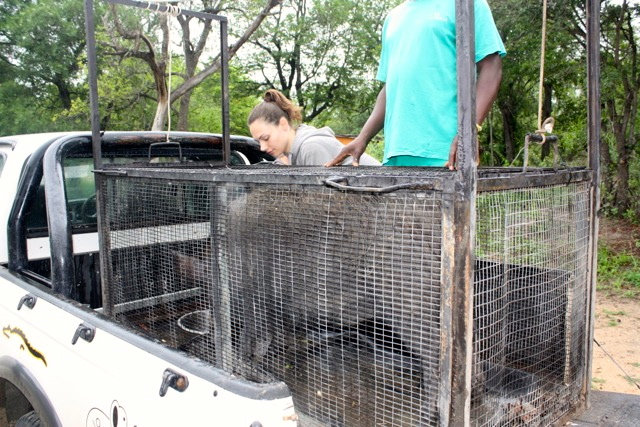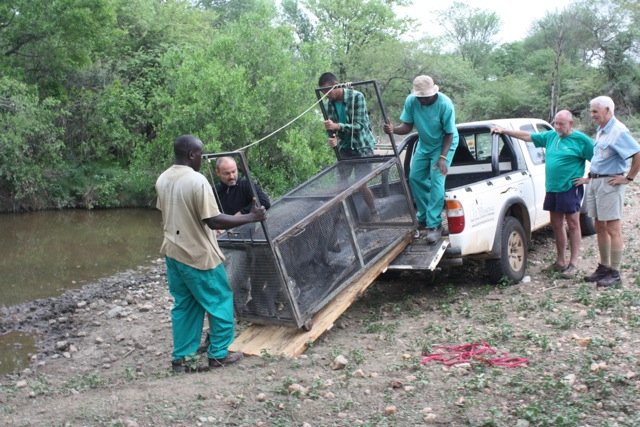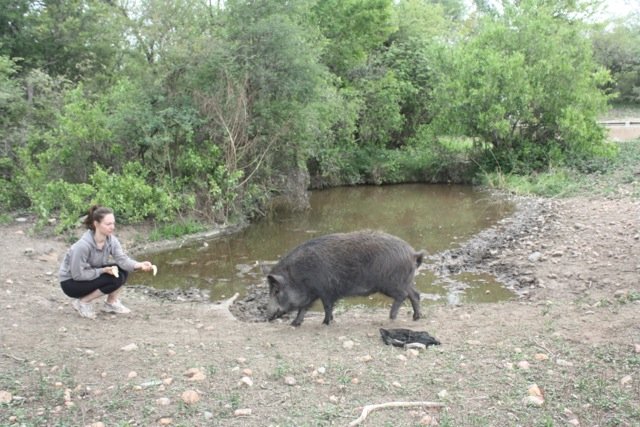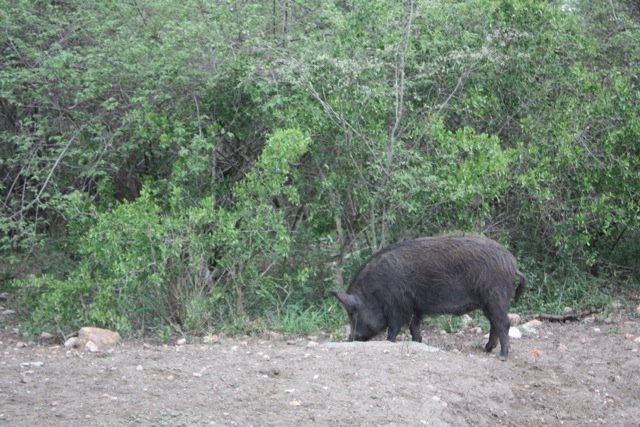 Links: