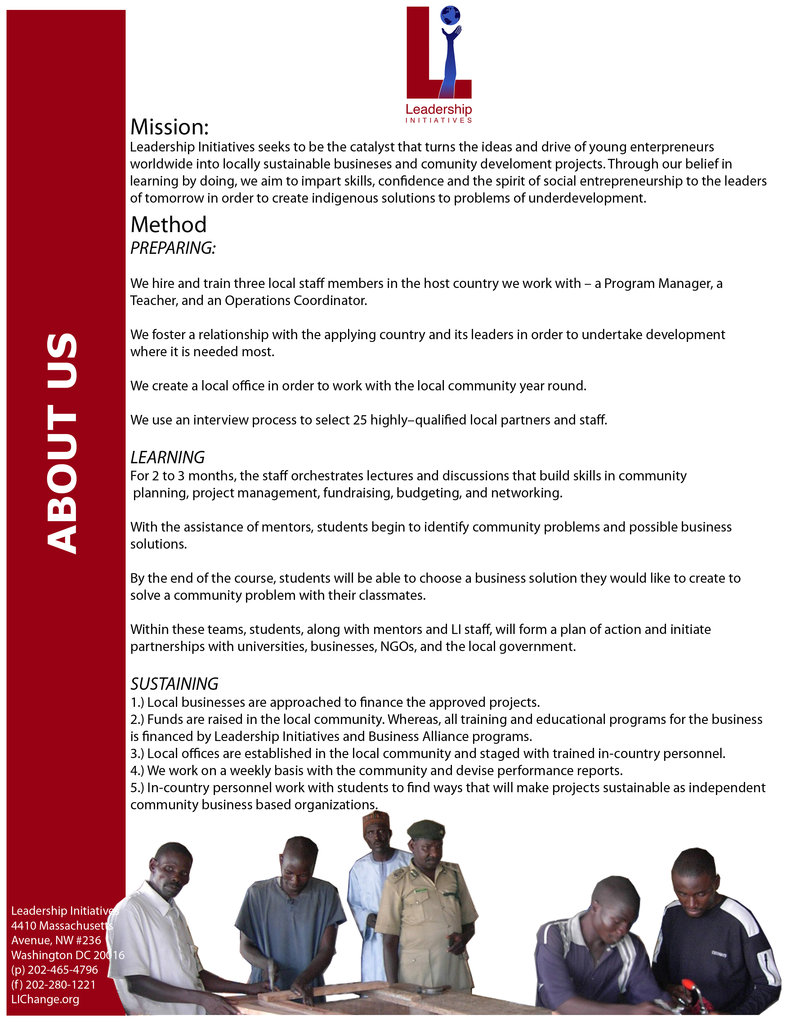 Dear Amazing Leadership Initiatives and Respective Donors,
Because of your generous donation, jobs will be created for young men and women who face physical disabilities in Bauchi State and now enter the photo industry!! Currently, life for these individuals is especially difficult because they endure several social stigmas in a region where unemployment is already high. Due to their situation, they are frequently reduced to begging in the streets in order to survive. Through your funding a new print-shop will be created, which will be employed with disabled individuals in Yelwan, Nigeria. This project will disprove the common belief that disabled individuals cannot maintain employment or learn complex skills. With proper training, these disabled men and women will be given the opportunity to live independently.
Our students create novel solutions firmly grounded in principles of social entrepreneurship. We have previously created in Bauchi, Nigeria businesses in: fish farming, welding, tailoring, motorcycle repair & computer education with job placement. Currently, through funding this print-shop, the disabled community leaders will be able to undertake extensive computer training sessions and receive a personal computer with basic business and financial training as part of the program. This project will become a beacon to those with disabilities, and demonstrate that they can hold jobs and own businesses with hard work and determination.
Because of you and your generosity, we have been able to continue our efforts and develop independent profit-generating businesses that serve as models for growth in surrounding communities. Project beneficiaries fill voids in the local economy while improving their families' health, education and financial stability. Previous leaders have sent their brothers, sisters and children to school, helped invest in new businesses within the community, offered new services to community members such as the disabled, establishing infrastructure for the future growth of Nigeria.

Leadership Initiatives will be regularly providing updates and insight into these projects as the month's progress through GlobalGivings reporting program. Of course, at anytime you can request a project update to learn up to date info on how this project is progressing.

As a supporter of Leadership Initiatives would love to have you involved if you ever want to help grow our programs, learn of ways you can participate or have new ideas on how to develop our programs please contact me at mbailly@leadershipinitiatives.org. Your hard work and intelligence is the greatest gift we could receive as we attempt to create a better world.

Thank you once again from the bottom of everyone's heart here at Leadership Initiatives. If you would ever like to speak to our staff on the ground, a project leader, one of our Business Alliance student participants, we would love to set up a Skype chat for you, so you can personally see the change you are creating.

Wishing you, your family and your friends the absolute best!

Sincerely,

Marshall