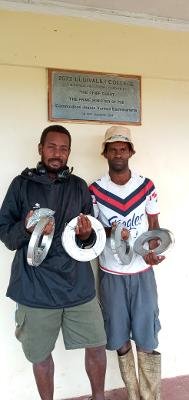 Thanks to your support and the help of other outside agencies, four remote Fijian villages that were badly damaged by cyclones, yet neglected by government and overseas relief efforts, have now come alive once more.
These villages live in the what has become our "cyclone alley" in recent years, of ever more frequent and stronger tropical storms. Our mission was to not only to help communities repair damage and rebuild, but to offer a simple and low-cost solution to reinforce buildings with cyclone strapping. Chain saws purchased by your donations were also used to convert felled trees into usable timber for repairs and building. The people who repeatedly suffer from these devestating storms now feel more secure and less fearful of losing everything once more.
These coastal villages welcomed our community outreach representative Koto warmly and invited him and our organization to return for our coral conservation work.
Koto, is kind, soft spoken, and knowledgeable, and his ability to listen to community elders and assess immediate needs is unmatched. He operates under the best directives of cooperative planning. This approach was extremely successful and he and our group of coral researchers is encouraged to return as guests to help plan for the long-term future and protection of the community reefs. These reefs are the livelihood of the coastal peoples.
While this post storm damage work and outreach was accomplished while Fiji was in a protective Covid-19 bubble, with no cases for a full year. It was at that time possible to take little ferries and access these villages with the use of a 4-wheel vehicle. Since April, the super spreader variant has invaded the country, causing a total stoppage of interisland travel. Our team plans to return and join our new friends in their ecological/ survival efforts as soon as the doors open again.
As always, we thank you our donors for being there, and in this case we add our gratitude to GlobalGiving's Disaster Facebook donors who also contributed dollars.
Sincerely, Austin