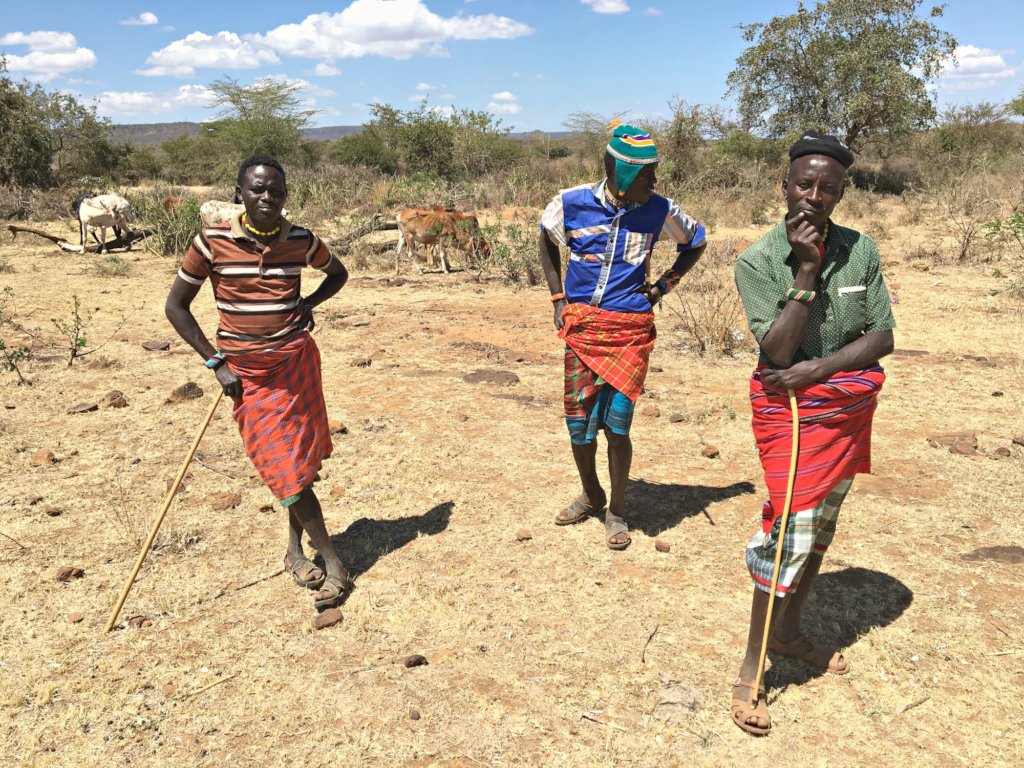 With this report we hope to bring you up to speed on the last of three micro-projects that we launched with your help in 2017 and 2018 on behalf of our Kenyan partner, the Children Peace Initiative Kenya (CPIK).
CPIK's mission is to build peace between pastoralists in the Rift Valley of Kenya and the way they do it is fascinating. It starts with peace camps for children from the two warring tribes. CPIK will then build on the friendships made between their children to create ties between their two communities. Eventually CPIK will ask families to share cows under its signature program Heifers for Peace. The hope is that investing in cows will create economic interdependency that will make any return to conflict highly unlikely. CPIK has used this approach with the Pokot and Samburu tribes, and it has worked. There has been no fighting for several years.
CPIK is also notable for the fact that the founder, Hilary, (photo) is himself from one of the seven tribes in Samburu County that have fought over cows. This gives Hilary huge credibility in the region and makes CPIK an ideal partner for AP.
We have supported CPIK since 2016 with three Peace Fellows, two staff visits, and fundraising. In November last year I was fortunate to be present when the CPIK team handed over 51 cows to 101 families from the Samburu and Pokot. The ceremony took place in the Pokot village of Plesian in a spectacular setting. It opened with prayers in the modest church, followed by speeches from dignitaries and some lively tribal dancing. It was crystal clear that CPIK is highly thought of by these communities. Indeed, one local politician said that model should be used throughout northern Kenya – which is indeed one of CPIK's goals.
Among the beneficiaries at the ceremony were Ester, a Samburu mother, and Joyce, a Pokot (photo). They became friends after their children attended a Peace Camp and applied for a cow under Heifers for Peace. The cow will graze on Ester's land, which is rich in rainfall. But the first calf will be given to Joyce. Cows are valued more than money here, and the two women hope their cow will produce plenty of milk and calves. After the ceremony Ester went off to stay to the night at her friend's home – something that would have been unthinkable until quite recently. We described the ceremony and CPIK's success with the Pokot and Samburu in a news bulletin.
This exchange of cows would not have happened without your help. Some of you have donated to more than one appeal and the three appeals combined have attracted $17,911.8 from 105 generous friends – enough to purchase the 51 cows and support CPIK's core program. AP remains deeply committed to CPIK and we recently described their program through new webpages which you may enjoy. Last year we also helped CPIK to draft two proposals for $110,000. One proposal has already been accepted.
With this success behind them and the wind in their sails, Hilary and his colleagues are turning their sights to another conflict in Samburu County, between the Samburu and Turkana tribes. This conflict has been extremely violent – in December 2012 42 Kenyan policemen were killed by Turkana cattle raiders in the sub-district of Baragoi. The two communities are so physically and emotionally at odds that even their dead are buried in separate graveyards.
Hilary and his team will soon apply their mediating skills to this unyielding conflict. They will start as they did with the Pokot and Samburu by working in 5 frontline villages. This will represent a significant expansion of CPIK's model. If it succeeds in Baragoi, CPIK may look attractive to other communities in Africa that are plagued by drought and tribal tensions.
AP is gearing up for another intense year at CPIK's side. We will hope you be there with us in spirit!
With our thanks
Iain and the AP team.