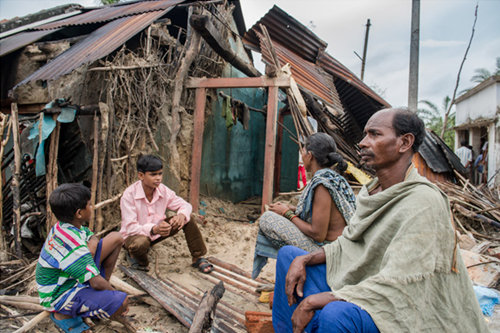 Picking up the pieces in the aftermath of Cyclone Phailin
Basu Das, 50, is the village head of K Badapur village, which is located about 20 miles from Berhampur, Odisha. It is a small hamlet, consisting of 26 households. Most people in the village depend either on fishing or 'Kiya' plantation, an aromatic plant that grows abundantly along coastal Odisha and is used in manufacturing perfumes and incense sticks.
Basu Das lost his home to Cyclone Phailin, and is currently taking shelter in a community shelter with another family. Though his wife and two sons survived the cyclone, the damage it has caused is irreparable.
"We were informed to evacuate the village. We took shelter in a college nearby on the night of October 11th. We returned two days later, only to discover our house was completely destroyed. We had to dig out some of our belongings from under the debris," he said.
His two sons attend the nearby government primary school. Fortunately, the school did not suffer any damage. The family has received some rations from the government, but it was not enough to sustain them for more than a month.
Drinking water is a major concern in Badapur village. According to Bhikari Das, ward member of the Panchayat), people walk 2 miles, two-three times every day to fetch water from the next village, Kattur.
The village has a pond where people bathe and wash their clothes. The water is filthy and the uprooted trees lying in close proximity make it difficult for villagers to use it. Some of them have even caught skin infection.
That's why Save the Children distributed essential supplies to Basu Das's family and thousands more children and families affected by Cyclone Phailin. Hygiene items, household supplies and food baskets have been distributed to stave off malnutrition and disease.
We continue our response to help children and families affected by the devastating cyclone. Thank you again for your support.
Links: