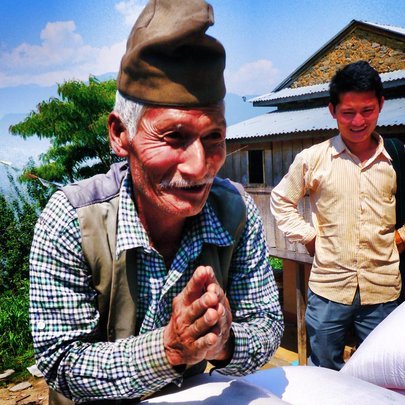 Thanks so much for supporting earthquake survivors like Nandalal.
Nandalal is around ninety years old but he isn't exactly sure. He thinks he was around twelve when Nepal's last major earthquake struck in 1938, but he has no surviving relatives to ask.
Nandalal has been living with an adopted family for the last twenty years but this family's possessions were buried in the rubble during this year's earthquakes.
This meant Nandalal's family lacked even basic kitchen utensils and struggled to prepare a meal.
But now, thanks to you, Nandalal's family, and other affected households, will have kitchen utensils, like plates and cups, provided.
This will allow these families to prepare and share meals together and will provide some much needed normality after the earthquakes.
In Nepali culture, the kitchen is the heart and soul of the house. So by allowing us to provide good quality, durable cooking utensils you'll help us nourish these families emotional needs as well as their physical ones.
To let you know how your donation is changing lives, we will be sending you regular reports about our work through GlobalGiving. If you ever have any questions about how we're using your donation please don't hesitate to email Andy@IDVolunteers.org.
One last time, thanks so much for helping to provide food aid for Nandalal and his family!