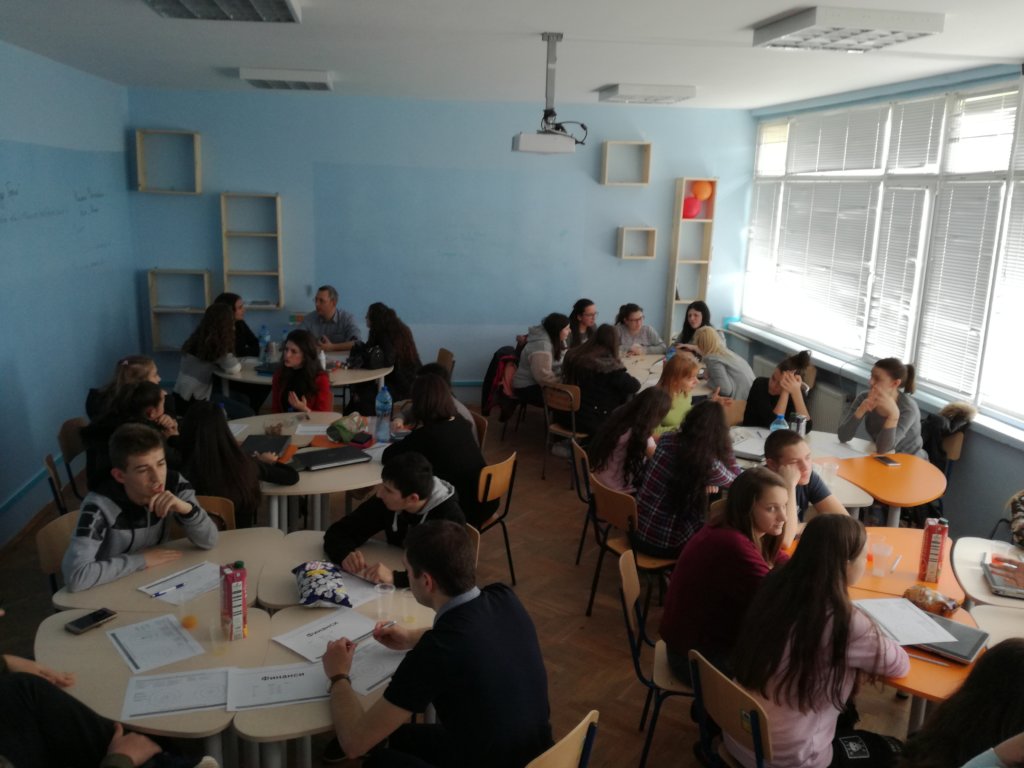 Dear supporter,
Our #StepforBulgaria team is excited to share with you the latest news with our ongoing mission to Give lasting 1:1 career advice to 24 at-risk teens!
First of all, thank you for making this project real. Your help allowed us to fully fund the project by February 23rd and begin making an impact with it. You'd be happy to learn: your contribution allowed a total of 50 at-risk teens to receive lasting, individual career advice! Compared to our original target of 24, that means your donation had more than double the impact!
Here's how that happened:
As the project approached full funding around the middle of February, our team got in touch with one of the high schools we had held a career workshop at earlier in the year. 170th High school in the town of Novi Iskar was happy to host us again, and we were happy to oblige. So, we began planning for how to introduce 24 at-risk students with their individual career volunteers. We settled to introduce them to each other exactly 1 month after, on the 15th of March.
Luckily, we already knew more or less who we had to look for to prepare. Our previous workshop at the school had allowed us to collect valuable feedback from the students and their teachers, and build a class profile with a ranking of the most desired professional sectors therein. The top 5 sectors were: 1) HR, 2) Journalism, 3) IT, 4) Marketing, and 5) Finance.
By the numbers, we recruited volunteers from each sector and prepared them for the students the'd be meeting. We coordinated their training with yet another volunteer, an experienced career counselor, who helped us plan out how to use the volunteers' experience and support to help their assigned students lay a foot on the track of their professinal development. So came March 15th and we found ourselves with a group of 6 volunteers, each looking to devote half of their day to individually meet and begin to counsel up to 4 individual students from the school. And boy, were we wrong in our expectations!
More than 50 students ended up showing to the introduction, looking to get to know one of our volunteers. Even if the volunteers didn't represent everyone's interest (just the top 5), the workshop attracted the majority of students grades X through XII by merely giving them the opportunity to talk with a successful professional, individually, as a friend. To give you a better idea, we had students interested in Law come meet our HR specialists!
Of course, the interest also meant that it would be more difficult for our volunteers to meet with everyone individually, so in the end what ended up happening - for this workshop only - was small group work (with teams of up to 4 students). Still, we found a way to provide individual attention - with having the students rotate in between the groups and fill out a personal "Career Darts" (see the gallery bellow), a game we developed with our counselor volunteer to help determine their Interests, Strengths, and Values.
Currently, we are working on analyzing the career darts so as to give each student individual feedback and 2-3 options for career development they can pursue as of this moment, such as job shadowing, internship, scholarship and other opportunities. Next month, on April 26th, we'll return to the school with twice the volunteers to help each of them use the feedback to find and apply for their desired opportunity. And over the summer, we will look forward to their stories of success!
None of the above would have been possible with your support. If you like what we do, please consider donating again to our Fast-Track Career Development for At-Risk Youths project, which will provide the framework for supporting all 50 and more of the same students in the future.
Thanks once more for allowing us to do what we do.
Best regards,
Dancho and the Step for Bulgaria team