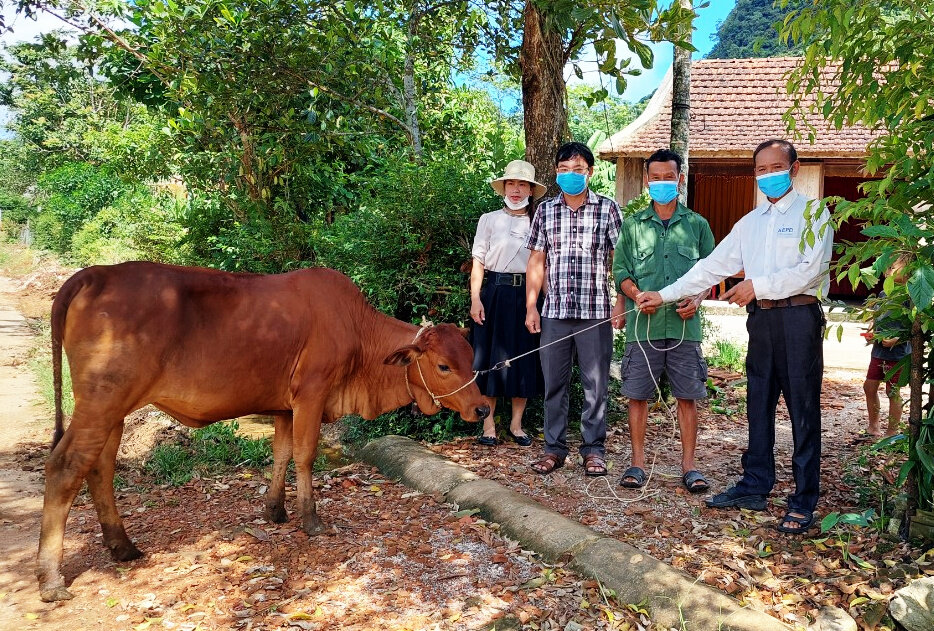 This report is being sent to 133 friends who have donated to our GlobalGiving appeals on behalf of Vietnamese families stricken by Agent Orange. It folllows a recent news bulletin which went out to our network of subscribers.
Over the past six years we have raised over $16,000 for thirteen families in the province of Quang Binh, with your help. All but one are struggling with severe disability caused by Agent Orange, the defoliant that was sprayed over Vietnam by US forces during the Vietnam War.
We launched our most recent appeal last September on behalf of Toa, a war veteran seen in the photo above, and raised $1,626. Part of this was used to purchase a cow for the Toa family by our partner in Vietnam, the Association for the Empowerment of Persons with Disability (AEPD). AEPD also used $300 to leverage funds for a second cow for Co, a widowed amputee who has struggled to raise two children. Co is seen with her daughter Nhi in the photo below.
In all, we have posted eight appeals for Agent Orange families since 2016 and raised $9,114 through your donations. We then leveraged another $7,000 through other donations and matching grants. This has allowed us to support 12 Agent Orange families and Co. Eleven of the families are profiled on our website.
This report will focus on the Toa family and Agent Orange, which has been the focus of our work in Vietnam since 2012. Agent Orange has tormented an entire generation of young Vietnamese and we believe that it poses a unique ethical and humanitarian challenge. We hope to support more families in 2022.
*
Between 1960 and 1972, US forces sprayed 11.4 million gallons of Agent orange over then South Vietnam, in an effort to deny forest cover to Viet Cong and North Vietnamese soldiers.
The herbicide contained dioxin, a poisonous chemical which leached into the soil and water and entered the food chain, affecting American and Vietnamese troops alike. Vietnamese veterans who were exposed to Agent Orange returned to their homes after the war and unwittingly infected their families. By 2015 Quang Binh had registered over 19,000 victims even though the province was barely sprayed during the war.
Vietnamese authorities have estimated that over three million Vietnamese have been affected throughout the country. The fact that Agent Orange has proved most devastating to children who were not yet born during the actual conflict makes it unique among weapons or remnants of war.
The beneficiary of your most recent donations, Toa, was exposed to Agent Orange when he was stationed close to the Ho Chi Minh trail, which was sprayed relentlessly. His wife Luan was exposed while burying the bodies of slain soldiers. The couple then returned to their home in Quang Binh, and passed the poison to their three sons at conception. By their early teens, Toan and Tien were biting each other so savagely that they had to be placed in tents outside the house.
Adding to the family's woes, Luan underwent a spinal fusion. Before receiving their cow, Luan and and her husband were so financially strapped that they were only able to cover the family's food needs for 8 months in the year. Medical bills also ate into the family's income. Multiply this story many times over and one gets a sense of the immensity of the Agent Orange tragedy.
*
We decided to provide practical support to Agent Orange caregivers in 2015, at the suggestion of the AEPD. Many caregivers are now well into their seventies and widowed. Caring for children who are immobilized or uncontrollable takes an enormous emotional and physical toll.
In developing a project, AEPD identifies the family with advice from the local communal authorities. Once the money is raised, an AEPD outreach worker visits the family to develop a business plan. All but two families have chosen cows because the animals provide a sustained source of income through milk and calves. Cows can also be rented out for farm work.
Community engagement is an essential feature of these projects. There is huge sympathy and support for Agent Orange families in Vietnam, partly because so many have been affected and partly because veterans of the war are venerated throughout the country. This has been evident in the community's support for the Toa family. AEPD used part of our funds to leverage more money from the commune of Yen Hoa, where the family lives. Toa also contributed from his savings, and AEPD covered all additional costs.
Although these projects would not have been possible without the support of the local communities, relations between Agent Orange families and their neighbors can be tense. As we noted in our bulletin one of the first caregivers supported by the program, Loi, was forced to restrain her oldest son in chains after he burned a neighbor's house. Many Agent Orange families keep to themselves.
AEPD is able to bridge the gap through outreach workers who have themselves overcome devastating injuries and are deeply respected by villagers and Agent Orange survivors alike. Hoc, the AEPD worker who assists the Toa family, was exposed to Agent Orange while serving in the Vietnamese army and seriously wounded in 1984 while deployed to Laos. Hoc went through several major surgeries, but has an optimistic outlook on life which further endears him to colleagues and villagers. Undaunted by a frightening surge in COVID cases, he helped Co and Toa develop strong business plans for use of their cows.
*
The success of the program also owes much to 12 graduate students who volunteered as AP Peace Fellows at AEPD between 2008 and 2019.
Simon was the first Fellow to bring our attention to Agent Orange in 2010 through an inspiring profile of Hue, a survivor who longed to be an opera singer. Other Fellows were to share his interest. Jesse (2012, Columbia University) produced an excellent video on the entrepreneurial Phan siblings, all remarkabel entrepreneurs. Kelly, a doctoral student (2013), produced a policy paper on Agent Orange which her successor Seth (Brandeis 2014) used to design the outlines of our program.
No Fellow has made more of a contribution than Ai (2016, Columbia University). One of Ai's uncles died in the war and another spent years in a re-education camp. This prompted Ai's parents to leave Vietnam for the US where they built a new life but never gave up on the country they had left. At Ai's suggestion, her father purchased cows for several Agent Orange families and visited the AEPD in person. Ai raised funds herself, and viewed her own fellowship as a way to help Vietnam heal the wounds of war. Marcela, a Brazilian national at the University of Maryland who worked at AEPD as a Fellow in 2017, raised money for two families.
As the number of beneficiary families grew, we asked new Fellows at AEPD to visit past beneficiaries and update their profiles. These visits have confirmed the value of cows. Mia, (2019, Maryland), the last Fellow to work in Vietnam before the pandemic, found that all of the cows had produced a sustained income. The latest Fellow to work with AEPD was Ryan, whose family also left Vietnam. Ryan worked remotely with AEPD last year to launch our latest appeal.
Fellows who have worked directly with afflicted families have been deeply affected by the experience. Jacob (2017, Fletcher School, Tufts University) raised $1,500 for An, whose second son was losing his eyesight and whose daughter had been born with Down Syndrome. As Jacob wrote in his last blog, this helped him put his own struggle with depression into perspective: "As unoriginal as this sentiment might be, I truly have found these families' responses—their perseverance and willingness to keep hoping and dreaming—tremendously inspiring."
*
Looking ahead, one might ask whether this focus on a problem that affects one country and a war that ended almost 50 years ago makes any sense when so many other humanitarian crises are crowding in. Some have also argued that our preoccupation with Agent Orange discriminates against other forms of disability.
We feel that the same could be said about other single-issue campaigns, such as the fight to ban landmines or eradicate fistula. Every cause needs champions, and the moral and humanitarian arguments for keeping the spotlight on Agent Orange seem to us to be powerful. Over $600 from our recent appeal has still to be spent and will be used by AP and AEPD to support another family in early 2022. We hope others will benefit along the way, as Co did from this latest appeal.
We would be grateful for your thoughts or suggestions. Please email us at iain@advocacynet.org.
With our best wishes for the new year and our deepest thanks, again.
The AP team.