Accelerator Spotlight: This Team Danced Its Way Through Crowdfunding In Panama
Fiorella Macrobio's team raised more than $8,000 from 67 donors in 20 days in the March 2018 Accelerator. She talked with GlobalGiving about crowdfunding in Panama.
---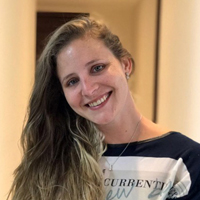 Fiorella Macrobio
Development Director
at Fundación Gramo Danse
Who She Is:
Fiorella is the development director at Fundación Gramo Danse, a nonprofit that teaches aerial and contemporary dance to youth in Panama City. She was born in Caracas, Venezuela, but has called Panama home since 2010. Five years ago, she started dancing with Fundacíon Gramo Danse, and fell in love with it. Once she was introduced to the group's work with children, she devoted herself full-time to the cause. She feels a duty to give back and says working with kids motivates her to get out of bed every morning. Fiorella has a degree in financial management and international commerce.
Q: Tell us about something unexpected you learned through the Accelerator.

A: The Accelerator was an excellent opportunity to discover new capabilities within our own team. We saw some of them change their way of understanding the funding process, and begin to notice that innovative and creative ideas can generate excellent results in short and long terms.
Q: What advice do you have for future Accelerator participants?

A: You definitely need to open your mind, and learn from the experts, because sometimes you're doing this for so long, that you can forget that things change, and you can't really know it all. You have to be open minded enough to be capable to try new things, new methods and new approaches that you may even think they won't work.
Q: You call fundraising a 'trial and error' process. Tell us more about what you mean!

A: We discovered that some cultures are different, and work in different ways, so the same approach can't be used in every case, but this is sometimes a trial and error process, and having a handful of different fundraising resources and tactics is helping us succeed much faster and with less errors.
Q: How did the Accelerator change your approach to meeting a fundraising goal?

A: The Accelerator process is a really good opportunity to work on team work abilities, too, because we understood pretty fast that this goal couldn't be achieved by the project leader alone. As project leaders, we must inspire our team, keep up the good spirits, and cheer for every single dollar they can come up with. Support every new idea your team generates and give them time and space to develop new strategies and methods.
Apply by August 1st to be part of GlobalGiving's next Accelerator!
Featured Banner Photo: Dance Education Project for 60 At-Risk Children by Fundación Gramo Danse