Accelerator Spotlight: She Accomplished A 20-Year Goal Through Crowdfunding In India
Mita and her nonprofit team raised more than $7,500 from 90 donors in 20 days in the March 2018 Accelerator. She told GlobalGiving about her strategies for crowdfunding in India.
---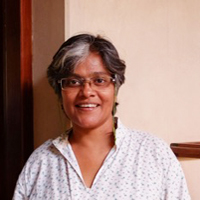 Mita Radhakrishnan
Project Leader at Auroville Language Laboratory
Who She Is:
Mita is one of the directors of the Auroville Language Laboratory, located at the international township of Auroville in rural south India. She turned to crowdfunding to offer a very specialized English training to women and girls who are trying to overcome economic barriers, and to bridge gaps between local and expat women. Mita is a 1990 graduate of Mount Holyoke College. She drives a moped to work, and, together with her partner, has a dog named Foxy.
Q: This was Auroville Language Laboratory's first crowdfunding campaign. How did you succeed, raising $5,000 from 40 donors in a few weeks?
A: The goal looked extremely overwhelming and almost impossible in the beginning. And in fact, it still looked that way even on Bonus Day (where participants can earn monetary prizes from GlobalGiving). Only after a good part of the Bonus Day was over did the tide begin to turn and what seemed unattainable became attainable, and was even surpassed!
Success came from reaching out personally through repeated reminders by Facebook Messenger, Whatsapp, and email, to all my personal friends and family.
But the background to that success is that I often share about my work on my personal page on Facebook and have a huge interest and support for this work, which has been built up over years. My friends, especially from my college days abroad in the U.S., care about my work here and many of them responded to my personal call and gave.
Q: How did your team divide the work during the Accelerator?
A: We had a meeting with the entire team to present the challenge. But to the young team of staff and volunteers who had never experienced fundraising before, it looked like I was on Mars and it felt to me as though I was speaking to them from Mars, too! It all sounded good but just impossible to achieve. You see, until this campaign, fundraising was the sole responsibility of myself and my co-director. None of the staff had participated in a campaign, and neither had we, actually. We had made specific, successful applications, a long-time ago, and since the project had benefited from a substantial personal donation, we hadn't done any fundraising in a very long time.
Q: Give us an overview of roles for your team members.
A: The following tasks were either assigned or chosen by the Language Lab staff and volunteers based on their capacities/skills and interest.
Managing our MailChimp email lists
Going through our entire database of students, clients, teachers, volunteers, etc., since we started our project. More than 15 years of contacts! The work was divided by category and year
Finding correct email addresses for our contacts
Posting about the campaign on the Lab's facebook page
Printing and displaying campaign materials in prominent places, including our front door
Translating the project proposal into Spanish and French
Working on the project budget, which we uploaded as additional information.
Producing a film to help with fundraising on our project page
Sub-titling the video in Spanish, French and Italian
Improving our project photos
Analyzing our results
Sharing the campaign on Facebook
Staying up till 5 a.m. crazily sending whatsapp and Facebook messenger messages on Bonus Day and thanking each and every friend who gave personally
Q: If you could do it all over again, what is one thing you would change about your strategy?
A: I would have watched the crowdfunding training webinars right in the beginning. Also, I would have found the way to involve more team members from the beginning. I could never ever have imagined that we would not only achieve the goal but surpass it. I finally went to sleep on Bonus Day at 7 a.m. the next morning, after the goal of $7,500 had been achieved. It took me three weeks to recover. Had the experience been more collective, I would not have been so tired. But then the entire strategy would have had to be different!
Q: What was one striking lesson learned during the Accelerator?
A: I learned a lesson from the GlobalGiving staff during chats on Bonus Day about reaching the fundraising goal. She said: "If you don't ask, people won't give. You have to put yourself out there and ask."
This was a huge lesson for me, and it pushed me to write messages to my old friends, and to send reminders if they hadn't replied. You have to get over embarrassment and just do it! That is what I learned.
Also, one of the webinars cited a previous NGO peer, who said, "Believe in the work you are doing and ask for support." Your belief in your work is one of your strongest supports, this is what kept me going through the crowdfunding campaign.
Q: What will your nonprofit accomplish with the funds raised in the Accelerator?
A: We will buy the expensive equipment we need to implement the project for Women and Girls using the very special "Tomatis Method" of training for English. There will be a mix of local and expat women. It has been our dream to widen the reach of this incredible method, and this GG Accelerator campaign will finally allow us to do it! It will allow us to fulfill a dream that has been in place since 1998.
Apply by August 1st to be a part of the next Accelerator!
Featured Photo: Empowering Women and Girls in Auroville and Bioregion by Auroville Language Laboratory