About the India Field Program
GlobalGiving's Field team travels to meet, support, and review our nonprofit partners to ensure they're getting the most out of their GlobalGiving experience. As a small team in Washington DC, London and since 2015 in India, we work with an incredible group of field volunteers to help maintain a community of high quality nonprofit partners. This is done through an innovative approach to monitor and evaluate thousands of projects globally.
GlobalGiving identifies recent college graduates, masters' students, and young professionals to travel through specific regions around the world. These Field volunteers are individuals that commit significant personal time and resources to support GlobalGiving's network of community based organizations around the world.
In the last 3 years, the India Field Program saw 28 passionate and dedicated field travelers, travel through 18 states and 2 union territories across India and complete over 300 visits to GlobalGiving's nonprofit partners. Field travelers are valuable members of the team, who bring passion, creativity, optimism, and a good sense of humor to their very important work. Meet former GlobalGiving Field volunteers here.
About GlobalGiving : GlobalGiving is the first and largest global crowdfunding community that connects nonprofits, donors, and companies in nearly every country around the world. We make it possible for local organizations to access the funding, tools, training, and support they need to become more effective and make our world a better place. GlobalGiving's nonprofit partners address issues in education, health, women's empowerment, microfinance, environmental sustainability and more.
Job Description
Interested in using your summer break to travel around the country and at the same time learn more about the Indian social sector through first-hand experience with multiple nonprofit organizations doing earth-changing work around the country? GlobalGiving is looking for 10 passionate, motivated, and enthusiastic Individuals to travel through rural and urban India and be a part of the fourth cohort of GlobalGiving India Field travelers. These Field volunteers will get access to a network of like-minded GlobalGiving travelers around the world, learn about the world of 'Online fundraising' from the experts and gain immense experience in the 'Monitoring and Evaluation' of Indian nonprofits.
As part of this volunteering experience you will be a part of GlobalGiving India's exclusive team conducting site visits for at least 1.5 months in the summer of 2019 (May - June). Through the project period you will be able to:
Visit development projects and hone teaching skills by offering training and support to existing GlobalGiving nonprofit partners; identify areas for improvement in their fundraising.
Travel through rural and urban India and meet with local change makers from the social sector who are helping children in rural and urban slums get to school, protecting the wildlife, rescuing trafficked women and children, and much more!
Receive 2 weeks of training, 1 week of which will take place in Mumbai or Bangalore (May 8th - 13th) and 1 week online (May 1st to 7th). You'll gain important career-building skills in monitoring and evaluation, online fundraising, measuring impact, and much more!
Interact with some of the coolest people around, and have opportunities to network with changemakers in the social sector.
Flex your writing skills and create posts for the GlobalGiving Medium page or the Insider blog.
Groom your professional networking and relationship-building skills by supporting potential nonprofits partners in India that would like to join GlobalGiving.
Present your findings and experience to the GlobalGiving staff, and other professionals from the Indian Social Sector at the end of your project.
Key Deliverables
Monitoring and Evaluation:Conduct 10-15 site visits each and complete the accompanying evaluation documents. Site Visits are an integral part of GlobalGiving's monitoring and evaluation process. A site visit is a visit to a partner organization (1 to 2 days) to see the projects that they have listed on GlobalGiving. The organization is responsible for organizing the visit to these projects, which may consist of a tour of a school, clinic, local social business, and much more! In most cases, Field volunteers have the opportunity to meet with staff and members of the participating community.
Capacity Building: Site visits are also a great opportunity to strengthen GlobalGiving's relationship with partner organizations. We take advantage of these meetings to learn more about our partners' fundraising needs and to provide additional advice and support. Field travelers will need to support the organizations staff in understanding crowdfunding a little better and enable them to succeed in the upcoming contests on GlobalGiving.
Share Content: Site visits are a perfect opportunity for us to collect stories from the field and track trends in the sector. Field travelers will need to work with the communications team at GlobalGiving to collect stories in the form of photographs, videos and articles and convert them into useful content that can be published both internally and externally.

Stipend
All volunteers will be given a stipend of Rs. 5000 and a reimbursable travel allowance of up to Rs. 20,000 on completion of the project requirements. All volunteers travelling from outside of the training location will be given an additional Rs.4500 travel allowance.
Requirements
Job and/or experience in international development, nonprofit management, or marketing and communications
Self-starters who have demonstrated the ability to work independently and in collaboration with other team members
Cross-cultural understanding, responsiveness, and flexibility to changing circumstances (because things are bound to go differently than expected in the field!)
Travel experience and knowledge of the region is strongly preferred
Up-beat attitude and a good sense of humor
Relevant local language skills
Volunteers should be prepared to travel and live inexpensively through rural and urban locations in 1 of the 3 regions (either north, south or central India). Travel routes will be decided based on the volunteer's place of stay, language skills and gender. Female volunteers who are not comfortable travelling alone will be teamed into pairs.
If you believe you have it in you to be a part of the 2019 cohort of 'India Field volunteers', apply by March 15th, 2019. Email your Resume and cover letter to Kavita Mathew at kmathew@globalgiving.org with Subject 'India Field Volunteer - Application'. We look forward to hearing from you!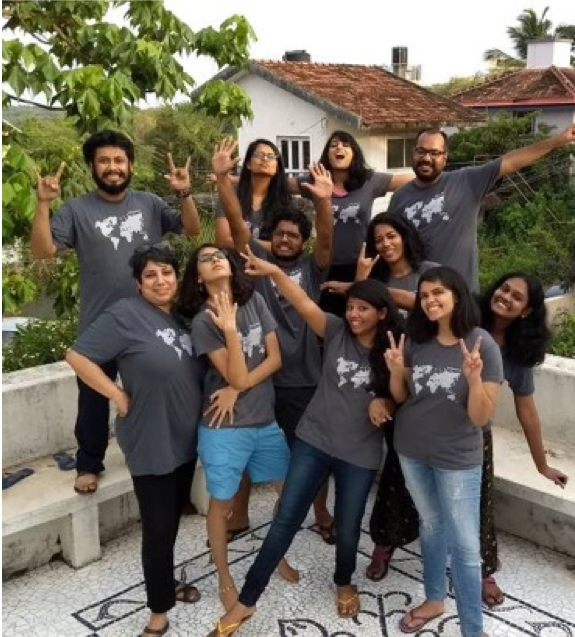 A special thank you to our referral partners:
Teach For India | Tata Institute of Social Science | Azim Premji University | Tamuku | Ashoka University