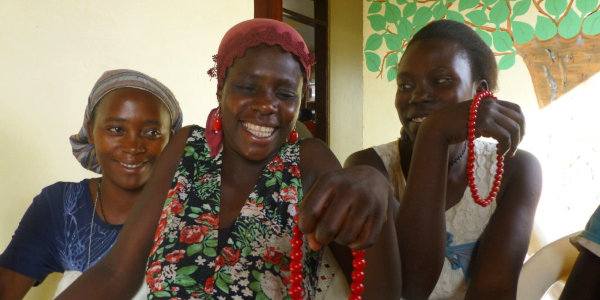 The COVID-19 pandemic has made it increasingly clear that disasters disproportionately affect women and girls, with experts pointing to countless examples of its gendered impacts.
Another crisis that highlighted the disparity was in the mountainous Kasese District of western Uganda. Seven months of torrential rainfall between May and November caused severe flooding in the area after nearby rivers burst their banks. The floods destroyed homes, roads, bridges, crops, and other important structures. More than 10,000 people left their communities in search of refuge.
One of them was 26-year-old Birungi, who was living with her mother, siblings, and newborn baby. Before the floods, Birungi and her family earned a living from small-scale farming. When the floods destroyed their garden and the security it offered, they joined hundreds of community members who traveled to one of the 27 camps available for flood survivors. Once in the camps, pregnant women and recent mothers like Birungi faced a new set of challenges.
The floods' gendered impacts
A local official informed Kabunzugwire Moris of Act4Africa, a Girl Fund cohort member, that pregnant mothers were giving birth in the camps without proper care due to limited resources. New mothers were walking long distances to access antenatal services and immunize their children.
Kabunzugwire and his team at Act4Africa delivered nutritious food, sanitation products, and bedding to young mothers like Birungi and their children.
The short-term relief provided by Act4Africa was vital after the floods, but it's just the beginning. Once the women can safely return home and pandemic restrictions are lifted, Act4Africa will resume classes and workshops to help them cultivate new skills, access the resources needed to start small businesses, and assume more leadership roles in their communities.
These efforts are fueled by the generous support of donors like you who contribute monthly to GlobalGiving's Girl Fund. As the pandemic and other disasters continue to impact every aspect of life for many people around the world, the Girl Fund cohort continues to support women who are navigating the challenges.
Here are more examples of how your generosity is fueling the Girl Fund cohort:
Your generous support of the Girl Fund makes these efforts possible. Thank you for your continued commitment to gender equality, and I look forward to sharing how else you made a difference in three months.
With gratitude,
Sami + the GlobalGiving Team