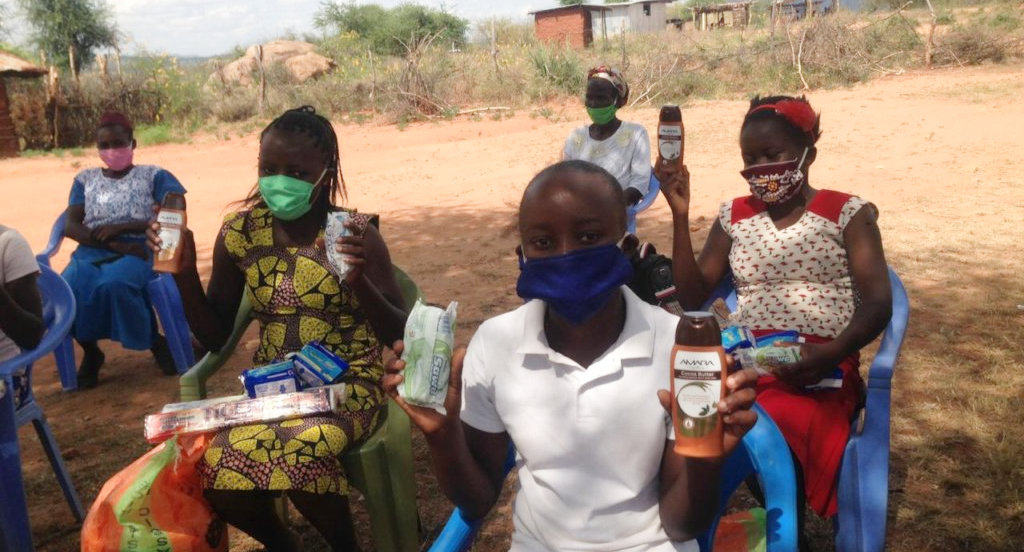 As we near the end of 2020, we are in awe of the tremendous impact that donors like you have had on women and girls around the world. Your ongoing support has directly helped our cohort of nonprofits keep their missions alive during an incredibly difficult year.
To reflect on and celebrate the work of our amazing Girl Fund cohort, we gathered some of the project leaders under one virtual roof in October. They shared insights about the challenges, successes, and learnings that have come from the ongoing pandemic, as well as how donors like you can continue supporting gender equality in the COVID-19 era. Here are some of their main takeaways:
Patrik is exploring new ways to reduce instances of gender-based violence in Uganda
Quarantine has saved countless lives, but it has also isolated many domestic abuse victims from their friends and family and limited their ability to escape from dangerous situations or access vital resources. Act4Africa is a key network for women in Uganda, as the organization aims to help women form tight-knit groups and learn about gender equality, including their rights related to sexual and domestic abuse. Patrik shared that there has been an uptick in instances of gender-based violence, assault, and teenage pregnancies during the coronavirus pandemic. He said,
"O

ne of the key things we are learning is to come up with robust and comprehensive strategies that are all aimed at reducing instances of this nature. One big challenge, in particular, has been the lack of community support structures that can foster gender equality services."
As Act4Africa continues to work toward transformative changes, the organization is also providing girls with vital resources, such as food, hygiene supplies, and learning packages.
Sarah reported major breakthroughs across women-led teams in Rwanda
Only three out of five people worldwide have access to basic handwashing facilities, which means that a significant proportion of the population can't take a key COVID-19 prevention measure. Global Water Challenge is working to change that by advancing gender equality through clean water access in Rwanda.
This local women-led project is making women's lives easier by reducing the time they spend collecting water, which gives them more time for education and economic pursuits. Unfortunately, the gendered impacts of COVID-19 have negatively affected women and girls. Despite the challenges, Sarah shares,
"We've seen an incredible turnaround, flexibility, and innovation in these women-led venture teams in Rwanda. A cohort of women-led teams has installed handwashing stations by the water access points, where they also provide COVID-19 prevention information. Many women have also pivoted their business model to making soap and other hygiene supplies for the communities they serve. They've also been able to open up subsidies for vulnerable communities who have lost employment due to the COVID-19 pandemic."
Ricky is tapping into new networks to keep peer-led health education alive
The COVID-19 pandemic has hit India hard and led to the widespread closure of in-person learning. But Ricky and his team at Adolescent Health Champions know that health education is more urgent and necessary than ever. To keep training girls as peer health educators in low-income schools outside of the classroom, Adolescent Health Champions significantly shifted their operations.
"One of the proudest accomplishments we've had over the past six months is strengthening the role that youth play in helping us shape our strategy and vision. We've solidified and strengthened our youth advisory board, which consists of students at our schools across Mumbai, and they've been so instrumental in helping us shape our COVID-19 response. They've been working with us to transition in-person learning to virtual, co-design a new app, and help us develop a new curriculum, including a COVID-19 specific module."
These are only a few of the inspiring stories we heard at the webinar, and I invite you to check it out for yourself. Because of generous donors like you, organizations have been able to turn obstacles into opportunities, and ideas into realities for thousands of women and girls around the world. I look forward to keeping you updated about all the exciting things happening with the Girl Fund cohort in the coming months.

With Gratitude,

Sami + the GlobalGiving Team