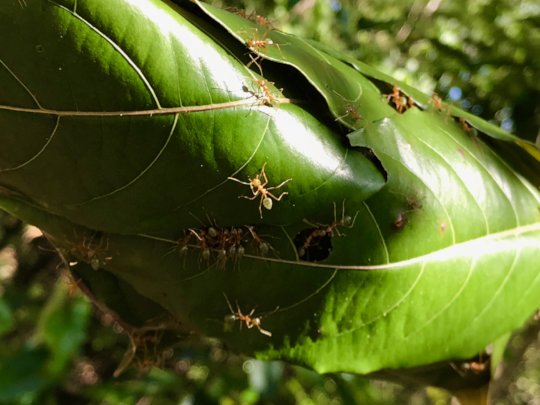 Rainforest Rescue's Lot 46 has is something that we are all very proud of. It's shown itself to be a model of rainforest restoration and continues to achieve the highest marks as a restoration project. What was once an oil palm plantation is now a burgeoning rainforest, where Cassowaries are spotted regularly and the canopy is closing over nicely. Animal life is abundant and species diversity is significant. The jury is in: Lot 46 is a success story or restoration!
We thought you'd like to hear and see a little more with this end of the calendar year report, so I'm delighted to share with you a short video of our Daintree Property Manager, Joe Reichl, who was telling me a bit about Lot 46 and how and why it's so special.
I hope you enjoy this as much as I enjoyed Joe's telling of it.
I'm also including a few photos from that trip, showing how the trees and vines are growing, some of the flowers and how happy the green ants are with the habitat.
Stay tuned for our next Community Tree Planting up in the Daintree, next May. Maybe the Daintree is on your bucket list? Come join us! It's a wonderful day for everyone and includes a trip to Lot 46 as well as lunch at our Daintree Nursery.
If you're not already on our mailing list, please sign up. You'll get updates on events like the Community Tree Planting as well as good news and inspiring stories from our efforts to protect rainforests forever.
Thanks so much to all of you who have made Lot 46 possible. It's is such a wonderful, thriving example of what committed people can do to help restore and protect Nature.
And we couldn't do it without you. Thank you!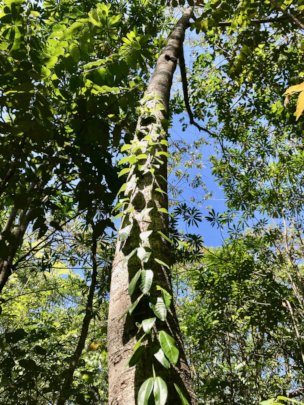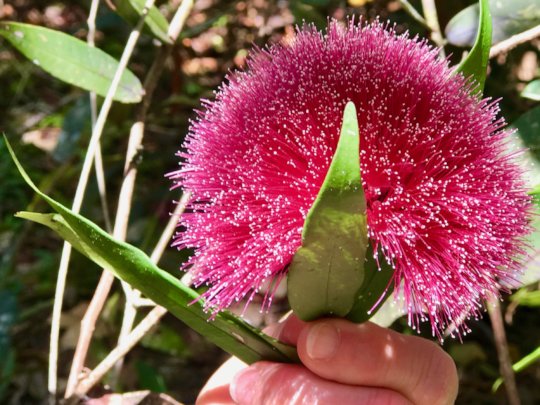 Links: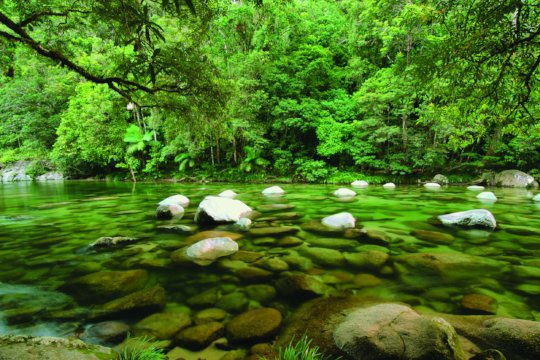 Thanks to those of you who supported this effort with meaningful contributions to our mid-year appeal, we have saved Lot 2, Forest Creek Road - the 2nd property of our #next10 campaign! You made this possible because you care about Nature and the magnificent Daintree Rainforest. We can now add another property and its rainforest habitat to our protected list!

This unique rainforest comprises almost 4 hectares and is located on and above steep hill slopes--making this an especially high conservation value property as it contributes to clear, fresh water runoff from its steep slopes. Unprotected degraded lands produce runoff high in sediment when it rains, producing negative ecosystem consequences. As such, this property has a direct positive impact on the Great Barrier Reef which receives runoff through the Daintree's waterways.

Its contribution to our growing protected rainforest areas and their impact on the well-being of the reef is another example of why this work is so important. Protecting intact habitat and promoting healthy ecosystems is one of our primary missions. And with your support we are making a real and significant difference to both these remarkable World Heritage ecosystems.

Because of the hundreds of individual donations that were made towards this effort from committed supporters, we were able to protect this remarkable property. Buyback of these pristine environments, which are slated for development and/or logging, is the single most effective way of protecting these areas and their biodiversity forever. To those of you who supported this appeal and helped to Buyback Lot 2 Forest Creek Rd - Thank you for helping to Protect Rainforests Forever!!
#2down8togo!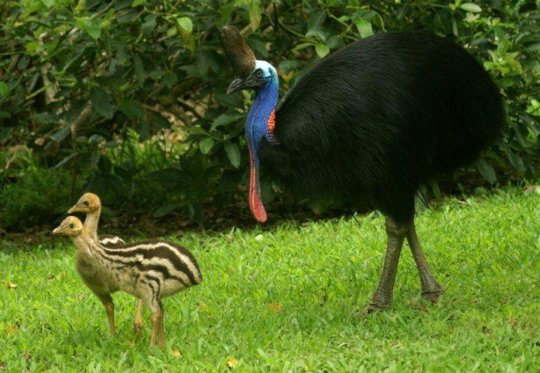 The chair of Rainforest Rescue Madeleine Faught recently visited our protected and regenerated rainforest sites in the Daintree Lowland Rainforest. She was there to monitor the progress of the seedlings we have planted to regenerate degraded rainforest and the results were great!
Image (c) Martin Stringer: Seedlings looking healthy and growing well
She was very pleased to report that everything is growing beautifully and the newest planted seedlings are starting to create roots and become firmly established in the ground. The loss of trees is now less than one percent.
Whilst there Madeleine was able to witness that three particular cassowary chicks which are very familiar to Rainforest Rescuers - we last saw them when they were very young – have now reached adolescence and are looking very strong and healthy.
This is a wonderful confirmation that thanks to you supporting our work of buying back threatened cassowary habitat along with replanting at degraded cassowary habitats properties, the safety of the populations of these rainforest guardians is increasing.
There are also more and more sighting by locals and Rainforest Rescuers alike of healthy adult Southern Cassowaries crossing the main Cape Tribulation Rd deep in the heart of the Daintree Rainforest. This is also a warming indication that the whole community is coming together more and more to reduce the speed of their driving to make sure cassowaries are top of mind when travelling through this incredible natural beauty.
Thank you so very much for saving these incredibly important creatures - they are not only surviving, but thriving thanks to YOU!
WARNING: Javascript is currently disabled or is not available in your browser. GlobalGiving makes extensive use of Javascript and will not function properly with Javascript disabled.
Please enable Javascript
and refresh this page.