Thanks to Rainforest Rescuers who contributed to our December campaign, a 32nd Daintree Rainforest Property has been rescued!
This property, Lot 15 Forest Creek, Daintree represents a remarkable win for biodiversity. Bordering Aboriginal Reserve Land - which in turn backs onto World Heritage Daintree National Park and Forest Creek, this rainforest was rich and ripe for rescue. In addition to its location and its scorecard rating for species and biodiversity, its relationship to the creek helps to maintain the quality of water that flows through and into the Daintree River, and ultimately depositing clear sediment free runoff onto the Great Barrier Reef. #rainforest2reef
The owner of this property approached us, knowing that this rainforest block was unique and special, and asked for our help to protect it, forever. Supporters from around the world came together to make this opportunity a success. Many supporters contributing adds up to great big totals - and because of the many donors contributing from a few dollars to many thousands, this property is going back to Nature. At almost 3 hectares this is a substantial contribution to the greater Daintree.
Let's do it again - Another Rescue Opportunity!
Over the last 20 years, Rainforest Rescue has been making continual progress on establishing and expanding nature reserves and ecological corridors - stitching together high-conservation value properties to create viable corridors that support local flora and fauna, protecting biodiversity and securing essential habitat.
Very few people outside Australia know about its breathtaking and biodiverse rainforest regions. The Daintree is one of the oldest and precious rainforest habitats in the world. In fact, David Attenborough calls it a worldwide treasure that should be protected at all costs. That's why, with your help, we are focused on buying back and protecting it forever.
Now we have another opportunity to purchase, rescue and protect a critical piece of rainforest in the Daintree, Lot 30, Cape Tribulation Road. This property will eventually add to the lower Daintree's Cape Kimberley Wildlife Corridor. We have just two properties left to rescue in order to fill out this corridor. Once complete, the access road will be closed off, replanted, and this magnificent section of the Daintree Rainforest will be protected forever. (see map below) That is a worthy contribution to Nature.
You can help save Lot 30, Cape Tribulation Road, an essential rainforest property, protecting it and extending this wildlife corridor by making your gift for Nature today.

Please give a gift to our Buyback and Protect Forever Endangered Rainforest project today and help rescue Lot 30!
We believe that your commitment to conservation and to Nature is part of who you are and part of your legacy, just as it is ours.
Thank you for making this important work possible and for helping to Protect Rainforests Forever!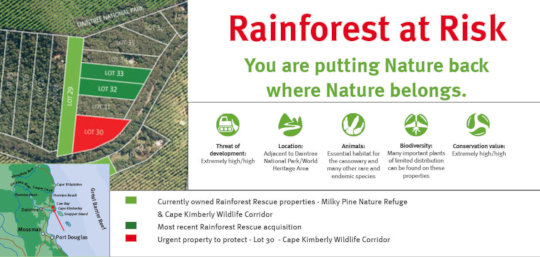 Links: