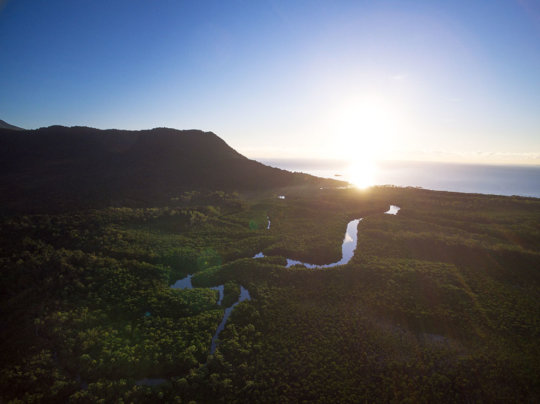 Recently we wrote to you about an important rainforest property that supporters helped rescue. Acquiring that property was the next step in extending the Milky Pine nature reserve and creating an even larger biodiversity corridor. Thank you again for your contribution to this conservation win!
This property was the first acquisition in the #next10 campaign, launched last year and focused on securing literally the next ten rainforest properties that will significantly contribute to preserving high biodiversity value land. With one down and 9 to go, our #Next10 campaign is off to a roaring start.
We want to keep the momentum going and are now focused on the next two high priority properties.
Choice #1 is approx. 16 acres of rainforest that transitions through wetlands to the coastal stream and estuary. Another important feature of the property is that it is in close proximity to one of Rainforest Rescue's larger restoration projects which backs on to National Park. By securing this property, we would be forming a bridge that in turn would complete an important, very large and continuous corridor that extends all the way from the mountains to coast. Most importantly the whole of the catchment will be protected, thereby ensuring clear and clean water deposits on to the Great Barrier Reef.
Choice#2 offers and exciting opportunity to create a new corridor in the Forest Close area. This property adjoins a group of other properties located in steep country and importantly no development is on them - yet! The rainforest is fully intact and in need of protection. If these properties were to be developed it would significantly impact not only on the rainforest itself but its ability to control the flow of clean water down hill.
Your support is needed now more than ever. By continuing to support this project, you can make a significant contribution to the ongoing protection of the magnificent Daintree lowland rainforest, its wildlife habitat and water catchment areas. Please give now to #Next10 campaign. Your support will be contributing directly to Protecting Rainforests Forever - leaving a legacy for future generations.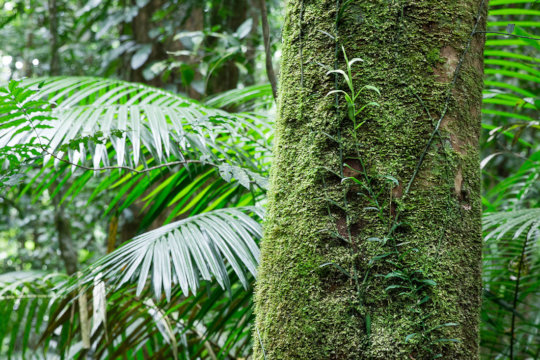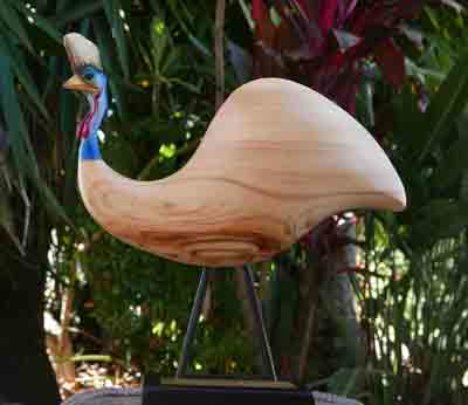 Thanks to you, Rainforest Rescue has been able to continue its work to protect and restore important habitat for the Southern Cassowary.
At this year's annual Wet Tropics Management Authority Cassowary Award event, Rainforest Rescue was awarded the prestigious Thorsborne Award for Community Conservation and Rehabilitation sponsored by Queensland Parks And Wildlife Service.
The Cassowary Awards were established in 1999 in recognition of outstanding contributions to the improvement of the Wet Tropics World Heritage Area's natural values, including the protection and rehabilitation of flora, fauna and other natural landscape elements in the area.
Together with their family of rainforest supporters and conservation partners, Rainforest Rescue have, to date, purchased 30 properties in the Daintree and planted over 100,000 trees, creating protected habitat and connectivity corridors for animals like the endangered Cassowary.
Rainforest Rescue is honoured to be the recipient of such an Award, and values all the people who contribute to making their work a success.
Again, from all the team at Rainforest Rescue, we send our sincere thanks to you today for your ongoing care and commitment. Your generous support not only helps to create and restore vital connectivity corridors for species like the Southern Cassowary, but also helps to protect this very special, vulnerable area of tropical rainforest forever. We share this award with you!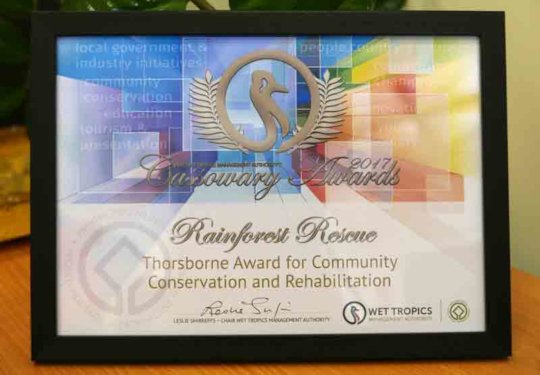 Our 31st Threatened Property Saved thanks to YOU!
Last time we wrote to you with the news that we had secured the protection forever of a 30th threatened rainforest property.
Well, not yet six months later and with your wonderful support Rainforest Rescue has been able to save our 31st threatened and vulnerable Daintree lowland rainforest property! We have already started the conveyancing process on this land.
This is a particularly satisfying win, as back in 2015 when Rainforest Rescue originally tried to save this block it was sold from under our feet for development. Luckily since then and now only a small area was cleared before work stopped and this will regenerate quickly with our plantings.
Our purchase of rainforest under threat is always strategic, never scattergun. We care more about our contribution to conservation than numbers per se. We hold out for properties of significant strategic conservation value, ensuring that we use supporters' donations to the best possible effect. We take our duty of care to our supporters very seriously.
And this is where we have come to with property # 31: This land links to a current Rainforest Rescue wildlife corridor and connects upland World Heritage Area and National Park to the lowland rainforest and coast. Strategic acquisitions such as this will continue to deliver vital protection for the rainforest.
The Lowland Daintree Rainforest lies between the Wet Tropics of Queensland and the Great Barrier Reef IUNESCO World Heritage Areas, thus having a vital role in connecting these two significant ecosystems.
Thank you again for helping us save this very threatened property!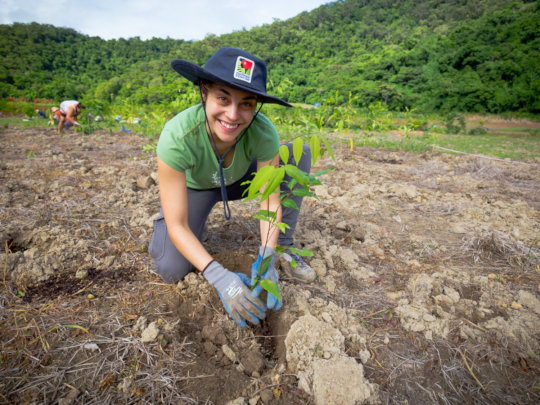 WARNING: Javascript is currently disabled or is not available in your browser. GlobalGiving makes extensive use of Javascript and will not function properly with Javascript disabled.
Please enable Javascript
and refresh this page.