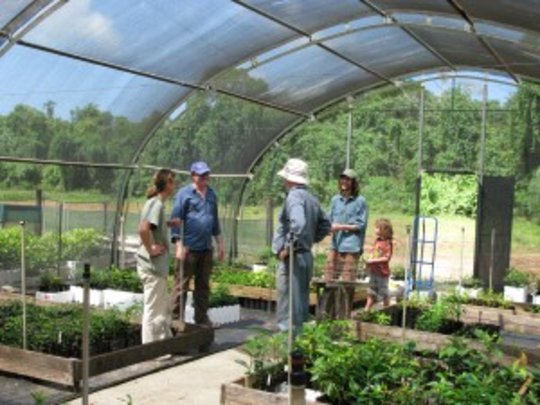 Dear Friends,
Sometimes, Rainforest Rescue purchases properties that are in need of some restoration work. It's a good thing our Daintree Rainforest Nursery is in great hands. Please see the story below:
When it comes to taking credit for the Daintree Rainforest Plant Nursery's extraordinary outputs, Nursery Manager Edie Beitzel shies away from the spotlight. But Edie and her small band of volunteers must be doing something right – they propagated 6,000 rainforest plants last year growing up to 165 different rainforest species.
"We have 10 volunteers on the books doing various tasks, and about four come along regularly each week. They come for an enjoyable afternoon. They like to see the progress, from the seed stage, through to when they are planted in the ground.
On a typical day, I prepare the volunteers essential afternoon tea, move stock out to make space for new propagations, update the database, it's pretty varied and planting.
It's a challenge to keep up the diversity of species.
For example, some species might only fruit every two years – so it's timing things for when we need them. We have to ensure there are enough species for projects, keep enough balance. For Cassowaries, it's supplying the trees that they need, so that there's always something fruiting.
I've been doing this job for a bit over two years. It's interesting, flexible, there is always something surprising… I love learning about the rainforest and working with the volunteers. I also have three kids and they love being part of it too."
Thank you friends. We value your support and if you're in a position to give a Year-End Tax-Deductible donation to the project, we would greatly appreciate it. There is a lot of work to be done, but having your support is a blessing. Happy Holidays!
Cheers,
Paul