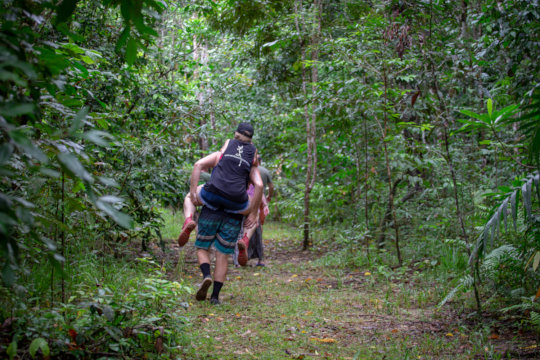 What is a Nature Refuge?
We're glad you asked! As part of our covenant with our supporters, we are required to Protect Rainforests Forever, it wouldn't do to have properties in hand that weren't protected by a state level NO DEVELOPMENT EVER agreement, right? Right. The system we use is the Queensland State Government's DES Nature Refuge Certification Program.
And a Nature Refuge, since you asked, is "...a voluntary agreement between a landholder and the Queensland Government. A nature refuge agreement acknowledges a commitment to protect land with significant conservation value, while allowing compatible and sustainable land uses to continue. Landholders with a nature refuge continue to own and manage their land for enjoyment and/or to generate an income. Each nature refuge is negotiated directly with the landholder through a nature refuge agreement."
Further, A nature refuge agreement is:
negotiated between the department and the landholder, and provides a framework for sustainably managing a nature refuge and protecting its significant values
tailored to suit the landholder's management needs
able to be negotiated with owners of freehold land, leaseholders of State land, government corporations that are separate legal entities from the Queensland Government, local governments, private companies and nature conservancies
able to be negotiated over the whole or a portion of the property, depending on the conservation values and the landholder's wishes
perpetual, registrable on title and binds successive owners or lessees of the land. A nature refuge is the best way landholders can ensure the good land management practices and conservation works they have initiated will be continued when future generations or new owners take over. So, if a property changes hands, responsibility for the nature refuge rests with the new owners or lessees.
That last piece there, that's the best part. A nature refuge agreement is PERPETUAL.
That means it exists forever onward.
It's REGISTRABLE ON TITLE.
That means that it holds successive owners - should there ever be any other owners - to make that Nature Refuge safe forevermore.
HOW DO WE GET THERE?
The process is pretty straightforward but it tends to take a LONG TIME. The way it works:
The department primarily works with landholders who have been targeted through its priority programs. An area is generally targeted for a nature refuge based on an assessment by a nature refuge officer that will consider the condition of the land, current land uses and management practices, and proposed future uses. The nature refuge officer will also determine whether a property is consistent with current conservation priorities of the Nature Refuges Program.
If suitable, the nature refuge officer will explain the process of developing a nature refuge agreement and declaring a nature refuge and will discuss any concerns the landholder may have. If the landholder and the department wish to proceed, a draft nature refuge agreement is developed in consultation with the landholder.
Each nature refuge agreement is negotiated directly with the landholder and tailored to suit the management needs of the property, the needs of the landholder and the outcomes that the Queensland Government considers important. Once both parties are satisfied with the contents of the agreement, the landholder and Minister for Environment and the Great Barrier Reef or their delegate sign the agreement.
Rainforest Rescue currently holds 22 Nature Refuges - and we've put two properties back into the National Parks. We have 5 properties in the process to become Nature Refuges now.
Sadly, they are in limbo at the moment because they aren't LARGE blocks - though some of them do connect and some of them do extend Wildlife Corridors.
WHAT CAN WE DO AND WHAT DOES THIS HAVE TO DO WITH LOT 46?
Well, one thing we can do is work with the Australian Land Conservation Alliance. They work to advocate on behalf of conservation organisations to help make conservation a priority Australia-wide.
We can also sign on to requests from Australian conservation groups in partnership to raise awareness in government for the benefit of conservation, something that benefits everyone. Recently we were asked to sign on to a letter in support of increased conservation funding from the Queensland government, alongside such terrific organisations as the Australian Wildlife Conservancy, Bush Heritage, ALCA, Pew Charitable Trust, South Endeavour Trust, YINTJINGGA Aboriginal Corporation, EWAMIAN Aboriginal Corporation, Landcare Australia, Queensland Conservation, Queensland Farmers Association, NRM Regions Queensland, AgForce, MDH and Queensland Trust for Nature. Alliances of conservation and Landcare groups increases the awareness for conservation and managed land solutions that benefit all Australians, and ultimately, all life.
For Lot 46 we are keen to proceed with the Nature Refuge process.
But if your other properties are in limbo at the moment, why would you add Lot 46 to the bottleneck?
Glad you asked. Lot 46 is significantly large enough at almost 28 Ha of restored rainforest that the Queensland DES will recognise it and move it through.
We've been told. And so we believe.
Lot 46 has gained significant media attention as a restoration success story.
To do that, we need your partnership and your financial support. Every time you put a property into the Refuge Assessment process, it's going to cost a few thousand dollars at least, plus the back and forth that comes with working with government processes. At the end - hooray! A nature Refuge is born and will be protected in perpetuity. Thanks to you!
We could not do this without you. I hope you really understand that you are making a real difference when you support this important work And it's our honour to do this with you.
Protect Rainforests Forever - with Rainforest Rescue!
Thanks for your interest and your support.
If you'd like to learn more about the Nature Refuge process through the Queensland Government's DES, you can find out more, here.