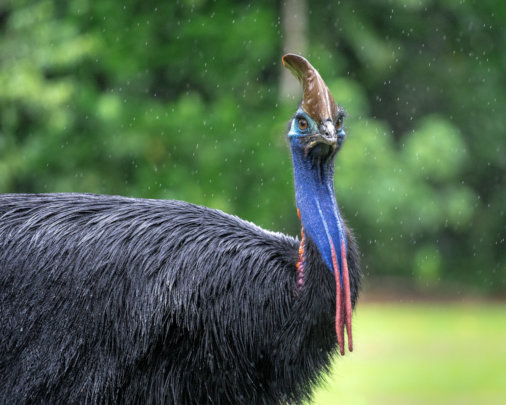 In 2015 Rainforest Rescue was approached by land-owner Annie S. to return fifteen hectares of old sugarcane fields back to thriving Daintree lowland rainforest. This is now known as the Nightwings Project.
In 2016 and 2017 with the help of many individuals, organisations and businesses, like YOU - we cultivated and started planting trees and revived a wetland area to draw in wildlife. Between 2018 and 2019 tens of thousands of trees were planted at NightWings to repair this damaged land.
By the project's end, these seedlings will be flourishing between the lowland Daintree to the upland Rainforest and beyond to the coast.
We were very pleased to reveal to you around seven months ago that for the first time in over forty years an endangered Southern Cassowary was spotted here near Nightwings. This is significant as sugarcane does not attract cassowaries - rainforest species do. Since this time (around seven months ago) we had not spotted a Cassowary since.
However, just last night Joe our Land Manager wrote to say that this same Cassowary was spotted once again at Nightwings!
He writes: "We think it's the same one as before …it's now fully mature and looks like having established its territory there. Forty years, no sighting, then after revegetation – Bingo, Christmas in November."
Joe claims this is a sure sign that regenerates work in bringing back wildlife especially the endangered Cassowary, to rainforest now thriving, that was once devasted.
The Southern Cassowary is a 'keystone' species. Through eating the fruit and pooing out the seeds of rainforest plants, it plays a vital role as the 'rainforest gardener'. Many plants depend on the cassowary for survival. Without them, the future of the rainforest is in peril.
Southern Cassowaries are shy by nature and only pose a threat to humans and domestic animals when defending their nests or chicks, if they have become accustomed to hand feeding, or when threatened.
With your help, you have joined us to save this magnificent and little understood Australian by extending its habitat and making it safe. Thanks to you the Southern Cassowaries' population numbers are increasing.