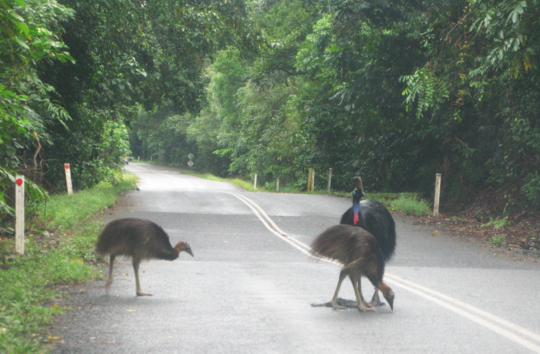 Male Cassowaries are very hardworking fathers. They have to be. After the female lays her eggs, the male becomes the dutiful and long devoted parent because she departs, leaving him to incubate and raise the chicks. With an incubation period of around 50 days, the dutiful male remains on the nest so can lose more than a third of his body weight. He needs to be vigilant as left unattended, the 3 - 8 large (4 x 6 inch) and vividly coloured eggs would be an obvious and irresistible invitation to predators.
Once hatched, the young chicks share many of the same qualities as other young creatures – they are curious, active, and have much to learn. Following their father's example, they quickly begin to forage amongst the rainforest leaf litter for fruit. Cassowaries are predominately frugivorous, but if they are not finding enough of their favoured food they will supplement their diet with fungi, fish, mice and even road kill carrion.
The chicks may stay with their dads for anywhere from nine months to more than a year. This depends on when the adult male decides to chase them away to find and establish their own territories and food sources.
Their natural curiosity can get the young Cassowaries into trouble. Certainly this is true when they venture onto the road and into the path of oncoming traffic. When habitat destruction affects their access to food, they may be forced to cross roads, with vehicles remaining the biggest threat to both adult and young Cassowaries
Rainforest Rescue is committed to expanding and securing continuous and safe habitat for the Cassowary, in both our conservation and restoration work. The greater the land area that is protected for this endangered species, the greater their food sources and chances of survival.
We love seeing the presence of Cassowaries on land that we have saved or restored with your help. These now protected rainforest areas are rich with wildlife, and if a person is very fortunate, they just might get 'up close and personal' with a curious young Cassowary. Check out the entertaining recent video linked below:
Rainforest Rescue completely restored this 70 acre lot, and it's now part of this Cassowary family's territory. This curious youngster is probably wondering what these other two legged creatures are doing on its home turf!
Your contribution will help us to protect and secure a positive future for the Cassowary and the rainforest! Thank you!
Links: