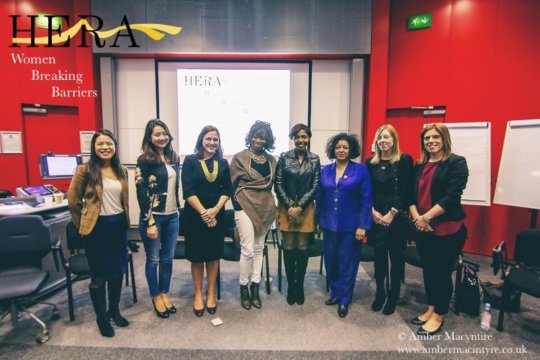 The first quarter of 2016 began with monthly career development and networking events for women survivors of trafficking, conflict, and exploitation. These events brought together a mix of past and present HERA students, HERA mentors, volunteers, supporters from the business sector, and business school students. Our flagship event this quarter was the Second Annual International Women's Day panel on women breaking barriers traditional male industries. Turnout at all events this quarter was unprecedentedly high with active audience participation. A former HERA student reported that "this event gave me hope and courage again, I know I can keep going."
During this quarter HERA also ran our first Crowd Funding campaign of the year to which many of you generously contributed. Thank you for your generosity!
HERA celebrated International Women's Day to commemorate women's stories of struggle and success. The Panel of "Women Breaking Barriers" featured nine women working in sectors where women are still under-represented: policing, military, mining, construction, architecture, IT, medicine and management consulting. Over 80 people joined the event that Saturday afternoon. The ensuing discussion with lively participation from the audience extended a good half hour beyond the end time and finally had to be called off. Panelists discussed reasons for selecting the field, challenges faced and the importance of being supported by mentors and mentoring others to succeed. Professor Anandalingam, Dean of Imperial College Business School kindly moderated the panel. The following are a few quotes from the speakers:
"There is a business case to be made for women's access to leadership in all sectors, including management consulting and construction" - Architect and construction project manager
"Women are channeled into particular careers but we need to realise what is important to us and what we are personally interested in" - High ranking former police officer
"When an older, high ranking woman is not that supportive of you, remember she has probably punched through an even thicker glass ceiling and is still dusting off the shards" – Former City Trader in Finance and Mining
HERA also participated in GlobalGiving UK's "We Believe in Girls" campaign from 7 to 14 March in honour of International Women's Day. Thanks to the generosity of all HERA trustees; Cranfield Business School professors, staff, and alumna; and many kind private contributors, we raised almost £7,000 in one week. We also want to thank Gloria Steinem and her team who retweeted our campaign message!
First Wednesday Evening Business, Career and Networking Events
Each month HERA hosts career, entrepreneurship, and networking events for current and former students. At these events, leading experts in business and entrepreneurship share their expertise with the HERA women. This year we have been privileged to host three stimulating and thought provoking speakers.
In January, Kaldor Product Development Group's Commercial Director Zoë Corbishley spoke on business development strategies to advance one's career or venture. Corbishley outlined the characteristics of successful marketing experts, networking and generating new business leads, pitching and presenting a project, and developing new routes to the market.
In February, entrepreneur and investor Javier Tordable, who brings extensive experience in the international financial services industry, is a passionate entrepreneur focusing on advisory and/or investment activities in SMEs and Internet start-ups. Tordable addressed the ABCs of entrepreneurship from concept stage and business plan to funding and execution.
In March, Dr Muhammad Azam Roomi, Director of the Executive MBA at Cranfield School of Management, presented strategies in spotting opportunities and generating ideas for entrepreneurial ventures through creativity and innovation. Dr Roomi has delivered training and development programmes for women's entrepreneurship in over 40 countries and provided interesting first hand examples to share, including from helping his own mother's start up in Pakistan!
Upcoming Events on HERA's Calendar
Don't miss a HERA event, keep up with our website or sign up to our monthly newsletter!
Salesforce Careers Half Day (30th March 2016, Salesforce Tower)
The Salesforce team will provide a training session for past and present HERA students at Salesforce Tower. HERA students will benefit from career development training, including CV writing, interview skills and public speaking. Several Salesforce managers are generously volunteering their time and expertise to this event.
Women and Diversity Live Crowdfunding Event (April 25th 2016, CMS Cannon Place)
The City Funding Network, city professionals who organise Crowd Funding sessions for social enterprises and charitable causes, selected HERA and two other enterprises to pitch at their live event entitled "Women and Diversity". Tickets may be purchased at CFN's website.
Entrepreneurship Training and Mentoring in London
HERA is currently recruiting a new cohort of students for our 2016 summer entrepreneurship training delivered in partnership with Imperial College Business School. HERA also partners with over 20 charities to identify survivors who are ready and want to take on this intensive "bootcamp" experience. Please encourage women, who fit the HERA profile, to register on our website.
HERA is also recruiting mentors for our professional mentoring programme, which matches business and other professionals with women graduates from the entrepreneurship training over a year's time. Upcoming mentor training sessions will be in June 15, 18 and 22. Please register online if you are interested in mentoring.
International Grants Competition
In April HERA will launch its Fourth International Grants Competition (and seventh year) to fund capital equipment for women entrepreneurs in Armenia, Georgia, Moldova, Romania and Ukraine. These grants allow the women venture owner to scale up their micro and small businesses. They in turn commit to employing and/or training young women at risk and survivors of human trafficking.
The HERA Team
The HERA Team is primarily made up of volunteers with two paid staff posts. In January, Luciana Tellez joined HERA as Head of Fundraising and Communications. She brings experience in the nonprofit sector, development and human rights. Gokce Tuna, who volunteered for two summers and is a doctoral candidate in business and international consultant, is organising this summer's entrepreneurship course. Artemis Panigyraki, also a PhD candidate at Imperial College Business School, continues as HERA's Academic and Events Coordinator and is managing the 2016 entrepreneurship recruitment. Liis Kreegipuu continues to serve as Mentor Coordinator, leading the new recruitment and supporting mentor-mentee relationships. We are always looking for volunteers, so get in touch if you want to support HERA in a volunteer capacity!